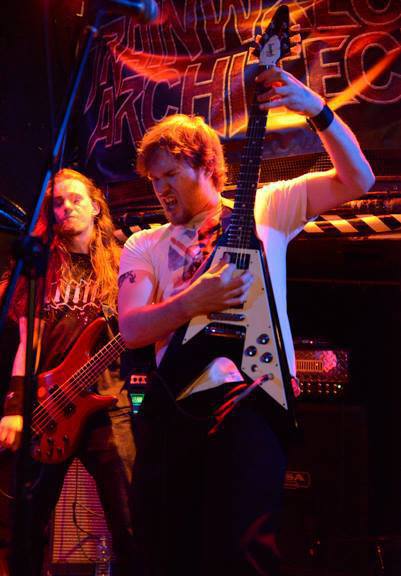 Masters of Wreck 'n' Roll, the Canadian metal band Trainwreck Architect recently released their debut album
Traits of the Sick
, which seamlessly blends elements from all over the universe of metal. We have had a chat with their guitarist Renaud Baril, who talks about the joy of raw production, about cool guitar solos, and the art of intelligently creating chaos. Fans of all kinds of metal, read on!
First of all, congratulations on Traits of the Sick! You've done a helluva job and created an excellent and enjoyable metal album.
Thanks a lot!
How do you feel about the album ourselves?
It is a really raw album and I like it! We are in a time when any band can do a low budget album that sounds like a big production. But I miss the time when a band could do a first album with low cost, and you could enjoy the raw energy coming from the music instead of the production!
How would you describe the style of music found on Traits of the Sick?
We describe our style as Wreck'n Roll: a mixture of old school
hard rock
mixed with more extreme metal. Some people label us a
thrash
/
heavy metal
... but it goes beyond that: all band members incorporate influences from different styles in their performances; and I think there is a rock n'roll bluesy vibe really omnipresent in our songs.
The album is very eclectic, ranging from the more melodic 'Rabid Psychotic Relapse' to the aggressive 'The Narcissist' and 'Feed Them Bullets'. What made you go for such a varied style of music?
I'm glad you did noticed the wide range of influences in the album! Because some people don't and just say we are doing ''old school'' thrash metal! But to answer your question: all band members are implied in the composition process. Raza is more the ''Aggressive Metal'', Eric is more the ''Stoner'', Simon is more ''Bluesy'', Marc is more ''Punk'' and I guess I'm the ''Melodic metal'' guy! So in the end we have boiling heavy metal melting pot!
If you were to point to one thing that binds the songs on the album together, what would that be?
The same singer sings on every song...!
With such an eclectic style, you must have a wide range of influences. Which bands or artists inspired you when you wrote the music for Traits of the Sick?
On the guitar side, I listened to a lot of
Testament
when I recorded the solos. Especially on the first track 'Comatose Era' I tried to get a more jazzy vibe, so Alex Skolnick was a major influence. At this time, I was listening to a lot of classic jazz in general (Miles Davis, Coltrane, etc). For this solo, I also got a lot of
Blind Guardian
inspiration to put many lead guitar layers at the same time and create a crescendo effect. Or else, I would say that Adrian Smith (
Iron Maiden
) is another influence for me, I like how he puts on simple, really well structured solos!
Jeff Waters from Annihilator appears on 'As Killers Breathe'. How did that come about?
Raza and Simon met him at a guitar convention in Montreal some years ago. Raza kept in touch with him... so when we were recording the album, Raza just asked Waters to record a solo and he accepted!
The song 'The Door Slams Shut' was recently premiered. How would you describe that song?
I think it is the track everyone likes of the album. It is heavy, there is a fast part, and it is probably the most "rallying" song on the album because of the chorus with gang vocals! The song itself really expresses a rebellious feeling! And I personally like the solo intercation between both guitarists (Raza and me). And think this track describes our overall sound!
An unfair question, I know, but if you were to pick three songs on the album as your favorites, which ones would that be, and why?
'Dream Pariah' – (because my solo is really cool!)
'The Door Slams Shut' – (because my solo is really cool!)
'Deadbeat Beatdown' – (Because I play two solos on this songs, and both are goddamn good!)
I'm kidding, those are not the real reasons: I do enjoy the instrumental part on 'Dream Pariah', but I like how the song has been composed (mostly by Raza). The ''chuggling'' parts sounds like a train that is running right through a trainwreck! I just like how 'The Door Slams Shut' sounds in general! Concerning 'Deadbeat Beatdown', for this song, we took a song I composed 10 years ago, when I was a kid, and we arranged it for the band. I'm happy this old song passed the test of time, and I still play it by now, and lot of people enjoys it on the album.
You have been working on a music video as far as I understand. Wich song is the video for, and what is the video going to be like?
We are doing it with the song 'Dream Pariah'. It goes with the lyrics of the song: living your life for yourself, etc. The scenario of the video is the story of a man who abandons his boring life to pursue one of his biggest dream. No spoiler... I don't want to say more before it is out (Nov 19) but the video is gonna be hilarous!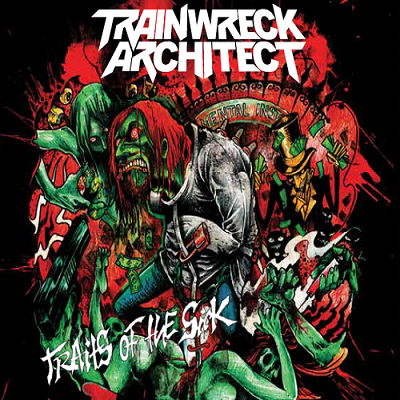 The artwork is pretty cool. Who made it?
A tattoo artist from Montreal, who also did our t-shirt artwork.
Does the artwork relate to any of the lyrical content on the album?
Yes, just the title "Traits of the sick" is well illustrated by the artwork. On the artwork, we see violence, sex, money, drugs and a sick guy in the middle. So it illustrates the corruption in our hyper consommation civilization... and how people get mentally sick about it. You can see those themes in the lyrics ('Rabid..' is about drugs, 'As Killers Breathe' is about diseases, 'Dream Pariah' is about social pressure, etc)
Moving on to Trainwreck Architect, what is the history of the band (for those of our readers who are not familiar with you guys)?
It is the story of five guys who loves heavy metal music and beers!! To make a longer story: It started in June 2009, I met Raza, Simon and Eric during this summer. Then, we've found a drummer named Zack, who did the drums on the
Feed them Bullets
demo we released in 2010. But Zack left the band so we've found Marc-Antoine after as a drummer. For the next years, we mostly toured in the Province of Quebec. We've been finalist of the ''Heavy MTL battle of the band contest'' semi-finalist for the ''Wacken Battle of the band'' and now, here we are with our first album
Traits of the Sick
. And it is only the first chapter of a long Rock'n Roll story!
What is the writing process like in Trainwreck Architect?
We like to write the songs altogether in the jamspace. Usually, it is Raza or me that brings 2-3 guitar riffs that can go for a song. Then, the whole band jam on those riffs, finding bass lines, drum beats, and vocal lines that goes with the riffs. Then, we develop a structure and work on the arrangements of the songs. Sometimes there are exception, we have a new song on which Simon found the vocal line first, and we made the music around it. For the solos, it usually comes when the structure is settled. I improvise over and over the rythm part to get the structure, and I begin to create many phrases. At the end, I assemble those phrases in the most epic order!
What is the story behind your band name?
Simon came with the idea ''Trainwreck Architect'', and I liked the idea because it puts the antagonism of destruction vs. creation. It means we ''intelligently create chaos''. Actually if you see us live, you will see we are good at creating chaos, but I have a doubt about the ''intelligently'' part!
What does the future have in store for Trainwreck Architect? Are you going to tour in support of the album? Do you have any gigs that you are looking forward to in particular?
We currently plan to do a Canadian Tour on March 2013! We had a good reaction in South America for the album, so it would be a dream to tour in South America (Brazil, Argentina, Mexico) one day!
Returning to Traits of the Sick, when it is released on November 12, where can people around the world purchase it?
You can have the complete digipack CD on
CD BABY
. The digital version is available on
Bandcamp
and all the major digital music stores (iTunes, Amazon, etc). You can check the band's official site
www.trainwreckarchitect.com
for all the links.
And where can they go for more information on Trainwreck Architect?
All the official information concerning the band are regularly updated on our official site. (
www.trainwreckarchitect.net
). Where you can see information about tour, new releases, etc.
Or else, follow us on facebook!
https://www.facebook.com/pages/Trainwreck-Architect/160132547367321
and Twitter
@ThrashingPariah
One last question, what can metalheads around the world expect from Traits of the Sick?
I think it is an album that can reach any metal head around the world. We bring influences from many style, from classic metal, thrash, extreme metal, and even some power metal. All this with a little doze of jazz, blues and rock'n roll! In the end, you have some good ''Wreck'n Roll''! That anybody can enjoy!
Thank you for doing this interview, and once again congratulation on an excellent metal album. Best of luck.
Thanks to you!