Ok, so this is not completely by the book, as there are actually two persons who have rated this album, but I´m the only one who has written a review. I haven´t read my own review since I wrote it in 2013, and I found that it was one of my reviews that I enjoyed reading again and it put it a smile on my face reading how I struggled to try and describe the weird sounds of the release. Now that was a challenge

. Mike is the master of writing about avant garde music...me..eh not so much.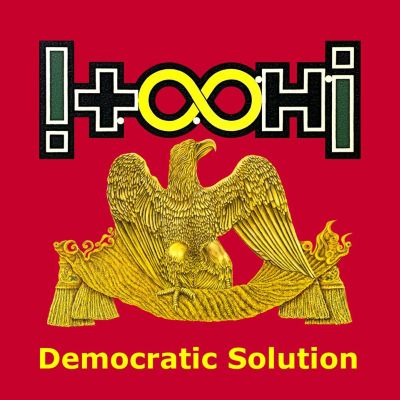 http://www.metalmusicarchives.com/album/tooh/democratic-solution
...and my review:
"Democratic Solution" is the 4th full-length studio album by Czech Republic extreme metal act !T.O.O.H.!. The album was released by the band as a free digital download in August 2013. Apparently it´s meant to be the last album by !T.O.O.H.!. I´ll take that with a grain of salt though as they´ve already disbanded one time before in 2005 after they were dropped by Earache Records, and since we now have "Democratic Solution" to listen to, they clearly have trouble dissolving the band completely.

!T.O.O.H.! consists of the two-piece Schizoid (Drums, Vocals) and Humanoid (Bass, Guitars, Vocals, Programming) and were on their previous releases known for their odd take on technical/progressive death metal. This time around they´ve taken their music in an even more odd direction as "Democratic Solution" sounds like a computer game version of an extreme metal release. Blabbering Czech language vocals, which sometimes sound like the singer is drunk or having a raving party, what sounds like technical programmed drums and odd buzzing guitars are more or less what make up the sound on "Democratic Solution". It´s like a kid´s birthsday party gone wrong. It´s certainly both complex and avant garde in execution, but not necessarily uninviting or difficult. Just weird...

The vocals are mostly clean and the melody lines (however odd and sometimes almost childish in nature) are generally pretty catchy. Even though the use of extreme vocal styles is very limited on "Democratic Solution", it´s still a very extreme release. Just on other parameters than the extremity of the vocal delivery.

This is pretty surely not music for everyone, and even extreme metal listeners who are used to avant garde elements, might find themselves a bit challenged here. Personally I find "Democratic Solution" oddly charming but at times also slightly annoying, so it´s definitely an album I have to be in the right mood to appreciate. There is no questioning the originality of the product, the excellent musicianship or the quality of the relatively well sounding production though and based on that, but also taking into consideration by ambivalent feelings toward the album, a 3 - 3.5 star (65%) rating is warranted.


Edited by UMUR - 25 Dec 2020 at 1:09am