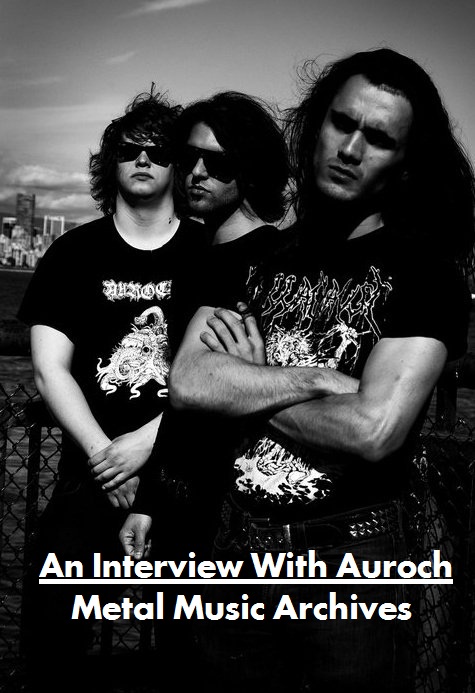 Conjured up from Vancouvers underground, Auroch plays a disorienting and brutal brand of death metal; slow, progressive and mesmerizing at times, but old school and merciless at others. Earlier in November, Auroch played a show opening for the legendary Singaporean black metal act Impiety, and while an interview was conducted at that show, it has unfortunately been lost to the haptic void. Fortunately though, they later opened for the German progressive death metal act Obscura on their Vancouver date, and I was able to catch up to frontman Sebastian Montesi and find out what is going on with the band, again.
Conor: This is some pretty cool artwork for your shirts and album covers. Who did this?
Sebastian: The artwork is actually just for the shirt. The art there is done by Jeremy Hannigan, a very good artist and also a very good vocalist for a doom metal band called Funeral Circle, and the artwork done on our first record was done by a North Carolina-based artist who has also done art for Morbid Angel. Great support for Auroch in terms of visual art.
Conor: I asked you this before at the lost kvlt interview, but how would you describe Auroch's sound to the potential fans out there who haven't heard you yet?
Sebastian: I think I told you then that I would tell someone to listen to Auroch and decide for themselves, and I would still probably stick with that answer. I don't know, people just end up likening music to other bands, and I can easily say "for fans of Mystifier and Morbid Angel" but I think more importantly, we're big fans of H.P Lovecraft, and transcendental horror... literature... I would tell someone to just check it out, simple as that!
Conor: Does literature inspire or influence you more than other particular bands or artists?
Sebastian: It's just a theme!
Conor: How does all of this stuff get recorded?
Sebastian: Well we had been in the studio playing around with some tracks, then we parted ways with our vocalist, so now we're sharpening everything up to go re-do everything, so it will be alot better, and worth re-doing.
Conor: Right on!
Sebastian: We're hoping to have it ready in the Spring (of 2012).
Conor: What are you planning besides the new album, any tours?
Sebastian: Well, we've already toured Canada pretty extensively; everywhere between the West Coast and Halifax, almost everywhere except Northern Canada which is not an option! The next step for us is probably the US; that or Europe or South America; which we'll do once the record's out; we won't make that investment until the record's out. We've had a few successful support gigs lately, as well. Earlier this month, we opened for Impiety, now we're opening for Obscura; that's the sort of gig we're hoping to play. I think Vancouver's got a great local scene, but we're hoping to do more support for international acts.
Conor: Any bands that you're listening to lately that might influence Auroch's sound? Bands that you would recommend to other metalheads...
Sebastian: In terms of things that I would 'let' influence the sound, I mean, we're a metal band, and even though we've got proggy sections and shit; that's not really our schtick. There's enough bands that are prog and go all wacky and do off-the-wall stuff. Of course, the classics can be recommended. But there's been a new record I've been listening to off the Season Of Mist label, by a band called Old Silver Key, called 'Tales Of Wandering'...
Conor: That's the collaboration between Alcest and Drudkh!
Sebastian: Yeah! Great record, can't turn it off. Besides that, been blasting Cephalic Carnage's 'Misled By Certainty' which came out last year. That was a really good record; has been making a return.
<There is a period of around a minute where the recording is either too obscured and noisy to tell what is being said, although from the sounds of it, it sounds like someone came up to start casual conversation about metal.>
Conor: What's your favourite David Lynch film?

Sebastian: Impossible! I cannot answer that question.
Conor: Favourite place to eat cheeseburgers?!?!
Sebastian: I'm lactose intolerant and mostly vegetarian.
Conor:


Sebastian: Any off-the-wall questions are good!
Conor: Well, a more pertinent question; what draws you to the transcendental horror of Lovecraft?
Sebastian: I think my first experience with his work was Metallica's instrumental 'The Call of Ktulu', which is still one of my favourite songs of all time. There was a very mysterious vibe to that song that made me want to- I think it was maybe in 2004 or 2005- check out his writings. I think the first Lovecraft I read was 'Dagon' which is usually at the beginning of alot of short story anthologies of his, went through his short stories, and from there went onto his longer works, 'At The Mountains Of Madness', my favourite is 'The Case Of Charles Dexter Ward'. I also like some of the less popular ones; 'The Thing On The Doorstep', 'Through The Gates Of The Silver Key', I could go on forever about Lovecraft...
Conor: I was watching John Carpenter's 'The Thing' earlier this week, and it seemed very Lovecraftian.
Sebastian: Definitely very Lovecraftian, especially the element of the thing being amorphous, not having a 'true' form, I mean granted the Thing can be lots of scary monsters and shit, but you never know the true form of it, and in the case of Lovecraft, the creatures were always nameless and shapeless and indescribable. We like that, and you know, alot of people tend to bastardize Lovecraft in heavy metal, I have nothing against satanism or 'satanic metal', but this mixture of satanism and Lovecraftian elements doesn't do it justice. Anyone who takes the Necronomicon and takes it for anything more than a literary device; a work of fiction based on some occult tropes is an idiot! It's a work of fiction based on an actual system, but it's nothing more. We're really purists with our Lovecraft worship, and on this record, we really got some songs that are about some of the concepts and lesser-known deities and creatures. Everyone has songs about 'the ancient ones', but that's too easy. Too much copycat, not enough people doing their research. Too many people going on about Sumerian bullshit. I think you get my point!
Conor: How do you think this reflects in the music itself?
Sebastian: Mostly in the lyrics; in the music occasionally, we will try to theme riffs around different parts. There's one song that's based around an event in 'The Case Of Charles Dexter Ward', it's about an invocation bringing the dead back to life, and the song is structured around that theme of dying. Occasionally, we'll try to work it around the concepts, but it mostly gets across in the lyrics.
Conor: A last question; what advice would you give to a young band, or someone trying to start a metal band and get their music out there?
Sebastian: You have to be relentless, you have to be persistent, you have to be a thorn in people's sides. Don't trust anyone, and don't be afraid to tell people to go fuck themselves!
Conor: There ya go! Any last words?
Sebastian: Thank you for the interview! Enjoy the shirt, and I hope that the most kvlt interview of all time with gets posted someday!
Conor: Cheers!
Auroch's MMA Profile may be found http://www.metalmusicarchives.com/auroch.aspx?ac=auro" rel="nofollow - here.