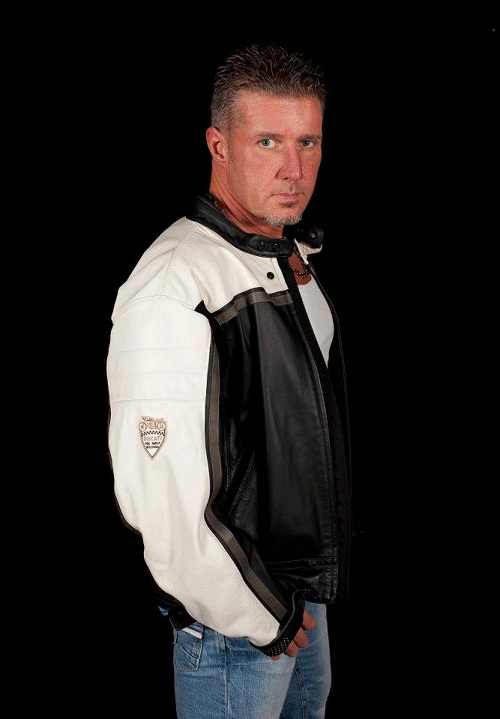 Released in 2012, the Irish guitarist David J. Caron's first solo album under his own name has received plenty of praise from reviewers and fans alike. Featuring hard rock music which is both catchy and melodic, yet heavy and sophisticated,
Thru Ever-Ending Black
is multi-faceted and well worth talking about. We had a chat with David J. Caron who, in addition to offering a behind-the-scenes perspective on the making of the album, discusses melody, catchiness, and songwriting, and also offers a diagnostic of today's pop- and metal scenes. Oh, and he clarifies the title
Thru Ever-Ending Black
... sort of. Fans of melodic hard rock should find this interview very interesting.
First of all, congratulations on the release of Thru Ever-Ending Black.
Thank you Kim

and thanks for your interest in Interviewing me..
Now that it's been out for a while, how do you feel about the album?
I am glad I purposely set aside the time to finally undertake recording it to as professional a level as was possible and available to me. I am very happy with the way it turned out and extremely proud of it as a piece of work, both musically and lyrically as well as in many other deeper ways. It's great to know it has had so many daily listens on
ReverbNation
, views on
YouTube
, likes on
Facebook
, followers on
Twitter
, so many positive comments everywhere as well as many fans signing up to the website email list. The reviews, which are all up on my site, have all been great and nearly every day I get contacted by new radio stations from all corners of the world, looking to play tracks off it, as well as my new singles. So I am very grateful to everyone and very happy

How has it been received by the critics and the fans?
I had written most of these songs in some form over many previous years and recorded demos of them at home, so I was well used to listening to them over and over. I used to wonder and could never decide whether these songs were either extra-ordinarily amazing... or terrible. I knew it was one or the other, so I wasn't sure how others would receive them, but to be honest I didn't care. I write always to satisfy myself 100% but hope that others like it too. I can't work any other way. It has to be totally from within without any attempt or desire to try and write in a way that safely copies what people already like, or to attempt to please fans, of which I didn't even have yet. I am glad to say that the response has been fantastic from many many fans of all different types and genres of music as well as from many reviewers, radio stations and different media sources. It seems to cross genres and unite them, showing that genres are not a reason alone to like music. Either you like the music itself or you don't, irrespective of how the media seem forced to label it. That is what I believe. But it has been received very well and much better than I expected.
The music on the album is quite eclectic, ranging from metal and hard rock over AOR and melodic rock to pop. What is it like operating with so many stylistic elements?
You mean it has ideas and styles that derive from a broad and diverse range of sources ? Well, I can understand yourself and people in general thinking this, but that is perhaps because it is perfectly obvious to think that I decided to purposely design an album that mixed many different Rock styles, because that is how someone else's mind may think, but to me it is all natural and all the same style, as well as un-avoidable to me, which is my style. As I touched on before, I don't take much notice of which genre a particular piece of music is supposed to be. To me it's either a song I like or a song I don't. It's all about the song itself and if I come up with an idea that doesn't fit the quality of qualities I require of my music, then I don't continue working on it. However it turns out is just how I feel it should turn out, and it takes the path and colours that I feel suit it best, to bring it to my idea of what it's absolute possible best can be, whatever that may be. My style itself derives from loving great music of all types, regardless of what abbreviation it's supposed to come under.
How would you describe your style of music in your own words?
Well again, this is something I am always asked, as well as having to provide an answer to many different music sites that seem obsessed with labelling bands and artists. You are asked to state what genre you are and you have to answer the question "Who do you sound like"? I understand that this is mainly so that fans of other bands will listen to your music if you sound like artists that they like. This makes sense, but what do you say or put if you don't know of any artist that you sound like, which I truly don't? This isn't an attempt at being complacent, it's just true to me. So I usually say Rock, but what does that mean? Rock covers such a broad range of musical styles. The best way to know what my music sounds like is to listen to it

. So to satisfy the incessant insistent genre sticklers I came up with my own genre, Metamorphic Rock, just to confuse them

I define this as Unique Innovative Melodic Metaphoric Modern Progressive Heavy Hard Catchy Memorable Popular Rock! Let the tectonic plates of music start to shift..
Thru Ever-Ending Black is a massive double album with almost thirty tracks on it. Wasn't that hard and challenging work for you, I mean you've pretty much done all the work yourself?
It was more enjoyable than challenging to be honest. I enjoy writing and working on it until it is my idea of perfect. Until then I don't stop. It is a statement of what is in me and what I am capable of, as well as a learning experience. I learned a lot recording it with my friend, engineer and co-producer Rob Mancini, without whom it would not have ended up sounding as good sonically as I believe it does, with the equipment and resources we had available on a home studio set-up and budget. I also want to thank Andy Mitchell at Audiobay Mastering for doing such a great job. I wrote and performed it all but it was a whole lotta fun doing so. I would like to get a whole band involved though, not only on these songs in the future but also on new albums and projects. This was a very personal album so I had to record this one alone I think. I also like to be totally in control of every decision and aspect of the production and end result.
How was the writing process for the album?
I had around 18 songs to begin with, all previous ideas, some originating in some form way back from school days to before recording started! 3 of these didn't end up on the album for reasons of just not being happy with some parts of them. While I was recording these 15 that remained I wrote another 13.. So all of a sudden I had 28 tracks that I couldn't choose a typically "ordinary" album amount's worth from, but not being one to conform to ordinary ideas I decided to put all 28 on the album.. why not? I thought they were all as good as each other, I felt they all belonged together, like pages in a book from this chapter of my life. They were all recorded together and more importantly, most of them had all been with me for a long time. It was time to release them from me once and for all. I wanted to be able to start my next album totally afresh with new ideas without having to go over already recorded material. So 28 it was, even though I could only fit 27 on the double CD. All 28 are on the digital download. The missing track from the CD is free to download for anyone who buys the CD, which is priced as a single album anyway. The obvious expected remark from a couple of media "music-reviewing-experts" was that the album is too long. How observant and visionary of them! I always say, you can always just listen to as much of it as you want - if you can!

What about the recording process?
The recording was intended to take a few months but ended up taking 18 months, working approx. 3 days per week. It was fun and both Rob and myself learned a lot from the process and each other I think. I actually originally intended to put vocals down myself purely as a guide so that when I found a proper singer, he could get an idea of my phrasing and melodies. But as recording progressed my vocals started to not sound too bad, certainly better than I had expected. I managed with Rob's help to find and bring the best of my vocal ability, out from somewhere. There were also many changes and new parts and ideas invented throughout the recording process, that can only be thought of by messing around with things through the wonderful benefits of multi-tracking and digital recording. I love to plan, build, invent and create, then sit back and listen - very loud !
Although you are primarily a guitarist (as far as I understand), Thru Ever-Ending Black comes across more as a band's album rather than a guitarist's album. I mean, there seems to be focus on the songs themselves, and not just on technical guitar shredding. Is this something you considered when you made the album?
I started learning guitar when I was at school, spending hours working out and practicing every solo by
Angus Young
to
Joe Satriani
, until I could play them note perfect. But I don't think of myself as a guitarist. I think of myself more as a composer of music and songs. I also love to write lyrics although it takes longer to search and decide on one of billions of possible word and sentence combinations than it does to choose one of only 12 notes, especially when only seven of them will usually fit. As I mentioned before, the song is the important thing to me. Nothing is more important than the uniqueness and originality of it, as well as the way it makes you and those listening, feel as well as the choices you take inside it to build and create it into a finished product. Thousands of tiny decisions are its essence and direction. Even though it is only myself playing on the album, I do write it as many parts that contribute equally to make a whole. No part is less or more important than another. The stereotypical Rock song with the clichéd expected obligatory technically acrobatic shredding guitar solo taking the spot-light as a showing-off interlude from the song itself, bores me to be honest. The best most memorable guitar solos have always been ones that are an integral melodic part of the song itself. They can't be memorable if they have nothing to do with the song and are whizzing around in a blur that you aren't able to remember the melody of.. just for the sake of it. Creating something with feeling and purpose is much harder to do, technical or not... unless it comes naturally...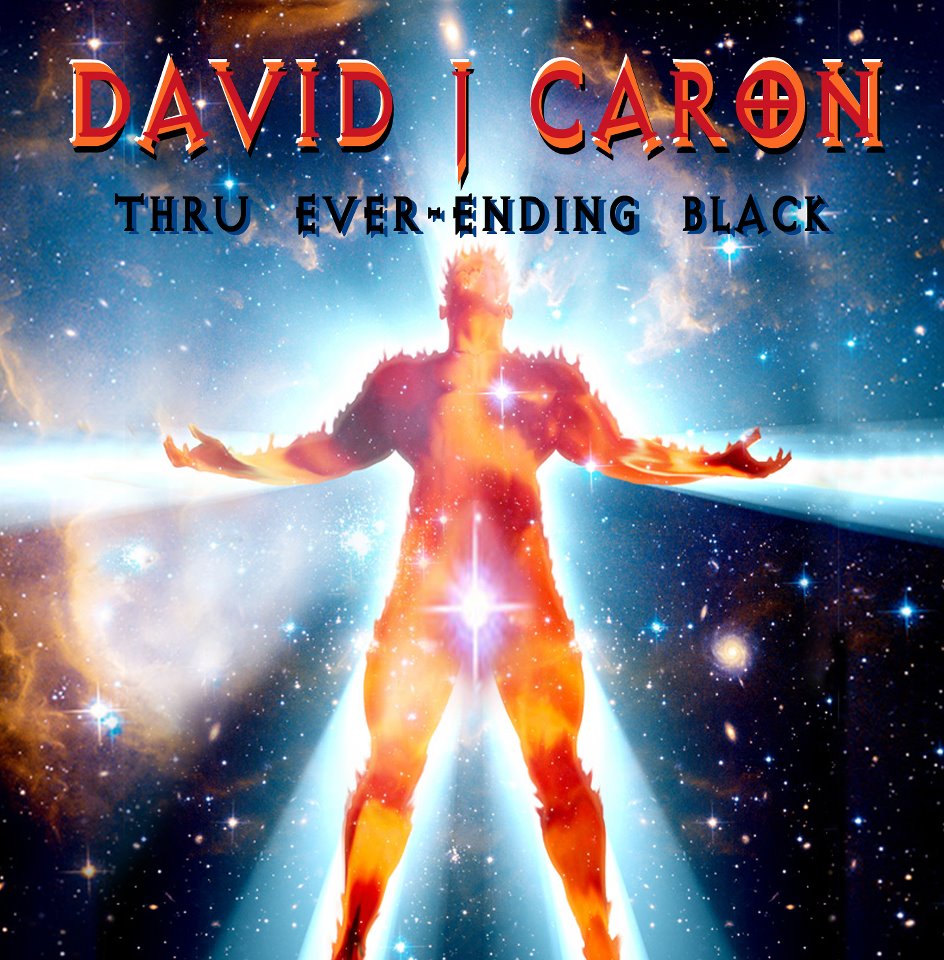 The album's title is a bit tricky. To be honest, for a couple of days I thought it was "Thru Never-Ending Black" till I realized it was "Ever-Ending" and not "Never-Ending". What is the story behind this title?
I'm glad you noticed and asked. So many get it wrong because they read what they expect it to say.
One reviewer even complained that it was a confusing title. So I remarked that it was a shame that he so easily, wasn't able to understand it.. but I think I just confused him even more...

The song 'Memory Magnetic' on the album has a line it which is "through never-ending black I see you"... which means that through never-ending blackness of pain you see someone in your mind and remember them after they are gone, because you are no-longer able to see them. When I was thinking of a title for the album I thought that this phrase could be an interesting title as it also could mean a journey, through never-ending black. To me it can symbolise many things in terms of a journey. The voyage that we all take is the one that our planet takes through the blackness of space. It's a metaphor for life itself and all its wonderful complications, but "never-ending" was too obvious and final, as if it was known that it never ended, which of course nobody does. So I thought that changing it to "Ever-Ending" instead, was more open to the possibility that perhaps there is an ending. It leaves it as a question... "Does it ever end"? who knows? Still confused? Good

Some of the song titles indicate sci-fi oriented lyrics, such as 'Time Machine' and 'Beam the Ray'. Does the album have an over-arching sci-fi based lyrical concept?
No, actually, not at all. Again it is designed to be open to many different interpretations. I never write lyrics that just obviously blatantly say or mean one thing. To me that is un-interesting and too easy to do. It is far more challenging and fascinating to write on different levels that can mean different things to different people. That's the way I see it and design it anyway, lyrically speaking. I also like to be a little mysterious and ambiguous so as to to keep listeners guessing... to make them think about the words they are hearing. It's all a bit of a puzzle. The obvious has been done to death already by too many... in many cases better than I could do it, so I just choose to do something different. 'Time Machine' is not about a machine at all. It's actually about the fact that people can turn back time and be their own time machine by doing certain things that they want to do but think they can't do or return to. 'Beam the Ray' is about being lost and finding yourself, or others finding you, as in a search-light beam finding you, high in the dark sky, so you can be guided back to land on the ground you left. It's all imaginatively metaphoric and perplexingly camouflaged for cryptic deciphering.
Let us turn to some of the songs on the album. 'Comin' to Get You' features some quite heavy guitar riffage. How did you come up with the main guitar riff?
I actually dreamt this riff, would you believe. I never in my life dreamt music before this and now it since occurs quite a lot. I had this riff going round and round in my head, in a "never-ending" loop in my sleep. I had to wake myself up and get up out of bed half-asleep and grab a guitar to work out how the hell to play it. I love playing that riff actually. It's a bit of a finger-twister. I even had some young fans get in touch with me to ask me for the tab, 'cos they liked it so much, which I didn't expect, so I had to sit down and write it out for them. It's not that complicated but it was cool to be asked, after all the tab I searched when I was learning... I was flattered anyway..
The vocal lines are extremely catchy in this song. How did you come up with them?
Thank you. Catchy vocal lines are what I attempt to create and include in every part of every song I write. If it isn't catchy to me, it has to be replaced with a melody that is, full-stop. Every part has to be as strong as every other part, and every song as strong as every other. No weak points in the chain of the song. That's one of my writing philosophies. I don't know how I come up with them. They just appear in my head until I like them, and then I improve on them until I can't like them anymore. This is another song the lyrics of which are mysteriously deceptive. I wrote the words after seeing an extraordinary event on the news that totally captivated and inspired me to write about it, in a way that I could understand. I'd say it would be very hard for anyone to work out what the origin was, although there are some hidden clues as always, in the lyrics. If anyone can guess, please contact me on
my website
and I will congratulate them with something of which I haven't thought on yet... but I doubt it

'Look Out' balances melodic vocals and hard rocking guitars. Lyrically, there are a number of references to sci-fi topics like traveling at light speed, asteroid belts, and intergalactic journey. What is the song about lyrically?
Yes, both verses are describing the journey that a meteor takes through space on an un-avoidable path and trajectory towards hitting earth. But again this is just a metaphor for something entirely different. It's not about that at all. I like to impose some kind of theme or structural constraint that I have to adhere to in some way in each song to make it both more challenging and difficult to complete as well as give me direction to avoid other things that are not allowed to fit the rules I have given the song. In the verse, every line had to describe the meteor's journey in some way but also have a double meaning. Since I like to keep people guessing and not explain things precisely, I'll leave it for listeners to interpret how they think. It actually surprises me that people don't immediately get what I'm on about. To me it's quite obvious.
There is a neat little guitar solo in 'Dark of Night'. How did that come into being?
I have, or at least had, a tendency to write quite long songs. Some of these on this album are 6.5 or even 7 minutes long. But some of these tracks were actually cut down to this length! Some were originally 10-13 minutes long!! Many had solos that don't appear in the album versions, and ones that do have short solos, actually used to have even longer solos. I have since learned to write shorter songs. Radio won't play long songs and these days the emphasis is very much that you have to get to the point quickly, even though I don't on many songs on the album. But I am learning to change because I also like "perfectly" short tracks. 'Dark of Night' was one of the songs that originally had about 32 bars more solo-ing than it ended up with. I ended up just using the end of the original solo to keep it snappier, as the song is still quite long even now. But to me it can be no shorter than it is. The same goes for all the others, otherwise I would have shortened them. I made some a little shorter, but I would never sacrifice what I believe to be correct for what others dictate should be correct. I follow my own rules.
What is 'Dark of Night' about lyrically?
I haven't got a clue ! Haha

I don't tend to write about any one sole specific theme. My songs often include many elements that contribute to an all over feeling of total confusion ! I suppose to sum it up, it's mentioning certain ingredients, both good and bad about a relationship. Falling for the wrong person and still wanting them and all the wrong but good that goes with that. You can't see the Dark, when it's night!
I quite enjoy 'This Is Now' because it has a bit of an 80s electro pop/rock feel to it. Did you deliberately aim at this type of feel?
No. I never deliberately attempt to go for a feel of any kind, certainly not a specific genre or decade. This actually originated as a completely different song. One that was all guitar, quite heavy and very long. The longest track I wrote. About 13 minutes. It was too long really and had many different parts. So I took the two catchiest parts and combined them into a shorter piece of music, adding new keyboard parts instead of guitar, and then added new guitar parts to that. Then I wrote the words, and it just ended up as it did. I could and may sometime re-record the original version and nobody would know it was the same song, even though the chord progression would be in there somewhere. 'This is Now' was the last track written for the album, which is also why it's at the end of disc 2, since I had already designed all the album artwork booklet. It has also since been re-mixed by Expedition recordings into 3 different interesting re-mixes, after they approached me to do so. I like them. I wrote this song to always remind myself that sometimes you have to just act on the split-second of the moment, before thinking about it, or that moment is gone forever. Too late arrives immediately and you can't go back to before it. I have now often changed my philosophy to this way of thinking, and it's always each time resulted in being for the better.
Given that our readers are primarily fans of metal and hard rock, which songs from your album would you recommend to Metal Music Archives' readers?
I was once a fan of primarily metal and hard rock, but then I let my mind open and discovered that there is only music you like and music you don't. The label or genre makes no difference. Attraction to anything is not a choice. You have no choice in either liking something or not. If you do like it, there is nothing you can do about it. The same goes with attraction to people I have found. But I think the reason Metal and Rock fans like the music style that they do, is not solely based on the amount of distortion that the guitar has, or the roar of the vocals. That's not what makes it heavy, to me. Heavy Rock/Metal fans usually appreciate a depth of quality, meaning, unique style and intelligence that gives a song or band it's weight in heaviness, I feel. I therefore trust that your readers are not only open-minded fans of Music itself but also intelligent enough to appreciate not only the heavier distorted guitar sounding tracks on my album such as 'Comin' to get you', 'So Let there be Light', 'One by One', 'Irreplaceable', 'Wall of Life', 'I am your Shadow' and 'Frozen Ice' for example. So I would recommend every one of them in exactly the same amount, otherwise I wouldn't have put them on there...

As a musician and songwriter, are there any bands or artists that you admire and draw inspiration from?
There are many many great bands I admire. I grew up listening to all of them. The first band that blew me away when I was at school, that I have always admired most, that made me wanna learn guitar and put me onto this musical path, was AC/DC. But there have also been many more since. If I started to list them here, it would be a very long list and I would probably forget some. I draw inspiration from them all in different ways and I am influenced by every single piece of music I ever heard, good or bad, in every 'genre'. It all goes in one ear and doesn't come out the other, affecting every decision I take somewhere in the subconscious. But at the same time I realise there is no point, and I have no need or desire to try and copy any of them in style, so I don't. They are all able to do what they do better than I possibly could, and similarly, no-one is able to write in the way that I only I can do. So that's the best way to continue and keep it.
What is your favorite album of all time?
When I used to listen to music constantly when I was growing up, everywhere I went, and at home learning the guitar parts in my bedroom, I had many favourite albums. But I couldn't possible choose any one as my absolute favourite, then or now. There are too many excellent albums from so many amazing bands. Right now the music I listen to most of all by far, is my own, not only because I like it but because I am constantly working on it, so it constantly fills my head. I am probably a little out of touch with a lot of new music and bands. I just don't have the time to go look for them, otherwise I would not get anything done... but writing your own music, the exact way I want it to sound, more than makes up for that..
Thru Ever-Ending Black is very melodic and has a lot of poppy elements on it, but I think it is lightyears more tasteful and sophisticated than most mainstream pop music. What are your thoughts on today's pop music scene?
Thank you for the compliment. As far as I remember the term "pop", means "popular", or at least it used to, so I think any writer or musician would like their music to be popular, otherwise what is the point? I think melody and catchiness is a necessity of what makes music good and wanted to be heard repeatedly, whatever style it is in. I find it sorely lacking in a lot of music I hear these days although there are also a lot of catchy melodic songs out there. All I know of today's pop scene is generally hearing a lot of copycat artists doing there version of the same lyrically themed and meaningless formulaic songs continually over-played on the radio, forcing you to accept what your ears can't not listen to, should you happen to be somewhere where the radio is on. Most songs I hear are all saying the same thing that I've heard a million times before, even if the music itself may be well produced or even catchy. Add on to this the fact that most artists on the radio are not able to write their own music and have their writers and producers to thank for their songs and sound, as well as the corporate control the big labels have on brand/image-friendly airplay rotation.
How about today's metal and hard rock scene?
As I mentioned previously, I grew up with the Metal and Rock Scene. I was fortunate to grow up in London so every weekend I would jump on the tube with my friends and go see all the major bands of the time at such great venues like Hammersmith Odeon and Wembley Arena, I have seen all the great big influential Rock/Metal bands. These days there is not much to compare to that.So lately I'm a little out of touch with that scene. I know there are some great bands still going, some fantastic new bands on the scene as well as many good original bands with great potential that are un-signed. In a lot of cases these days, unsigned indie bands are coming up with better music than some of the so-called bigger signed bands. I think this is a good thing. It's just hard to get to hear them all unless you have time to go out of your way to seek them out. But the digital and social media revolution has changed the possibilities for the better. It's just that there are so many more bands out there now because of it, so it's more difficult to be noticed I still love all the great music I grew up with, but I prefer to listen to something new, these days, that I've never heard before, regardless of type, rather than re-visit what I already know inside out. What does bore me these days though, is the typical expected over-used bullshit Rock clichés that have been around for so long. It just doesn't interest me..
What are your future plans? Are you going to get some people together and do some live shows with songs from the album?
I have released two singles '
Do You Remember
' and '
Claim Your Victory
' since the album which are both doing really well on Radio and YouTube and have had a lot of great comments from a diverse range of new fans. Both of these tracks were actually written with specific licensing opportunities in mind, one for an advert and one for a film trailer. This was a way of writing I had never attempted before, but it was great fun as well as challenging lyrically. Needless to say I still applied my own inimitable style and self-governed regulations to my work. They turned out to be perhaps more commercial and radio friendly but still having my own trademark sound. I am currently working on my second as yet untitled second album. I have a new track coming out soon called 'Omniscient Flames' which I am also very proud of. It's a re-working of another old idea that I had to finally get recorded. I plan to be putting a band together at some point as I would love to take these songs into some kind of spectacular live show that encompasses more than just the music. I have many ideas. I would also like to get together with some similar-minded musicians at some point soon,(if I can find any!) and collaborate on a different more band orientated project. I haven't done that in a while and it can be a lotta fun. There are plenty more ideas inside me yet, musical and otherwise.
Do you have any plans for a second David J Caron album?
Absolutely. I'm working on it slowly, one song at a time, although I think it will be quite different to the first. I hope I get the chance to record many more albums. It's one of the things I love to do and I'm at my best when I'm creating.
Once again, congratulations on the album and good luck in the future. Thanks for doing this interview.
Thanks again Kim and thank you for the interesting, observant and detailed questions. It was my pleasure.


Edited by Time Signature - 06 May 2014 at 10:40am