Having recently released the artistic success that is their debut album
Malignance
(which is actually available for free download right here!), which has received praise from fans and critics alike, the Canadian blackened death metal quintet XUL are currently working on an EP. We have had a chat with axeman Wallace Huffman, who discusses Malignance, inpsiration, and the blackened death metal label. He also explains the meaning of the name XUL and reveals a change in musical direction on the upcoming EP. Fans of quality blackened death metal should definitely read this interview.
I guess it is not too late to congratulate you on the release of Malignance which was released in June 2012. How do you feel about the album now that it has been out for more than half a year?
We're stoked on how the album turned out! It contains music that represents a lot of various stages in our musicianship, so as we progress we can personally tell the album is beginning to age already; we play songs faster live and more technical than they appear on Malignance.
How has it been received by critics and fans so far?
We've received mostly positive feedback and we are pumped that people are enjoying our music
XUL's music is often described as blackened death metal. Do you agree with this characterization?
Most of the ideas we have would fall under the Black Metal or Death Metal sub-genres, so blackened death metal sounds right to me.
Malignance was released on Bandcamp at a name-your-own-price rate. What made you go for for particular format of release?
We wanted to make our music as easily accessible as possible. If people are going to download our album for free anyway, we may as well give it to them with the best possible quality you can get it at. We know all about being tight on cash, so bandcamp gives people the option of paying whatever they can afford at the time, or if they've never heard us before and don't want to pay for a band they've never heard of, they don't have to!
Now, you have an EP in the making. Can you give us any details in terms of a title and a tracklist?
I can't name a title yet! But the EP contains four songs; including one we have played live for a while now called "Summon the Swarm". We will be releasing more information as we get closer to releasing it!
At which stage is the making of the EP at the present moment?
We have started pre-production, and tracking will begin next week.
What can the metal-loving world community expect from the EP?
It contains the fastest and most technical songs we have written to date, as well as the slowest and more emotional ideas we have ever had. But mostly just Blink 182 covers.
Is the EP going to be different from, or similar to, Malignance?
It's a lot different than anything we have written before, and I'm really excited for people to hear the newer direction we have headed towards. It still contains the same XUL sound, but we have grown a lot as a band and learned from past mistakes and successes, and it will come across in this EP.
I think the musicianship on Malignance is already pretty impressive, but do you feel that you have developed as musicians since Malignance?
Definitely. We play our old songs faster and tighter than we ever have before, and we are coming up with ideas that we would have never been able to play a couple years ago.
Did you make any experiences when you did Malignance, which you can draw on for the upcoming EP?
We learned a lot from recording
Malignance
. It was the first album any of us had worked on, so we had no idea what to expect going into the studio. Releasing the album and managing funds was difficult. But I think it brought us closer together as a group, and we are more dedicated and experienced now heading into the production of our second album.
Are you going to release the EP on Bandcamp, too, or do you have different plans?
It will be on Bandcamp and as many distributers as possible, we will have lots of contests to win copies, and copies can be ordered from our online store as well!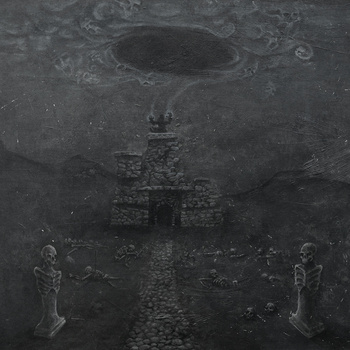 The cover artwork for Malignance is pretty awesome. Who made it?
A friend of ours from Vernon named Erik Hilton.
Is the cover artwork for the EP going to be in the same vein?
We've discussed a bunch of different options regarding cover art, so you'll just have to stay tuned to see what we have come up with.
You must be pretty excited in general about soon releasing more music?
Fuck yea! This is what we do, and we love doing it.
Turning to XUL the band, what is your band history?
We had been friends for a while and had all jammed with each other at some point or another before we actually started a band, Marlow and I went to Europe and when we got back Bill and Lowell had been jamming out tunes, so it wasn't long before we recruited Levi to solidify the line-up, came up with a band name and started writing songs and working towards playing live. At the time none of us had any idea about the music industry at all, we just wrote the music that we wanted to hear played, and aside from us being older and wiser now, nothing has changed about that.
Where does the name XUL come from? What does it mean?
Lux is the Latin word for 'light', so spelt backwards we get XUL and essentially the opposite of light. It's also the Sumerian word for evil.
Are there any particular bands that serve as major sources of inspiration for your music?
Behemoth
,
Dissection
and
Immortal
would be our three biggest influences. Also
Obscura
, we played a show with them a couple years ago and we have strived to display the same level of professionalism and musicianship ever since. Aside from that we got a lot of inspiration from our friend Tanner Revak who was basically the person who directly or indirectly got us all into metal, check his project out
Gladius Sky
.
Where can those of our readers who are interested in learning more about XUL go for information?
You can keep up to us at our website:
www.xulofficial.ca
or our facebook page:
www.facebook.com/xulband
, both of which we keep updated regularly.
Once again, congratulations on your brilliant 2012-album Malignance, and best of luck with the upcoming EP.
Thanks a lot! Keep it brutal.


Edited by Time Signature - 06 May 2014 at 11:02am