Italian classic metal act Steel Raiser released their sophomore album
Regeneration
on January 25th via Pure Steel Records, unleashing an onlaught of tasty old school heavy metal upon the hordes of metalheads around the world. We had a chat with guitarist and founding member Gianluca Rossi who takes us behind the music and reveals what drives this band.



First of all, congratulations on the release of Regeneration, which was recently released on Pure Steel Records. How do you feel about the album now that it has been released?
We are very proud to have the opportunity to release our second album, again for Pure Steel Records. We believe very much in
Regeneration
!
How has the response been to the album from the metal-loving public so far?
We have had a great response from both metal maniacs and from people who are not particularly close to the genre. We are very pleased.
Regeneration is your second album. Is it different from or similar to the first album, Race of Steel?
Race of Steel
is the result of our passion for metal and was born in a short time.
Regeneration
is the result of our love for music, and we have devoted more attention to detail.
How would you, in your own words, describe the style of music you play on Regeneration?
PURE POWER STEEL METAL!!!!
I have seen Steel Raiser described as a power metal band a couple of times. Do you agree with this classification?
We are definitely a band of classic heavy metal, with streaks of power, trash and U.S. metal.
To my ears, there is a distinctive classic metal sound to your music. Why did you opt for classic heavy metal as opposed to a lot of the many styles of modern metal that dominate the scene today?
Personally, ever since we heard
Painkiller
I've been in love with these sounds. To our ears, the vehemence of classic metal cannot be compared with the modern plastic metal!!!
Speaking of a distinctive sound, Alfonso Giordano has a very unique singing voice. How important is his vocal style to the music of Steel Raiser?
We think the 60%​​! Alfonso also has a very important role in the construction of the melodies, and then he is irreplaceable.
What was the writing process for the album like?
Generally, all is born from a guitar riff. Then we add the vocal melody and the text. We always try to keep a simple structure of the songs, because we think it is the most effective.

How about the recording process?
After creating a pre-production at home, we work with Gianfranco Strano, owner of Petit Studio. Usually we get in the studio with a clear idea in order to develop the most of every single track.

Turning to the lyrical content, does the album have an overarching lyrical concept?
It is certainly not a concept, but the general guideline is unique in many parts of the album. Interpersonal relationships, the difficulties associated with them, the need of human beings to break away from the chains of oblivion. These are the common themes that run through our work.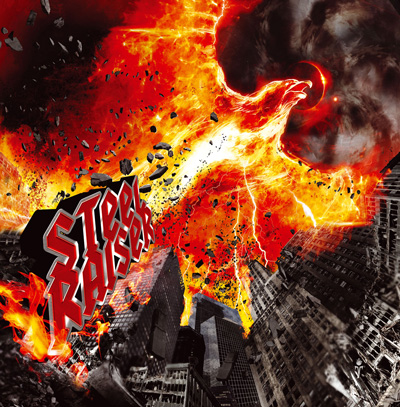 The album is called Regeneration, and the cover artwork depicts what looks like The Phoenix. Does the artwork have any specific significance?
The artwork represents best what our album sounds like. The man is born, evolves, so like a phoenix from its ashes and inexorably takes flight. That's what happens, in our hearts we hope, to humanity in these dark times.
There is a song called 'Cyber Laser', which is in itself a cool title to a sci-fi lover like myself. What is that song about?
The lyrics of this song was written by Alfonso, a great lover of science fiction. He has created his own universe where the eternal struggle between good and evil reigns, and "Cyber ​​Laser" are creatures that are part of it.
And now the unfair question: if you were to pick three songs from the Regeneration-album as your favorites, which ones would that be, and why?
Difficult question. I would choose
'
Wings of the abyss', 'Love Is Unfair' and 'The Executioner.' The first two because they have a very deep meaning and are the result of very strong personal experiences. 'The Executioner' is pure power, no frills, as if to say to the bad guy, "hey, friend, you have to fear the night because justice is waiting for you in the shadows." Very powerful and direct.

'Love Is Unfair' video

To those of our readers who are not familiar with Steel Raiser, what is the history of the band?
Steel Raiser was born in 2008 as a studio band by an idea of mine and Alfonso's after a break from our previous projects. Immediately after the publication of some piece of Internet, we were contacted by our record label, Pure Steel Records, which gave us the opportunity to record our first album,
Race Of Steel
, and to participate in the 2009 edition of the Swordbrothers Festival in Germany. In return, we also received excellent feedback, and we had the desire to complete the band; hence, the arrival of Giuseppe Seminara on guitar, Salvo Pizzimento on bass, and Antonio Portale on drums. The rest of the story you already know, with the release of our second album
Regeneration
.
Are there any specific artists or bands that you are particularly inspired by?
The influence of
Priest
is very strong, but we are inspired by other great US Metal bands like
Crimson Glory
,
Vicious Rumors
, and
Cage
as well as European bands like
Saxon
, Grave Digger and Primal Fear, to name a few.
Are you planning to tour in support of the album? If, yes, is there any chance of experiencing Steel Raiser live outside of Italy?
We are currently considering the possibility of a tour outside of Italy, and especially in Northern Europe. We are also considering other interesting opportunities.
What else does the future have in store for Steel Raiser?
We will continue to do what we enjoy most: play. We are in full activity, like a runaway train, and we're already writing the first songs for the next album.
Where can Regeneration be purchased and where can those who are interested in learning more about SteelRaiser go for more information?
Regeneration
can be purchased on the Pure Steel Records' shop, also available in digital format, and in all good music stores. For those who want to follow us you can find us on Facebook (
http://www.facebook.com/SteelRaiserOfficial
) on myspace (
www.myspace.com/steelraiser
) and on ReverbNation.
Once again, congratulation on a great metal album, and good luck in the future. Thanks for doing this interview.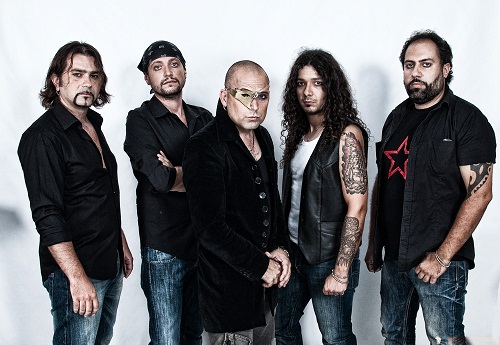 Edited by Time Signature - 06 May 2014 at 12:07pm