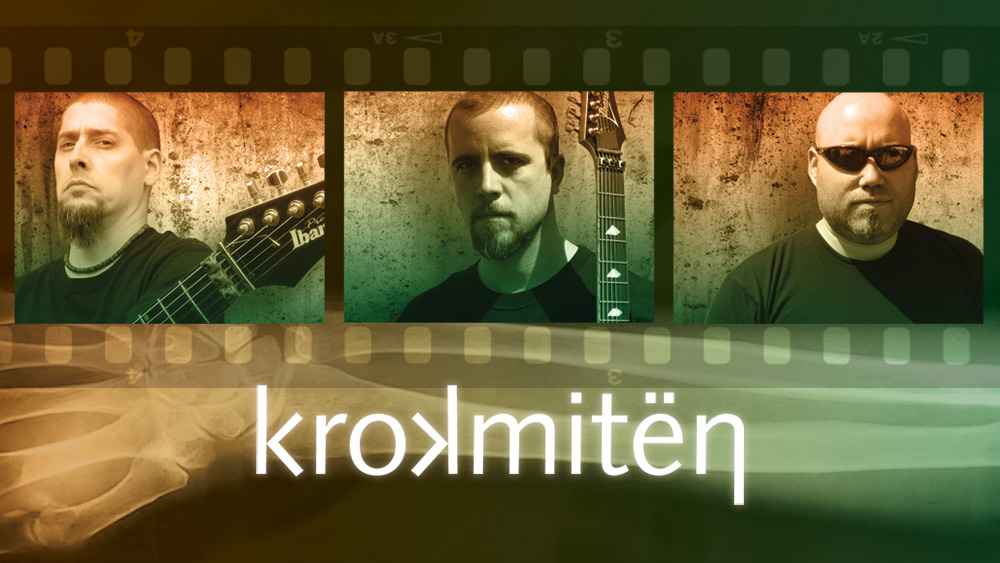 Hailing from Montreal comes Krokmitėn, experimental death metallers back from a decade long hiatus. Unleashing their critically acclaimed full-length debut Alpha-Beta late last year, Krokmitėn are in the developmental stages of their next full length, Omicron-Omega which looks set to be another stroke of brilliance from the Canadian band. I got the chance to interview the bands founder and mastermind, Simlev about the upcoming album, as well as discuss inspirations and potential developments within the world of Krokmitėn.
First of all, congratulations on the release of Alpha-Beta. I've given the album many, many spins and it's improved with every listen. It's now been more than a year since its release; what's it like to look back on from 2012?

Simlev: Thank you mate! I still listen to Alpha-Beta once in a while. I'm still very satisfied and proud of it. Of course there's some little details here and there that we would do differently now, but being aware of those will be helpful to make the next album better.

How is your up-and-coming album, Omicron-Omega coming along?

Simlev: Well, our next album is well underway. We have a shit load of riffs and we've been using them to build the structure of the album. We've currently demoed over 30 minutes of music in chronological order with programmed drums. At the moment we keep working on those 30 minutes, moving things around, cutting some parts, adding some new ones, making variations of what's already there. I wrote Alpha-Beta pretty much all by myself. This time it's gonna be a little different. I still am the architect of the project but now I'm not writing alone; lately Dubg has started to work on Omicron-Omega with me as well. He records some riffs at home and send them to me, building some kind riffs bank that we can use when we need. As we write, record and build the structure we pick some riffs in the bank when we feel they fit the vision we have for Krokmitėn and then add them where needed. Then we discuss about it and move things around to get the structure tighter. We'll be working like that for a quite a while until the demo is really solid and that it's ready to move to phase two.

Phase two will be to replace the programmed drums with a real performance. We'll use the real performance to alter the riffing; matching the picking with the drums' variations. Our demo is not a demo per say, I'd say it's closer to the real thing but we record our tracks quick & rough, just to build the structure. When it's solid, we'll re-record everything properly and add some details here and there to make it more interesting. At this point we'll know the music very well, it's going to be easier to make it ultra tight. Overall, it's a tedious process, but we really love where it's going and it's a lot of fun to do.

I understand that like Alpha-Beta, this will be a single track epic. What are the pros and cons of creating an album in this format?

Simlev: Yes, Omicron-Omega will be a single track album. I don't really see us as song writers. I see us as music writers. Or composers, but the term is a little too serious ahahah. One of the pros would be that we're not limited by the typical song length or the standard song structure most bands write and use. It allows us unparalleled freedom on the final result. On the other hand you've got to have a really clear vision of the entire track from the get go or you could get lost and lose your audience. Having so much rope makes it really easy to hang yourself with it. The way we see it is closer to a movie score than an elongated song structure. Instead of thinking it with verses and choruses, we build it more like movements in classical music or like "scenes" in the movies. So, it takes planning and a lot of analysis technically before you even start the recording process. Another of the cons would be that we live in a short attention span society. A lot of people need a quick fix and don't want to think too much. A one-song album is too much for some to digest. But that's the way we like to write, it feels natural for us.

You describe your music as Experimental Death Metal. What bands/albums were of the biggest influence to you in developing this style?

Simlev: Well, we grew up with Thrash Metal back in the 80's. Early works from Voivod, Metallica, Megadeth and Slayer surely has something to do with what we do, somehow. However when Metallica's And Justice For All came out, it really changed everything for us. That album was the peak of Thrash Metal in our opinion. When I've heard that album I absolutely had to get a guitar. For me it was a life changing experience. It was catchy but super cold and bleak at the same time, I loved that. That's also when I've started to pay a lot of attention to an album structure. At about the same time I discovered Voivod's Dimension Hätross, and other life changing experience. That's where my taste for unusual riffs and structures came from. Later on I've evolved towards Death Metal; Morbid Angel, Death, Carcass, Malevolent Creation, Cannibal Corpse, etc ...
The experimental tag could easily be dropped for convenience since at its core, we're a Death Metal band. However, we mix styles of metal when we see fit. Our music has some elements from Thrash, Doom, Funeral Doom, Technical, Prog, a little psychedelic touch and whatnot. We don't really experiment that much with the music itself; we never go totally out there with riffs. What's experimental about us is basically the entire concept and the way we blend styles together. Also the way we see an album, the structure, the format, the way to release an album and our overall mentality towards the music industry. We felt that calling Krokmitėn a pure Death Metal band wouldn't be entirely true. Also from a marketing point of view it helps promoting your band with a simple explanation. But we could label ourselves the way we want but in the end the listeners will decide how to label us, that we agree or not.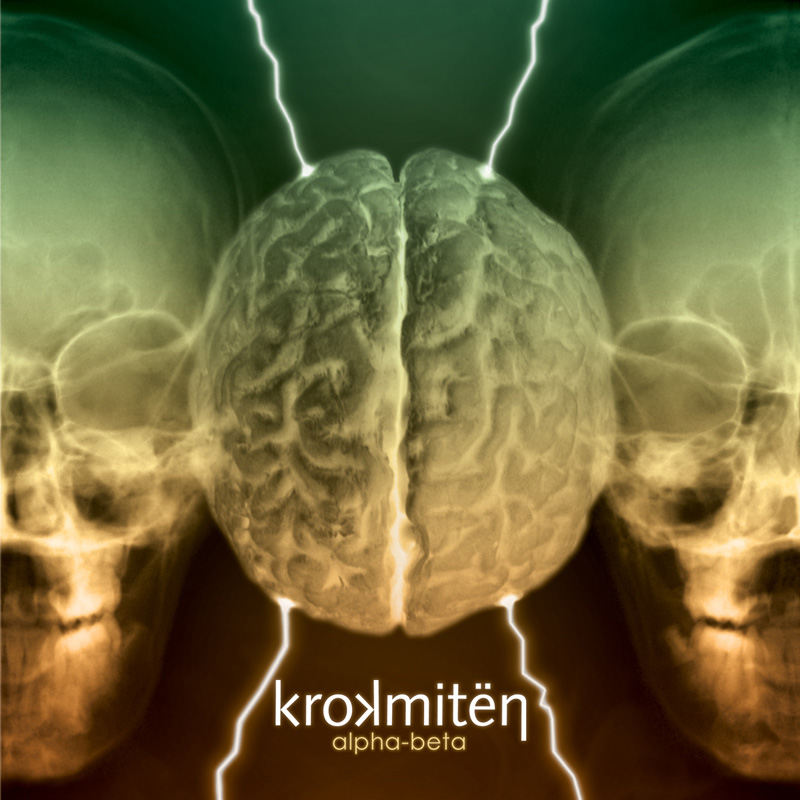 With your debut full-length Alpha-Beta, how much did the end result differ from your original vision, if at all?
Simlev:
It's difficult to quantify. But I think it's close enough. You might have a clear vision in your head but once you start making something concrete out of it, it mutates into something else. As the project progressed our reactions to it sparked some more ideas which influenced the end result. And then other factors come into play and modify your vision even more. What we ended up with in the end is a snapshot in time. Where we're at, at that precise time, mentally, musically and technically. We go with what feels right to us. We're perfectionists, but we're not delusional ahahah. Perfection is in the eye of the beholder. What works for us might not satisfy everyone. Something sure, we've grown and learned a lot doing it. Omicron-Omega will be another snapshot in time for us.
Conceptually, is Omicron-Omega a continuation of Alpha-Beta, or a new direction altogether?
Simlev:
Neither. It's not a continuation, but it's not a new direction as well. Alpha-Beta is the scientific creation of an anti-christ that wipes out humanity. A part of the same theme will be present in Omicron-Omega. We don't want to reveal too much at this point. The only thing I can assure you is that a lot of people will die.
What was the inspiration for the story behind Alpha-Beta?
Simlev:
I was inspired by a lot of stuff; society, the news, movies, tv series, video games and whatnot. Bits of those here and there. Also, I've read quite a bit on psychology, human anatomy, mental disorders and weird behavioural theories. In a fucked up way, the bible was the main inspiration behind the story though. The most insane story ever told. In a way I wanted to mock religions and all the lunatics starting/running them. Who knows, maybe 2000 years from now, people will see Alpha-Beta as a holy video and the church of Krokmitėn will be tax exempt as well ahahah...
Religion was a big aspect of Alpha-Beta, as you've stated. Does your music reflect your personal ideologies on religion to an extent?
Simlev:
I've vaguely used the bible model as a way of writing. Often I'm building parts of the lyrics using parables, symbolics and analogies. Like the bible or a David Lynch movie, it can be interpreted in many ways. I just can't believe that religions still exist today. I believe they're an insult to human intelligence. They're a proof that humans are still not fully evolved mentally. Humans are still so primitive and easy to indoctrinate.
I don't condone physical violence against them or their followers but I despise their organisations and pity their followers. I just wish that with time mankind will outgrow any belief in a supreme being thus rendering religions obsolete.
Am I an atheist? Not really, I don't like that word. I'm only an atheist because religions exist. I'm as much an atheist as I'm a non-killer and a non-member of the Hell's Angels for instance. If one day no one believes in god, the word atheist would cease to exist since it wouldn't mean anything anymore. Atheists are what lunatics call us. If you believe in god, good for you, but please don't join any religions. In fact, I don't even like the word "religion" ahah. Every religion is merely a very popular sect. If you gather enough followers, you are eligible to become a religion. We should all cut the bullshit and all call them sects. I hope that one day, they'll only exist in history books as mythology.
In short, that was my ideology. For Krokmitėn, I just use that subject as a template to build a piece of fiction. I don't plan to out-convert anyone, I'm just venting... Nowadays it's very hard to touch that subject without sounding like a complete lunatic yourself. Did I answer your question? Ahahah

That's quite an interesting spin to put on the album. Did you ever expect the amount of attention that you've received from people all around the world over Alpha-Beta?
Simlev:
Well yes and no, I personally believe that we have great music to offer but in the end it's up to the public to decide if we deserve any attention. There's so many great bands out there. There was a strong possibility that no one notices us. Pushing the limits with a one-track album with a full lyrics video and offering everything for free helps getting noticed. We work hard on the artwork, the website and the videos, that helps too. We also push hard on social networking. Anyone wanting to contact us can do so very easily and we're responding. We receive a lot of private messages from all over the world and we do our best to give some time to everyone. It takes time but it worth it. I don't think bands can afford to play the untouchable megastars anymore. Funny thing is, we have a bunch of fans in places like Nepal, Egypt, Indonesia, Japan, Cuba, Burma and other countries that I've never heard of before. On the other hand I believe we might have less than 20 fans in our own city, I guess we're not "exotic" enough for Montréal ahahah!
In short, yes we expected a certain amount of attention because we worked hard and we're pushing harder than any record label would ever push to promoting us. And no because you never know if your hard work will pay off and that you'll fly right under the radar. We're happy about the current response but we believe it's just the beginning though.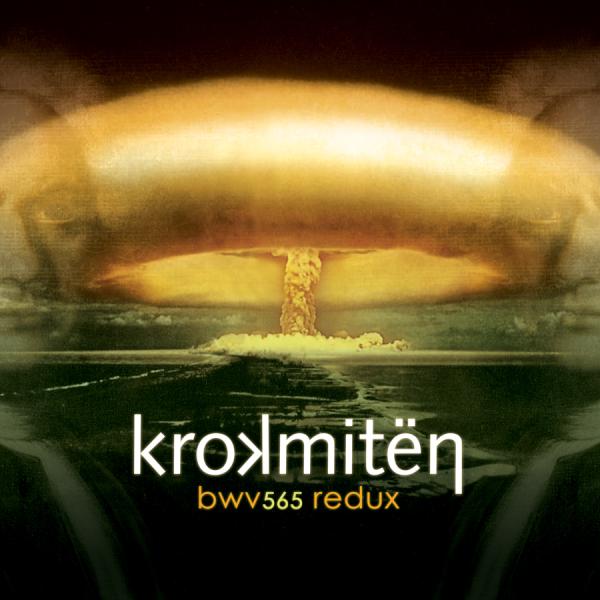 With your EP, "BWV565 Redux", you adapted a classical piece to metal. Do you plan on adapting more well known compositions to your Krokmitėn style?
Simlev:
No, I don't think we'll ever adapt another classical piece ever. We don't want to specialize in doing this, that was a one time thing. Anyway we can't think of another piece that would fit us. I personally would like to eventually adapt a Voivod track or something off ...And Justice For All, but we'd run into some copyright issues and other corporate bullshit, that's a turn-off...
What is the greatest experience you've had so far with Krokmitėn?
Simlev:
For me it was when we officially put Alpha-Beta online for everyone. I felt totally relieved. Free from years of obsession. But on a longer time frame, it's the studio time. I love the writing and recording process. Some musicians need to be on a stage, for me writing and recording in studio is the ultimate buzz.
Do you interact with many other bands coming out of Montreal?
Simlev:
We used to in the 90's when we were playing gigs. But since we're currently not a touring band we don't interact with other bands much or at all. I know some people in bands like Voivod, Neuraxis and Despised Icon, we meet when we attend concerts and all, but that's about it.
What music are you listening to at the moment?
Simlev:
Lately I'm listening to Nile "At The Gate of Sethu", Gojira "L'Enfant Sauvage", Cannibal Corpse "Torture", Bloodbath "The Fathomless Mastery" and Origin "Entity". That's my car playlist at the moment. But when I'm in writing mode, I usually don't listen that much to other bands, it's too distracting.
Where can the people that read this interview find the latest information and download the music of Krokmitėn?
Simlev:
The best place is our official website
krokmiten.com
, we update it ourselves, no middleman. We have a download section with our music in various formats, even high-resolution flacs and Alpha-Beta in HD720p. Best of all it's free! The best way to interact with us is on Twitter.
Thank you for taking the time for this interview, and all the best with Omicron-Omega. Cheers from down under!
Simlev: My pleasure! Thank you for having me! Cheers from up above ahahah!



Edited by renkls - 30 Sep 2012 at 7:01am