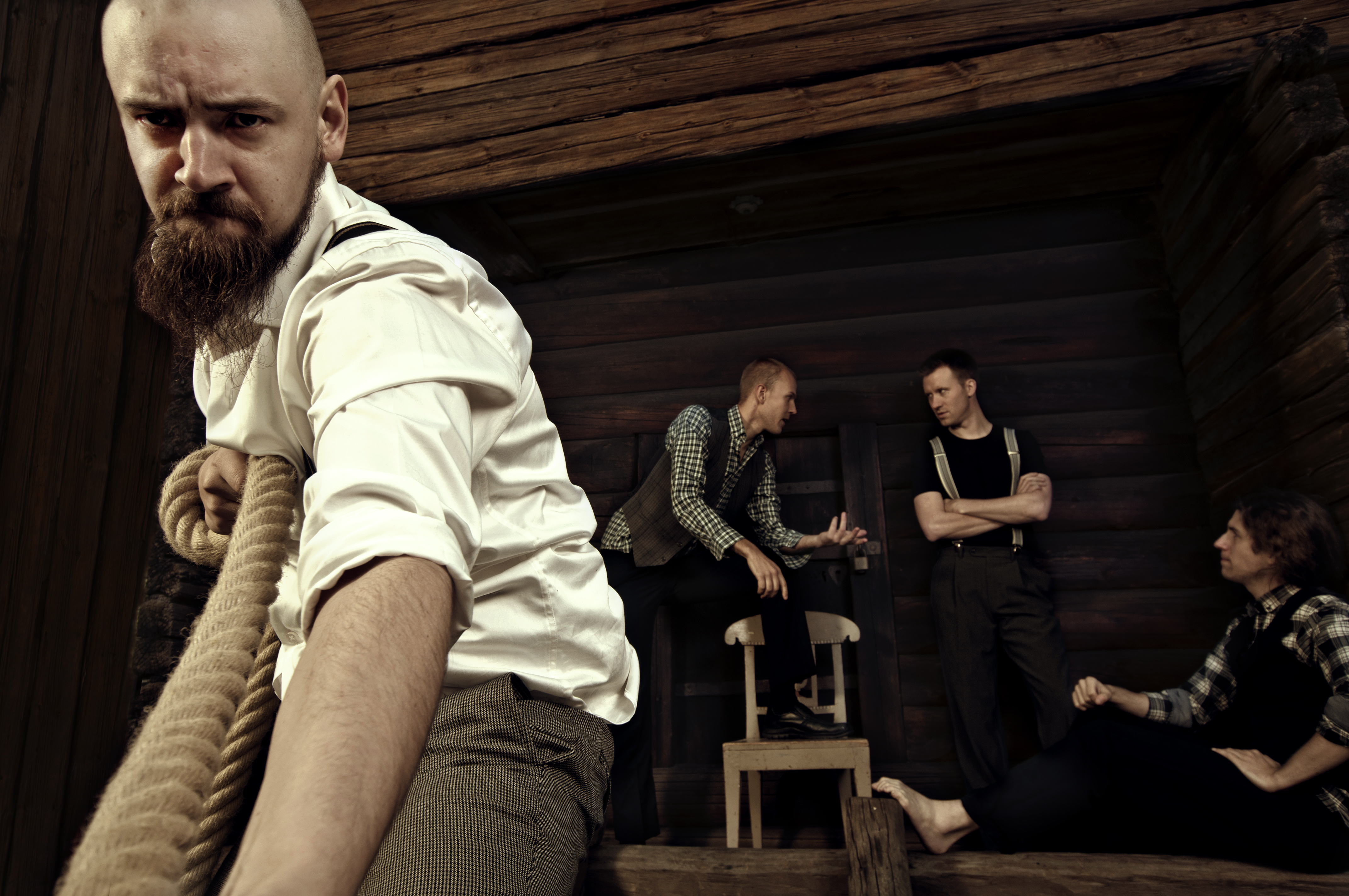 Sweden are one of the greatest places in the world when it comes to death metal, and Terrortory aren't any exception. Although they play a familiar style of 'Gothenburg' melodic death metal, their debut album 'The Seed Left Behind' has a few surprises that set them apart from the average. They are an easy recommendation from me and Jonas (UMUR); their album may be ordered online at their website.
Unless I am mistaken, your band name appears to be a portmanteau of 'Terror'
and 'Territory', the combination of which could mean many different things. Why did you
choose this name, and what does it mean to you?
No that´s a correct observation. It actually started out as a spoof name when the guys (Johan,
Stefan and Michael) started the band. But as time went by the name stuck with us and now
we really can´t change. I guess it relates to our music in a way. Our songs tend to tread on
unknown, scary territory. A Terrortory if you will.
Sweden is a nation with a very significant and prolific death metal scene. Where do you think
Terrortory fits into this canon of Swedish metal, stylistically and otherwise?
Tough question. There is a huge number of great bands born here in Sweden. We all listen
to bands like Opeth, In Flames, Dark Tranquillity, At the Gates, Entombed (the list goes on,
and on...) so I guess that our "sound" originates from them. Now I´m not saying that we
intentionally try to emulate them, but I definitely think you can hear that we are a band from
Sweden.
What's the story behind the formation of this band?
The story is that there were a couple of guys, in their late teens, in Skellefteå Sweden who met
at a local concert, started talking, became friends and then started a band. Classic but true. I
(Olov the bass player) joined four years later in 2004. I met Johan on the street. We knew of
each other through mutual friends. He asked me if I could do a gig with them that summer. I
jumped to the chance and obviously made a good impression because they later asked me if I'd
like to join them full time.
Your songwriting takes a more progressive approach than much melodic death metal. What's
the process of composing material for Terrortory?
We write the majority of our songs together when we rehearse. But I would have to say that
Johan (vocals) Stefan (guitar) and Michael (guitar until 2009) came up with most of the riffs. We
jam out different ideas and those we like, we keep. I don´t really know why we tend to do the
proggier stuff. I guess it is because we all like to play those type of things. Also it is a lot more
fun to play when something unexpected happens. When the song takes a turn you don´t see
coming.
All the lyrics are written by Johan and his warped mind.
Your debut 'The Seed Left Behind' was released last year, and it's an album that's been
long in the works. What went into the creation of this record, how might you describe the
approach and meaning behind the music?
We had been talking for a long time to go into the studio and record a couple of our songs.
When we finally got around to it, and found a gap in all of our calendars, we just went for it. We
had like six or seven days to record the whole thing, so there wasn´t much time for monkeying
around. We wanted the sound to be heavy but still crisp. It took some time, fiddling around on
the amps and in Cubase, but we got a pretty heavy sound in the end. We had a great time with
lots of laughs and late nights. Can´t wait to do it again!
We just write and play stuff that we would like to listen to ourselves and hopefully others will
enjoy it to.
Being a metaller perhaps most aligned with black metal, I notice a black metal aesthetic in
Terrortory somewhat, from the arboreal cover artwork of 'The Seed Left Behind' to some of
the melancholic melodies in your music. Any comment on this?
Being a band from the northern part of Sweden, with short summers and really long and dark
and cold winters, it only feels natural to incorporate some "black" feelings in our music. Plus we
all love the "epicness" and pace of black metal.
Your press kit says you have shared the stage with such prestigious acts as Entombed and
Vintersorg. What is the live experience like for Terrortory?
We are a band that always gives 110% on stage. We want the audience to hear the music as it is
on the album when we play live. Our focus lies on playing as good as we can all the time, every
time. If you come to a Terrortory-gig you can expect a good sounding, well played, loud and
headbanging show.
What lies in the future for Terrortory, now that you have a debut album to leap from?
We are going to do a couple of gigs this fall and we are planning to get together this summer
and start writing some new stuff. That ain't the easiest thing to do. We all live in different parts
of Sweden and have regular jobs to maintain. But this summer we´ll start writing some new
epic, heavy songs.
What have you been listening to lately, what are some other great death metal bands you
might recommend?
Lately I´ve been listening a lot to Bloodbaths "The Fantomless Mastery". I think that is one of
the best death metal albums out there, if not the best. I might get in trouble with the other
guys for this, but I think it´s true. Also, the latest In Mourning album. Damn that´s good. And of
course "Koloss"! Meshuggah at it´s best!
What advice and words of wisdom might you give to musicians in my position, wanting to
make music and get a good band going?
Just keep playing! Find a quick and easy way to record your ideas so that you remember them
later on. When you´ve got enough riffs and want put together a band. Be sure to make sure
that the people you are playing with are on the same level as you and that you really klick with
them.
What is Terrortory's favourite place to get cheeseburgers?
Max Restaurant in Skellefteå. If you ever get the chance to visit this fine establishment, be sure
to order the BUREÅMÅL. It won´t disappoint. I Promise!
Any final words for metalheads abroad, or any vital questions I may have missed?
If you are bored with surfing the web, look us up on Facebook and check out the latest news.
Cheers from Canada!
Cheers from Sweden!
Terrortory's MMA Profile may be found here.


Edited by Conor Fynes - 29 May 2012 at 1:39am