Having recently released their debut album Metal through the Time which is a pure speedfest of eleven headbanging and skull-fracturing tracks, Demona - led by Tanza Godoy - have cemented the fact that they are a force to be reckoned with in the world of speed metal, and shown that speed metal is alive and kicking. We had a chat with Tanza Godoy, the primus motor of Demona to discuss the album and the band's music plus she takes us behind the scenes of the recording process.
First off, congratulations on the release of Metal Through the Time. How do you feel about the album, which is in effect your debut full-length?
Thanks a lot! Let's see, about the album I feel very pleased. It was hard work but I enjoyed it and put all my myself in it so what you will hear in it is simply ourselves! Metal through the time is a piece of 46 minutes of full heart-taken old school speed metal!!
What can the metal community expect from the album?
I always say is better not expect anything from anyone or anything because then you can have some disappointments, but I can tell what can contains and my own point of view: You'll find 11 tracks of fast, raw, sometimes melodic, speed metal plus one bonus track in the CD version which is a cover of Wardance. Also you'll see the cooperation of some great characters in the underground metal world making their deals. I don't know what you can expect apart of music that was born from the bottom of my heart.
How would you describe the style of music on the album in your own words?
Fast, melodic, powerful and sometimes even primitive. It's pure and simple speed metal!!!
What sort of material does the album feature? Is it new compositions or Demona classics?
Well, you will find new and old stuff. New songs that can show the advance of Demona and the classics that could not be out of it, for example "Nightmare", "The Apocalypse" and "Llagas". Also "Solo Existe El Metal" that was part of the first demo tape Metal Is Me but it was re-structured.
Are there any specific songs on the album that are especially important or significant to you?
Well, yes. "Poisoned" (track number 10) is very important to me because it was a song taken from my band from before with the same name (Poisoned), where I played just guitar, but sadly we never recorded anything and stayed in a summer-friends-band. The song was made by myself in end of 2006 or early 2007, I don't remember good and was sung for a guy in that time, but I took the song, I re-wrote the lyric and there it is! Ta-dah!
Can you describe the recording process?
It was very weird! We made the songs demo version in computer with metronome, we recorded the bass first that all the bass in the studio with metronome, followed with Gabrihell's guitar, after my guitar. When we had the strings ready, we recorded my voice. Just in that moment we added the drums that were recorded with the metronome and the base of the strings and when we had that we finalized with the solos. It was a very calm recording process, no party, no alcohol, no nothing, but that doesn't mean we didn't enjoy. Personally I enjoyed.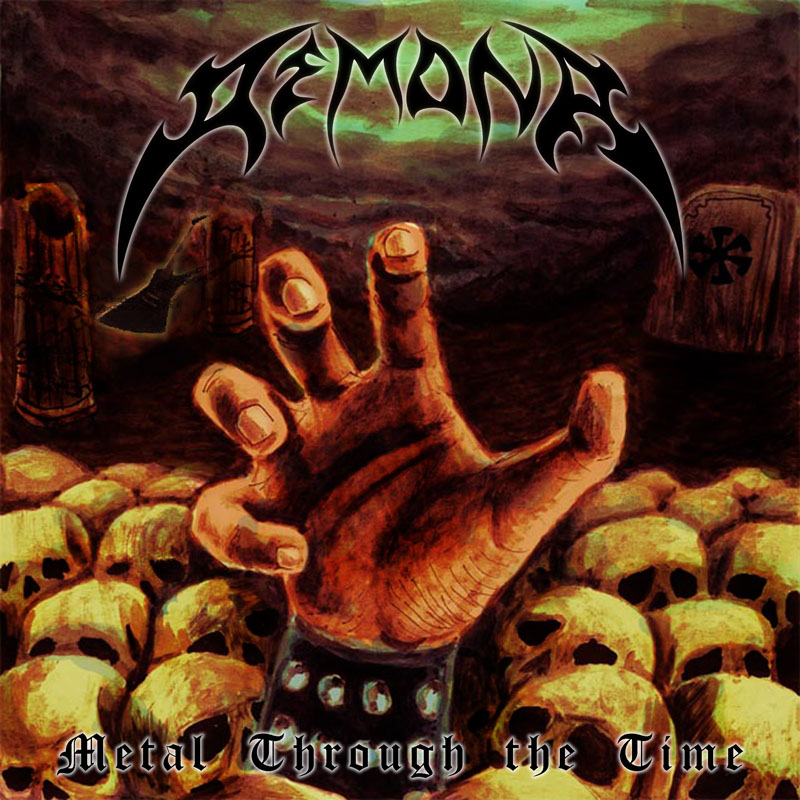 I love the cover art of the album. What is the story behind the cover art and who did it?
Well, the cover art it supposed it will be made by Eduard Johnson (the same guy that made our logo and the cover of Die in Violence and the split tape Acid Demons) but we flaked out at last minute (like 2 weeks before of the date) so we weredesperate and asked in my Facebook, who the hell draw? So a couple of persons contacted me, but one of these guys, I now him in personally because he was in the same institute as me in Chile (but he studied illustration and me photojournalism), so I knew he was a good illustrator and stuff and we told him the idea with the name of the album. He proposed the hand with skulls at the center and we decided to put that background and the guitar between the pillars and the speed metal grave. He made an awesome work and I am more than happy with the result!
Metal Through the Time is your debut full-length, but you have released a lot of demos, splits, singles and EPs throughout the years. Earlier this year, you released Metal Is Me/The Assassin on Iron Bonehead. How was this release received?
I don't know too much actually but here around very good.
The solo in "The Assassin" was provided by Vic SOS. How did that collaboration come about?
He is a very close friend of mine. We used to hang out when I was living in Chile with another friends and all and when I asked for this he was kind of skeptic at the beginning because he is a very reserved guy but at the end he accepted. He is an awesome metal machine and Insanity (his band) it is waaaaaay one of the best current Chilean bands.
Looking at your entire back catalog of releases, are there any releases that you are especially proud of, and why?
Metal Is Me over all. It was my first demo tape and I still remember when I received those covers printed. I made all by myself so I was very happy! Also when I released it I received some offers for future releases, I made a lot of interviews and I traded a lot too. It was like my first dream come true! Haha. I love Metal Is Me. I know is not so good and It has a lack of a lot of stuff but I really love it, is like my baby. Die in Violence also is very important in my life! It was first time I touched a studio and I worked in a team. Was great that recording process and the result of the 4th songs for me was perfect. And of course now Metal through the Time, because it is my first big boy.
Turning to Demona the band, what is the current line-up?
It is: Gabrihell on the lead guitar, Jeff on the bass, Antoine on the drums and me on the vocals and rhythm guitar.
For those of our readers who are not familiar with Demona, what is the history of the band?
Ahhhhhh!! I hate this question! Hahaha. [Fear not, dear readers, you can read the history of Demona right here, at the official website of the band - TS]
Are there any specific bands that serve as a source of inspiration for Demona?
Yes! Old school over all but also some current bands: Wardance, Vectom, Living Death, Xandril, Exumer, Whiplash, Iron Angel, Carrie, Angel Dust, SDI, Pokolgep, Open Fire, Turbo, Ossian, Arakain, Manilla Road, Warrant, Renegade, Messiah Force, Sabbat, Taurus, Mutilator, Stress, Anthares, Atomic Aggressor, Pentagram, Distorsion, Luzbel, Transmetal, Witchburner, Skull Fist, and more!!
Do you have any plans for another full-length album in the future?
Actually, we are preparing the second album already.
Are you going on tour in support of the album?
Yes, as soon as I can.
Where can the album be bought?
You can buy the album in the label's webpages: Heavy Forces www.heavy-forces.de (Vinyl version) and www.dying-victims.de (CD version) OR directelly with the band if you want to support us in www.demonametal.com or write us to [email protected] , we are plenty of stock.


Thank you very much for doing this interview. Once again congratulations on the completion of Metal Through the Time and best of luck in the future.
Thanks a lot, to me is a dream come true.


Edited by Time Signature - 06 May 2014 at 12:40pm