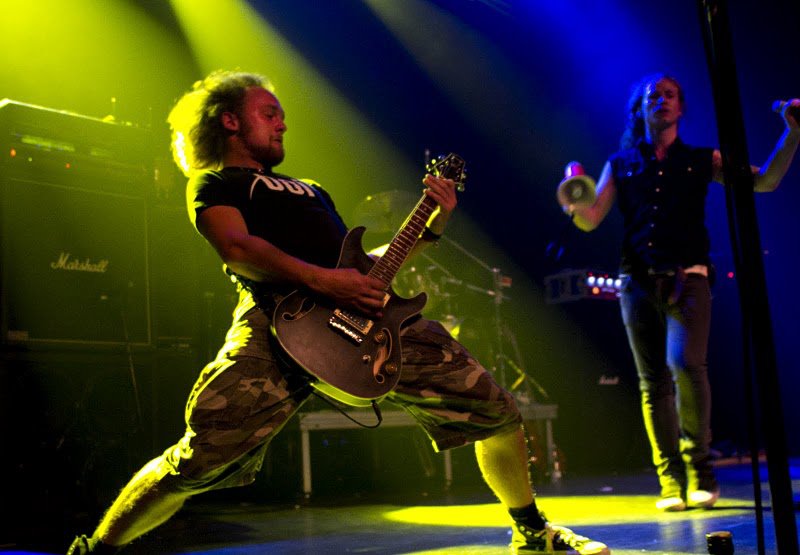 This interview was made possible by collaboration with fellow member Time Signature. Many thanks to him! You may not have heard of Spit Rusty before, but they are a new band on the Danish rock scene that is quickly picking up speed. Catching them on their rise, MMA gets a peak into the workings of this promising act.
First off, congratulations on the release of your excellent debut EP Underwhelmed.
How has it been received so far?
Stefan: It's been received very well. Critics definitely don't seem Underwhelmed. Ha-
ha!
Morten: Thanks. Well, it's been eagerly received, so we're quite satisfied.
Kasper: It's been received way better than I dreamed it would, and the reviews are
awesome!
Spit Rusty is an interesting name; where does it come from?
Stefan: That's a quite funny story about the name. I think we came up with ideas
for like a month, without any really good names, and at one point I almost became
frustrated, 'cause with no name, there's no band! But we played around with the idea
of trying one of the band name generators that you might find via a simple Google
search. We only had to give the generator one or two words that described our band
and it would come up with suggestions. Really the non-creative way to pick a band
name. Well, the generator came up with "Spit Rusty" and we thought, It's cool, but
seriously, a freaking generator on the internet made that name. So we went on
brainstorming, but in the end we chose Spit Rusty. It's really cool! I like it more as the
days go by!
Martin: it's the postmodern way of coming up with a name, ha-ha! Definitely a first.
Sometimes you're just better off leaving things to serendipity. We really tried to
come up with something better, but in the end Spit Rusty really does sum up what
we're about. Rock music is a way of dealing with a lot of negative emotions and in this
respect our band name creates an interesting allegory – at least in my mind.
There is a lot of variation on the EP, and you include elements from metal, hard rock
and other types of rock music. Is that why you've opted for the term "hard rock" for
your style of music rather than listing a bunch of metal/rock subgenres?
Stefan: The five individuals in the band listen to all kinds of music. So we get
inspiration to our songs from the genres we listen to, throwing ideas up when we
rehearse and then we go with our gut feeling. In the back of our minds, each of us has
a pretty clear understanding of what works and what doesn't!
Kasper: Hard rock is just the main genre where we believe our music belongs, but as
you say, a long list of subgenres is to be found on "Underwhelmed".
Martin: The whole genre discussion is a bit redundant, isn't it? Well, to me the
important thing is to avoid letting certain labels confine you. We are still a brand new
band; it's too early for us to impose limitations on ourselves.
Can you describe the four tracks on the EP for us?
Stefan: To me "Stick To The Trails" is pedal to the metal! You start out hearing the
drum intro and then comes the guitar and bass, and before you know it, we just take
off doing what we do best. "Drift Alone" appeals to anyone with long hair. It just
grooves! Simple as that! "We Will Be OK" is catchy in every way. The lyrics are easy to
sing along to and in the end, it just became too tempting. So we just had to go on with
half the tempo! That motherf*cking rocks. And at last "Those Days" is a guitar song!
Well to me it is. Ha-ha. Personally I think this is my favourite song on the EP. It just
keeps being interesting for me to listen to.
Kasper: Personally I love "We Will Be OK" it grooves, it's easy to sing along to, and
then the twist with the Jew's harp just makes it perfect!
Martin: As you mentioned, the four tracks are quite different, containing elements
from various genres. As far as lyrics go that's a bit of a mash-up as well, ranging from
general existentialistic considerations to post apocalyptic images, powerlessness and
reflection. The main thing is that the listener meets our music with an open mind, so
no need to explain too much, ha!
There's a Jew's harp in "We Will Be Okay", but there was also something about a
banjo, right? Can you tell us that story.
Morten: It all boils down to banjo madness, ha-ha!
Kasper: Well that's one of many crazy ideas that came up while
making "Underwhelmed". We had the ideas of bringing something unusual into our
music, we tried a banjo but it turned out just a little to twisted for our taste! The Jew's
harp unlike the banjo was just the right thing!
Martin: Our engineer plays the banjo, so we had him record a bit on a song. It really
sounded cool, but just didn't tie in with the rest of the song. It was a spontaneous
experiment, it wouldn't mind trying something like that again that again.
What was the recording process like?
Philip: It was slow with a lot of baths and gravy!
Stefan: We knew from the beginning that we had to make a low-budget EP and
so we ran through our contacts and ended up booking a local cheap studio for a
weekend. We scheduled every day, figuring out how long the individual recordings
were "allowed" to last. But we ran into some serious problems when some of the studio gear broke down. So suddenly we were 6 hours behind schedule, and we had to work on throughout all three nights. It was a rough weekend, but we still had time to
experiment with some funky instruments past midnight Sunday night.
What is the story behind the Underwhelmed-title? it's not exactly an underwhelming
release.
Kasper: Well the Underwhelmed-title just came up one day during a break; Martin,
completely unmotivated, said: "I just found this word that doesn't exist as a Danish
word, but it sounds great!" and I said "Well bring it up, what is it?" and he was right, it
sounded awesome and ended up being the title on our first release.
Martin: I have a tendency to fall in love with words and phrases. I often write
down stuff I think I might use in my lyrics. Anyway, I had stumbled upon the word
Underwhelmed in a book I was reading and immediately took a liking to it. It's
interesting 'cause the antonym is lot more common and is used a lot in the Danish
language as well. The term Underwhelmed was easy to decipher, but at the time I was
unsure as to whether a Danish equivalent existed. It's a pity we don't have that term,
after all it's an everyday feeling. I think the term apply to a lot of my lyrics.
Given that you are still a pretty new band, and most of Metal Music Archives' users
are probably not familiar with you yet, could you give us the background history of
Spit Rusty?
Martin: Philip, Kasper and Stefan are long-term friends and have played in different
line-ups for years. About a year ago they had just parted ways with their singer and
drummer. Through a music site they found Morten and me, and soon after we formed
Spit Rusty. The trail just materialized – and we stuck to it!
In an interview over on HMdk, you've described your style as pure Danish hard rock.
What is the hard rock and metal scene in Denmark like in general?
Martin: Denmark is a small country so niche genres in general are bound to have a
hard time. Bearing that in mind I think that the alternative scene is doing quite well.
As far as hard rock and metal go it's like a community, you pretty much know or know
about everybody. A lot of non-musicians put their back into it as well, that's quite
amazing.
How, would you say, does Spit Rusty fit into the Danish hard rock and metal scene?
Philip: I think we fit in quite well. We bring the magic from both the hard rock and the
metal scene!
Kasper: Well, we play hard rock like it's meant to be played, and I'm sure that it fits
the Danish Hard Rock scene just fine!
Martin: We bring a lot of energy and performance, and we are not afraid to challenge
the conventions a bit.
And how does Spit Rusty fit into the metal music universe in general?
Martin: I admire a lot of the metal/hard rock bands from the 80ies onwards –
especially those who are still playing. We are just the new breed. We try to carry on a
music tradition and at the same time we a very aware of being an original band. You
have to bring something new to the table! In our case it's fairly simple 'cause we draw
on so many inspirations, it's really not a pitfall for us to become too generic.
Speaking of the metal scene, do you have any touring plans, and will it be possible to
experience Spit Rusty live outside of Denmark?
Stefan: So far, we only have a few gigs scheduled. But we don't waste our time sitting
at home and waiting for someone to hire us. We aim high at the very beginning and
we're not shy! We know that the Rock/Metal business is tough and nothing comes
cheap, except beer! So we work 7 days a week, making bookers and venues around
the country aware of us. At the moment, we're hoping to get a gig in London. Nuff'
said. Ha-ha!
Where can Underwhelmed be purchased?
Stefan: We had the entire EP uploaded to all of the big digital services that everyone
knows. iTunes, Spotify, Amazon, Emusic etc.
Martin: If you want a physical copy just contact us and we will work something out.
And where can our users go for more information on Spit Rusty?
Stefan: Facebook is our platform of choice! We're online every day!
What advice would you give to other bands and artists, trying to get their music
together and 'out there' in the world?
Stefan: Go with your guts! And aim high. We don't have the recipe to success; we're
quite aggressive when we sell Spit Rusty as a band. For now, that seems to work out
quite well!
Kasper: Talk to the people around you! Listen to the advice you get from artists and
the music business.
Martin: It's tough; it's a Gordian knot for most bands. You just have to work hard
everyday. Think outside the box.
Thank you for doing this interview. Is there anything you would like to say to our
users?
Stefan: Buy or stream "Underwhelmed" from the big digital platforms. Tell ALL of your
friends about us and there might just be something in it for you! We love all the good
attention!
Kasper: Listen up; we will rock you world!
Spit Rusty's MMA Profile may be found
here.