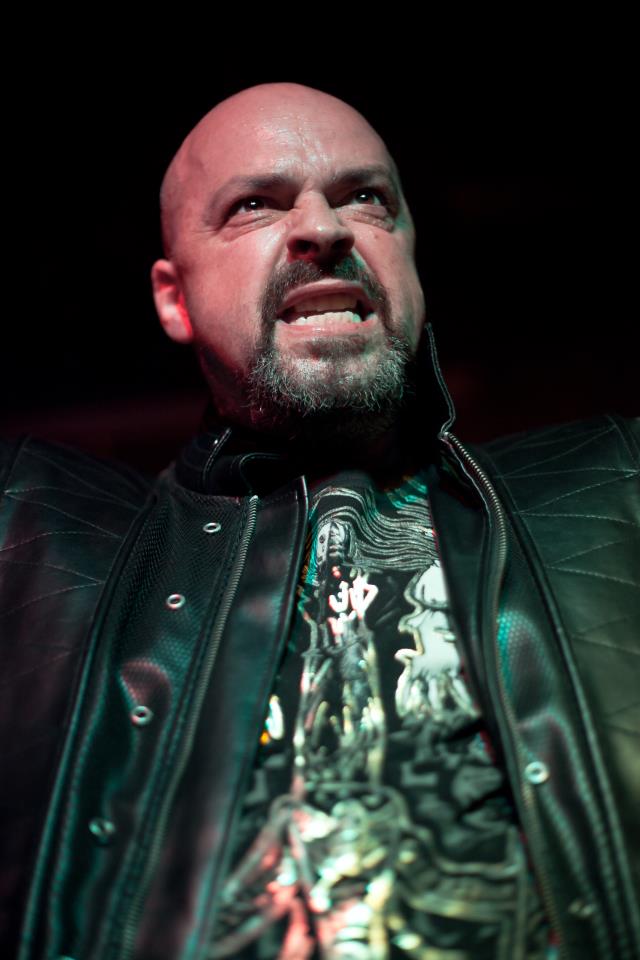 US power metallers Cage released Supremacy of Steel in November this year, and with it they made a massive metal statement and effectively out both the "power" and the "metal" back in power metal. The album has received well-deserved favorable reviews and high ratings. We caught up with frontman Sean Peck, and in the interview below he discusses, among other things the label "power metal", the use of blastbeats on a power metal record, and the importance of lyrics and vocals. He also gives us an insight into the band's writing process.

First off all, congratulations on Supremacy of Steel, which is one of the best metal albums of the year in my book. How do you guys feel about the new album?
Thanks a lot the press and the fans have really embraced this cd so far. It feels like now that we have released 6 solid records that have really gone well, we are getting a new level of respect or appreciation. When you have people pointing to each album as a different favourite you know you are on the right track.

How has the album been received so far?
The reviews have been great and we have charted very high in most of the soundchecks from the major metal magazines. We just try to make metal songs that make you want to raise your fist in the air and say "Hell yeah!"

Cage is typically labelled a power metal band in the media and on the Internet. Do you agree with this genre categorization of Cage?

Yes, we embrace the label although personally I am not a fan of the 'happier' sounding stuff. We have begun as a Heavy metal band transitioned into a power metal band and delve into the speed and thrash areas as well. As long as the songs are good, the sub genre classification is not as important. I feel very strongly about our complete metal package that we deliver. We really make the sale in our live performance and can stand toe to toe with anyone. This band has been seriously battle tested opening for DIO, Priest, and Maiden - you have to have your shit together.
Supremacy of Steel is much more aggressive and heavy than what is typical of power metal these days, as I detect a lot of thrash metal and speed metal elements throughout the album. Is this emphasis on heaviness and aggression a conscious choice?
Not really intentional except for 'Bloodsteel' I think. That one we really wanted to come out just on fire with the blast beats and screams from hell. We have been playing faster and faster since Norm Leggio got in the band and Steve now on guitars. It has to sound good no matter what speed. The new album has got more mid tempo songs and variety probably than the speed metal of Science of Annihilation but we just write the songs as they come. We go for a hook in each song but we have been filling the live set with all the speedy thrashy stuff for sure.
You even include some elements from extreme metal on Supremacy of Steel, such as the blast beats that can be heard in 'Bloodsteel'. What inspired you guys to incorporate blast beats into your musical style?

Ha! Well we want to walk that fine line of expanding and growing from album to album without losing our feel and signature sound. Norm is able to really bring out the encyclopaedia of beats and he claims that is the Dimmu Borgir blast beat right there. We thought the fans would really be shocked from the whole approach to the intro of 'Bloodsteel' and now we are opening the live set with that one right out of the gate!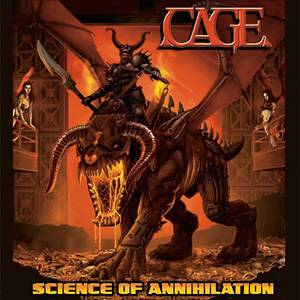 While the Cage style strikes me as generally having more edge than most power metal, Supremacy of Steel appears to me to be harder and heavier than your previous releases. Would you say that Supremacy of Steel is different from you other releases and, if yes, how is it different?

Well it has a lot of diversity especially when we decided to include 'Braindead Woman' in it. That was a bit of a risk but it was an old time favourite we re-did from back in the mid 90's. Songs like 'The Monitor' really have a cool mid tempo vibe and a classic metal feel which really encapsulates where we have come from. This album is a statement album as to the superior art form that metal music is. From the album cover setting the theme for the music, to the song 'Metal Empire', this album says Metal Rules! I give a big metal speech now at each show and this album is our thank you to the genre. Harder and heavier is not really what we went for but it is cool it sounds that way. We just wanted to make an attempt to continue to top ourselves and make the best record yet which is a tall task based on all the previous awards and accolades the previous ones have received.
There is, of course, also a lot of melody on the album. How important is melody in metal, and was it a challenge to create a balance between melody and aggression when you guys wrote Supremacy of Steel?
Yes the fine line of showing off the shredding and wailing and making a great tune to rock out to. We go after a hook that can stick in your mind on every song. That is how I was raised on metal and hard rock. I loved the Wasp's and Dokken, Ratt, Keel, Black and Blue, even Helix. From those bands I think I grasped the concept of some simple rocking song structure and sing a long songs. I remember playing the Ratt song 'You're in Love' like 30 times in a row when I got it stuck in my head so much. That to me is the testament to a great song when you have to play the song over and over it rocks so much. That is what we strive for, man.
Can you describe the general song writing process of Cage?
We work 90% of the songs in the room as a complete band. However 3 of us have home studios where we craft ideas and then bring them into the room to work out for feel purposes. There is something about being in the room as a group that cannot be duplicated sitting in front of a computer. It gets easy just sitting at home forging shit but I need the feel and to have a drummer instantly give different beats can take you places you did not think of. So I will always be a proponent of the group writing. Having 3 guys write is cool because this record came together faster than all the others and new guitarist Steve Brogden really fit in well and contributed a lot. Finding him was really a blessing although he is young he has a seasoned metal soul and knows good metal.
You are a pretty amazing singer with a wide vocal range. How important is versatility for a vocalist in the type of music that Cage plays?
I love being able to take a different approach to each song and really keep it fresh. I always am searching for new voices to employ with each new record. The song 'Flying Fortress' is an example of me never trying to sing like that before. I am very proud of our ability to have a song that sounds like Sabaton, a song like King Diamond, and 'Painkiller' all on the same album. Not sure who else does that. We are not trying to copy just entertain our fans with creative cool shades of metal.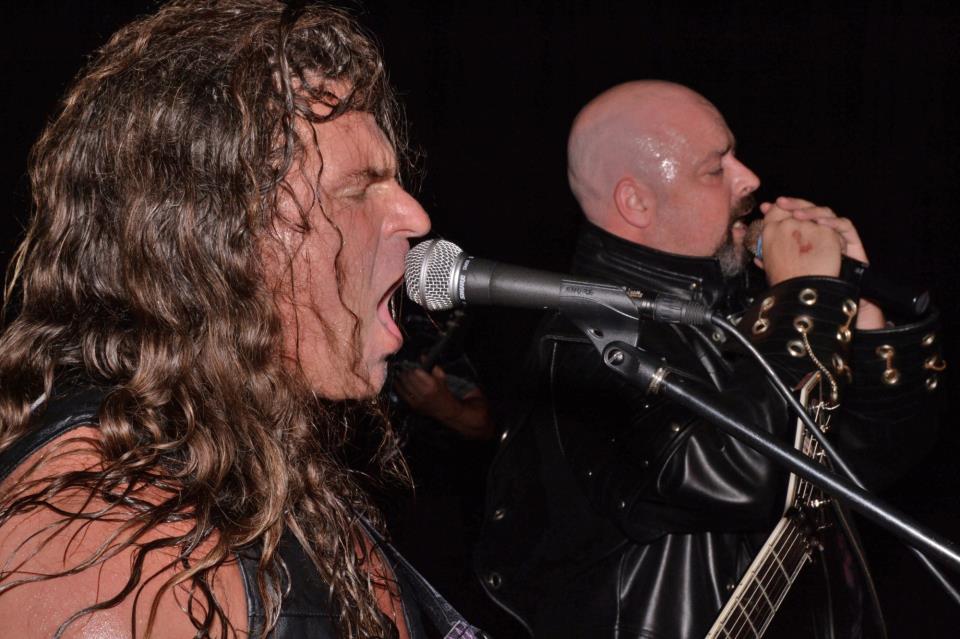 Also, as a vocalist, how important are vocals, in your opinion, in metal music, and how do vocals contribute to the overall sound of a rock or metal band?
Well usually it is the signature that makes the band unique if it sounds different enough. I think with my tone people know it is Cage right when they hear me. Just like Ozzy, Dio , or Halford or even someone like Sting, you know from the unique tone in their voice who it is instantly. Some so-called Helloween clones sound a lot alike and of course most hardcore and death metal does as well. The words in the song are really important to me too so I have been making an extra effort to enunciate much better while blasting out the strong metal screams. The singing you cannot understand loses the impact as the message is lost. I have continued to progress as a singer and am at the top of my game I feel right now at this age. I keep pushing myself and it seems to be working!
Which artists and bands serve as the main sources of inspiration for Cage?
I am really picky with my metal much more so than the other guys. I find it really hard to find an album that I like every song and put it on and play it through like a Screaming for Vengeance or a Number of The Beast or a Scorpions' Blackout. That is how we strive to make our albums non skippable cds where all the songs rip. I am always seeking out that song like I mentioned before where I have to replay it. Within Temptation's 'The Howling' is a song I stumbled upon and kept playing over and over for some reason for example. All the grandmasters of old we refer to and some new thrash elements as well. We listen to everything and are always searching for cool new sounds but I need the epic killer song to motivate me.
How about you as a vocalist, are there any singers in particular that inspire you?
Well, Halford of course, Ripper, King Diamond and now Todd from Crimson Glory is pretty good.
For the benefit of those of our readers who are not familiar with that band, can you outline the history of Cage?

We started in 1992 when Grunge was shutting out all metal. We wanted to make a band in order to keep the metal sound going in our hearts for our own sakes. Because of the lack of bands in our genre left we were blessed with the opportunity to open for all the metal gods and craft our live performance. Through the years we have honed our sound to encompass all that we love about the classic metal sound along with thrash and speed influences as well.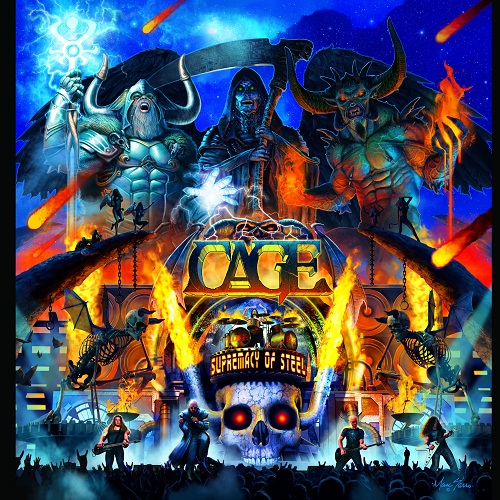 Returning to Supremacy of Steel, a central theme is heavy metal music itself. Is the album a celebration of heavy metal or are you making a statement on today's heavy metal music?
Yes, it is a testament to the superiority of metal over all other forms of music. The people in metal are the coolest and most unified force of all the genres I feel. The brotherhood comes from the emotion that metal music metal gives. The feeling of positive aggression and self empowerment is unlike that of any other music. Also the best musicians with the most talent are in metal and this is a shout out to the world that we live for metal and it will never let you down.
What do you think about the state of present-day heavy metal music?

I think the youth are back on board which is a very healthy thing. There are more bands in all the metal sub genres than ever before and the charting metal bands are also comparatively very healthy as well. I feel metal was close to being killed but now the roots have grown deep and it will now never die.
What is the story behind the cover artwork, and how does it fit into the types of cover artwork that are features on your previous releases?

Well because of the title we wanted to put a cover that depicted the metal gods overlooking the ultimate metal concert or scene. The three characters represented Good, Evil, and Chaos of sorts in a classic presentation. We have gotten lots of great attention from the cover and we wanted one filled with stuff to look at while the album blasts in the background!!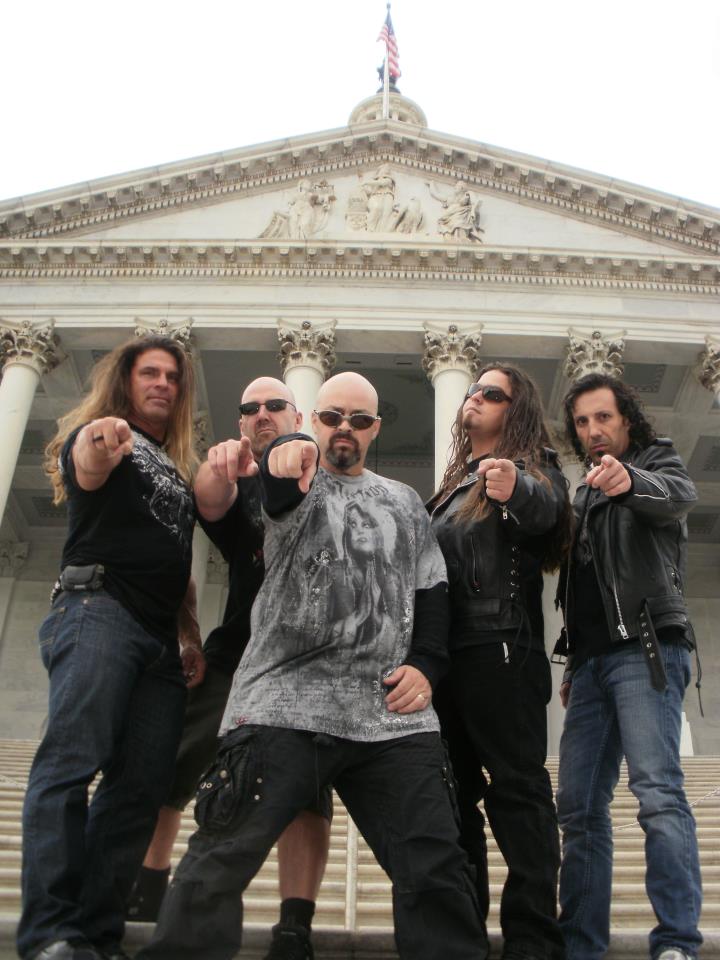 So, heavy metal music itself is a central lyrical theme. What are some of the other lyrical themes on the album?
Well, 'Bloodsteel' and 'Metal Empire' are the two metal song topics. We have some fiction like 'Doctor Doom' (another comic book theme) and 'King Of The wasteland', some historical stuff like 'Flying Fortress' and 'The Monitor', and some classic urban legend stuff like 'Anneliese Michel' and 'The Beast Of Bray Road'.
Are you going on tour in support of the album, and can fans outside The States experience you live in the near future?
Yes there are massive plans to hit areas we have never visited before. They are always being forged in the hottest fires of molten steel but we never announce until it is set in stone as the rock and roll business is crazy!!
Where can people who are interested in learning more about Cage go for information on the band?
www.cageheavymetal.com is our main site and facebook/cageofficial and twitter.com/cageheavymetal
In what formats is Supremacy of Steel available, and where can it be purchased?
It can be found all over Europe at stores and through all major metal distributors as well. Also on itunes and Amazon. Buying it direct from the band is best as we always give extra goodies in the packages at www.cageheavymetal.com
Thank you very much for doing this interview, and, once again, congratulations on Supremacy of Steel, which is truly a great heavy metal album.

Thanks so much great questions thanks to all the fans!! See you on the road please tell your friends about us!!


Edited by Time Signature - 06 May 2014 at 12:53pm