At the moment I'd describe it as a form of experimental progressive rock. It's melodically / song driven, influences ranging from classic progressive rock music, to jazz, world and pop. There's an ethereal, spiritual and futurist quality to the music as well as an aggressive / heavier side that borders on a form of metal at times.
What inspired you to first pick up music?
In my childhood home, my mother was a hippy primarily into folk and world music and my older brother listened to classic rock like Led Zeppelin, Pink Floyd, Beatles, Genesis, etc. I was really into the mellow folk stuff as a young kid (still am), and remember hearing songs by a group called 'Bread' on the radio and wanting to be able to communicate something similar. Their songs spoke directly to my heart and had a magical quality that I connected with. It seemed that was the beginning. Eventually I got turned onto guitar through my older brother.
In retrospect, what are your views on...
Focus
A smorgasboard of earnest, youthful creative musical freedom. It covers a lot of sonic ground, and I'm grateful for that. If one listens closely they can hear components of Focus even in our latest work. It seems like the timing of Focus was at a very ripe period in our development and luckily there was a 'voice' that came through that set the group apart from everyone else in the scene we were associated with. Although we were quite young, we were just weird enough to stand on our own and yet have a realized sound.
Traced In Air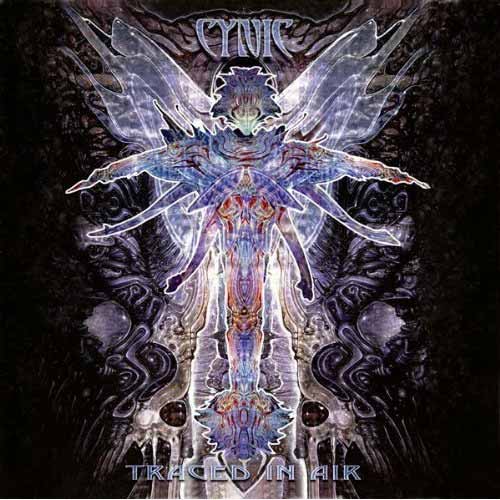 An extremely song driven record cloaked in Cynic's modernist production sense. For me, if I'm to think of architects that I appreciate and can compare us to, I'd say Focus feels like Buckminster Fuller as to where TIA is more like Eric Owen Moss.
Cynic's latest output, the EP 'Carbon-Based Anatomy' shows a new side of Cynic. How has the band evolved since Traced In Air?
Again line with the architect references, I'd say CBA is comparable to Santiago Calatrava. Primitive futurism. Less tradition based, and more intuition driven. A more accurate, realized sense of sonic architecture and sculpting in the auditory realm. It just feels more honest and realized than ever as an artist trying to capture what can't be captured.
What other music was the band listening to during the process of recording Carbon-Based Anatomy?
I don't much listening to other artists during an album process since the sound of the new music tends to occupy most of the space in my brain (if the brain's involved at all ;-). I can say that album's like Pat Metheney's 'Secret Story', Amazonian Icaros, Ravi Shankar and Brian Eno were floating around. The more oriented songs seem to have their own language unrelated to any obvious reference point.


Do you have any particular favourite Cynic songs on this EP, and/or previous releases?
I hear this work as one big idea, and so it's hard to separate the tracks in that way, although they're titled separately. Now that we're touring the album, I must say, I enjoy performing the music quite a bit and the title track certainly has a quality to it that feels empowering to perform.


What does the songwriting process entail for Cynic? How do you first get ideas, and develop them into the music that listeners hear on record?
I write primarily on acoustic guitar or piano. These become little folky song demos. I then give those demos to Sean Reinert and he learns the basic arrangement. From there we take em' into our rehearsal room and jam, improvise the basic structure and see what happens. Usually a bunch of spontaneous free things take place that get incorporated into the recorded work. We tend to record these rehearsals and develop the songs rhythmic and production aspects from there.


Cynic's lyrics are well-known for their abstraction and philosophical elements. What is the inspiration for lyric-writing?
I'm not sure where the inspiration comes from, other than life itself. It feels incredibly intense and potent to be alive and in a human body, and when I remember that, lyrical ideas just seem to pour forth without much effort. When I say life itself, I mean, the human experience which includes the spiritual aspects of being in a human body. Natural elements like nature, the sun and mood, the vastness of the cosmos, love, beauty, sadness, and everything in between. Sometimes, I reference my journals which contain a lot of poetry and random thoughts...


Are there any other contemporary prog/metal acts that you really like?
There's aspects of some current progressive bands that I like, for example Animals As Leaders touch on some interesting ideas, and Intronaut, Opeth...


What advice would you give to a young band or musician trying to make music and get his work out there?
Practice, practice, practice. Work at discovering your own voice and learn about who you are by living life. I still believe people will find you if your work has a strong energetic vibration, so the most important aspect is to uncover your art in it's purest form and always give your best.


Thank you for the interview and to the readers. Check out cyniconline.com