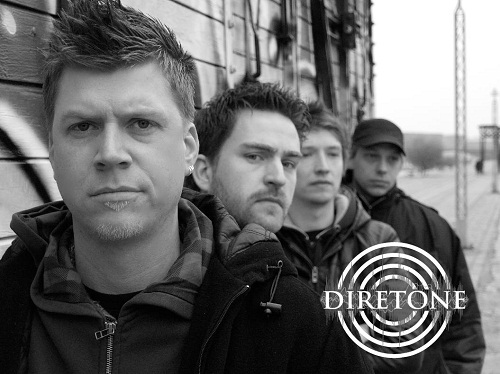 Danish groove-metallers Diretone are about to released their eponymous riff-fest of a debut-album, which will hit the stores on November 25, 2011 - released on Gateway Music. We had a chat with guitarist and groove-meister Peter Kondrup who discusses the importance of groove and riffage and also gives us some insights into the Diretone songwriting procress. In addition some of the future plans and future musical direction of Diretone will be revealed in the interview.
First of all, congratulations on your upcoming debut album Diretone, which is a solid and very enjoyable album, I think. How do you feel about the album?
Thanks a lot! We feel great and proud. At the same it's a burden finally lifted from our shoulders. The album's been a long time coming - the recording process started two years ago - so it's good to get it out of the system and be able to look forward. This is where the fun starts now that we can get back to being creative musically.
How would you, in your own words, describe the music on the album?
Groovy, punchy metal with down-tuned guitars and clean vocals, and with nods to the big names and pioneers of the metal genre. The song structures are very much to the point and not too complex so the music is immediately accessible to the listener.
Who, do you think, will the Diretone album appeal to?
Übertrue metalheads are rarely crazy about our music. Because of its relative simplicity, we probably appeal more to the casual rock and metal fan.
There is a lot of emphasis on groove on the album and especially the riffage seems central. How do you approach the writing proces in Diretone? Does the songwriting evolve around guitar riffs or do you take a different approach?
The riffs are definitely central, they are the primary building stones. Usually we have a song skeleton (verse + chorus for example) to work from, and vocals aren't added until the end.
You are obviously very experienced and talented musicians capable of very technical playing (which, I think, does manifest itself in some of the guitar solos), but you have deliberately opted for a more groove- and feel-oriented approach. Why?
That's a result of four guys with very different taste in music. Making music for a band is always a compromise so we kind of meet in the middle. We never really sat down and decided, 'This is what we want to play'. It comes very naturally and if one of us comes up with a riff usually we can tell more or less immediately whether or not it will ever fit in a Diretone song.
Speaking of guitar solos, how do you guys approach them? Do you improvise them on the spot or do you spend some time on actually writing guitar solos?
I write my solos in advance. I'm not that skilled theoretically so I need time to test and think about which notes fit the rhythm guitars. If the rhythm track is straightforward I'll do a lot of improv takes and pick out the best parts.
I understand that you, Peter, went to guitar camp with Freak Kitchen's Mattias Eklundh recently. How important is continual musical education and training to you guys as musicians and songwriters?
I took part in the guitar camp to get another view on making music and learn to solo out of the box instead of just shredding away in pentatonic minor. I don't think any of us are fanatical about practice. The other guys are in their 30's and have reached a point where they're comfortable with their playing, I think.
Groove metal became really big with the success of Pantera in the 90s, and groove has been a part of the metal genre ever since. Since groove is a central part of Diretone's sound, do you have any theories about what it is about groove that is so appealing?
There's just a headbanging quality to bass and guitars playing a heavy riff in unison over a straightforward drum rhythm at about 115 bpm. You'd be in coma not to clench your fist and bang your head to a song like Pantera's 'Walk' for example.
Turning to Diretone the band, your upcoming album might be your debut full-length, but the band itself has been around for some time now. Can you sketch out the history of the band for us?
The band was formed as Threadfin in 2004. Lars (vocals, bass) and Henrik (drums) are the only original members. I joined the band in 2007 and Jacob came along in early 2010. We've had a lot of problems with continuity in the guitar department so when we felt we had a solid lineup with Jacob joining, we decided to relaunch the band as Diretone. Good thing, as Danes couldn't pronounce "Threadfin". We're not the most productive band but now that we're more of a unit hopefully that'll change.
Which bands and artists do you guys find inspiration in, and is that reflected in the music of Diretone?
It's very much reflected in the music, especially regarding the musical inspirations we can agree on, i.e. bands like Pantera, Metallica, and Down. That's very evident in our songs and we're not really afraid to show that.
So, you guys have been part of the Danish metal scene for a long time - both in Diretone and in other bands - what is the Danish metal scene like? Is it very underground, and do you feel the Danish metal musicians get the support and respect that they deserve?
Yeah, it's fairly underground and it's very interdependent, i.e. we need to support each other to make it work. Unless you're one of the few big names on the scene it's all deficits, especially in these times where clubs and venues are really struggling. But we all know each other in some way or another so there's an intimate atmosphere to it. Whether or not you get the respect you deserve is difficult to say. There's so much music out there so it's totally understandable that your basic music listener can't grasp it all. Sadly, that means we all have to try to jam our music down people's throats and nothing good will ever come from that.
As far as I understand, the most recently written tracks in the history of Diretone which are features on the upcoming album are 'Nerve', 'Drawn to Life' and 'Road'. These tracks seem, while still groovy, to be slightly more technical than the other tracks on the album, and there is also more emphasis on melody - especially in 'Road'. Are these three tracks indicative of Diretone's future musical direction?
They definitely are. 'Eyes Wide Shut' is a newer song as well, the remaining six were on our demo Carpet Crawler. The songs we write at the moment are a mix of it all - some are quite technical and some slow and groovy. We're going in a more aggressive direction riff-wise - contrary to the more southern-style feel of the older songs.
In relation to the above-mentioned Mattias Eklundh guitar camp, you have stated on your Facebook page that the solos on the next Diretone album are going to be crazy. Does that mean that there is already a sophomore album in the works?
We have six songs that are more or less done and just need vocals and perhaps slight changes in the arrangements. So yeah, it's in the works, and it won't be another six or seven years before we release album no. 2.
Apart from another album, what does the future have in store for Diretone?
Hopefully touring if we can get some interest from the public. We'd like to break through on the German scene which is also why we've hired a German promoter for the release.
If you are going on tour to support your upcoming debut album, where can metal fans go to experience Diretone live?
You can usually catch us playing around Copenhagen. There are no plans of touring in support of the album at the moment. Though our following is growing, the costs of extensive touring for a band of our status just doesn't add up. We are playing two dates in December, on the 15th and 16th, though. Both in the Copenhagen-area. Info will be announced shortly.
Where can those who are interested in learning more about Diretone go for further information?
Our Facebook page (facebook.com/diretone.dk) is the best bet. That's where we interact with friends and you can get in touch with us. We'll answer anything on there so drop us a 'like' and don't be shy. Our website - diretone.dk - is under construction at the moment but a revised version will be up shortly.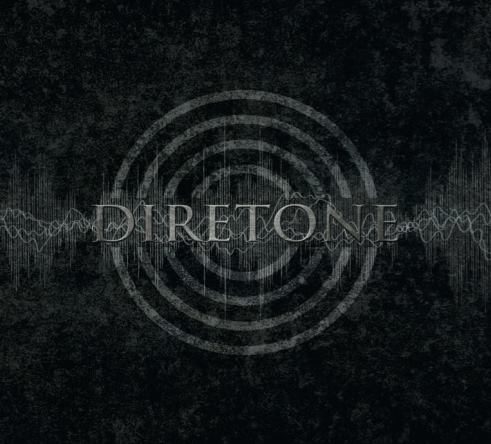 Finally, where can the Diretone album be purchased and which formats will it be released in?
Starting Nov 25th you'll be able to buy the album physically in select stores. You can order it various places online if you wish as well, for example at imusic.dk. Digitally, you can get it off iTunes and the Gateway webshop - gateway.dmf.dk/shop.html
Once again, congratulations on a great and groovy album, and thank you for doing this interview.
Thank you and keep kicking ass at MMA!


Edited by Time Signature - 06 May 2014 at 12:50pm