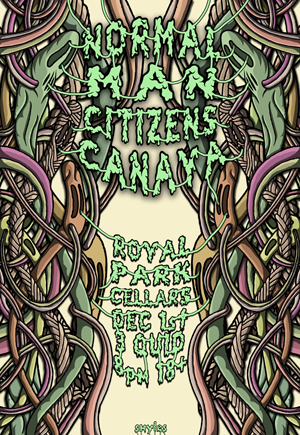 1st Dec, 2011
Leeds, Royal Park Cellars
18+, �3, 7.45 Doors
FB EVENT
http://www.facebook.com/event.php?eid=258122060907182
Normal Man
(http://www.facebook.com/normalmanmusic)
Ex/current The Horror, WhoresWhoresWhores, Yes Boss, Voorhees, Bonestorm, The Sex Maniacs, You'll Learn and more besides.
Big riffs and insane rambling.
Citizens
(http://citizens.bandcamp.com)
Glasgow based colourful hardcore maniacs, saw them earlier this year in Berlin and it was mind blowing. You can download their e.p on the link above and you should because its a corker.
Canaya
(http://www.facebook.com/canayauk)
Formed in 2009, featuring ex-members of Tangaroa, Year Of The Man, Imposters, Executive Distraction Tasks, Hot Prophecy and Daigoro. Canaya's sound draws from an uncompromising urge to play powerful heavy music, pulling metal firmly into the 21st Century.
10.00-10.45 Normal Man
9.00-9.45 Citizens
8.00-8.45 Canaya