British metallers Dark Forest took the world totally by surprise when they released their sophomore full-length album Dawn of Infinity in early October. We had a chat with guitarist and Christian Horton and, in the following interview, he gives us insights into the Dark Forest songwriting process and reveals some of his own sources of inspiration. He also discusses the use of twin guitars and the role of melody in metal music and comments on the relation between the sci-fi themed cover artwork and the lyrics of the album-
First of all, congratulations on Dawn of Infinity - a truly incredible heavy metal album - which came out in the beginning of October. How has the album been received so far?
Thanks a lot, yeah the album has been doing very well so far. Nearly every review we've seen has been really positive and the feedback we've had has also been great!

How would you describe the music on the album?
I'd say it's very sincere, honest and heartfelt for sure. We're not trying to simply copy a certain genre or style, we just play whatever naturally comes out of us and let it go in whichever direction it takes, that's all we've ever done. It's a very melodic form of heavy metal and I like to think the songs have a fair bit of power to them. As well as traditional heavy metal influences, there's also the occasional essence of folk or sometimes classical on the album, but always done in a subtle way. I would also say that the music can be quite dramatic at times especially with Will's operatic singing style.
One of the things that I really like about Dawn of Infinity is the emphasis on melody. How important is melody in heavy metal music?
Well it depends of what kind of heavy metal you're playing. Even back in the NWOBHM days it wasn't all melody, you got bands who prefer to concentrate more on the heaviness, but for us it is very important, yeah. Most of the bands we're into, their music is based around melodies and it's the same with us. Everything we write is extremely melodic, that's just the way we like. I do appreciate some metal bands which aren't too melodic but I must say the vast majority I'm into are.
One major element in the melodic side to Dawn of Infinity is the use of guitar melodies - especially twin guitar leads. Personally, I am a big fan of twin guitar leads, and I love the way that you guys use twin guitars on the album. Why did you choose to incorporate twin leads into your music to the extent that you do on the album?
It wasn't a conscious choice really, again that's just naturally the kind of stuff we write. I guess a lot of it comes from the bands we've been listening to since we were young, like Iron Maiden, Judas Priest, Thin Lizzy etc. I know some bands out there might only choose to put a twin guitar in there to try and recreate an old school sound or something but it's not like that for us. Nearly all our songs have twin guitars or sometimes even three or four leads going on at once. It's just about building the music up. Sometimes I find that one guitar lead can do the job, but more often than not I feel that it could do with more going on, so why keep it basic when it can be built up to be more melodic and powerful?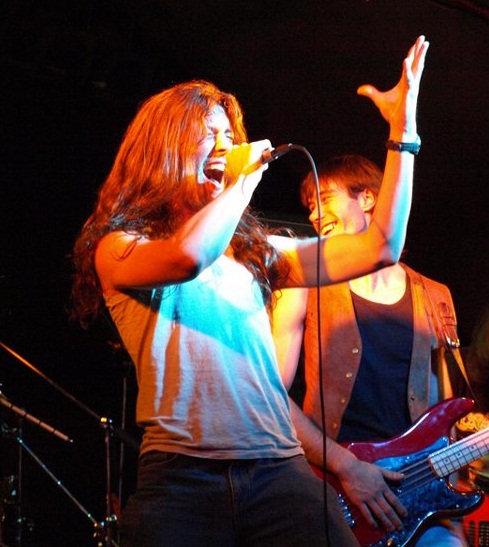 Another important element in the melodicism of the album is, of course, the singing. Will Lowry-Scott is a really amazing vocalist and he has a very unique voice. How would you describe his singing, and what is his contribution to the Dark Forest sound?
Yeah we were lucky to find Will, he is a great singer. He definitely has a very operatic style and takes a lot of influence from Bruce Dickinson. Having said that I think he still has his own unique tone and doesn't really sound like a rip off. He has been compared to a lot of different vocalists in reviews from Blaze Bayley to Rob Halford but they all say that at the same time he keeps his own identity. I think he has made a huge contribution to the band, without him we would not be able to write the songs that we're doing now. I used to handle the vocals myself as well as guitar and we were very limited with what we could do but now those restrictions have gone and we're much more free with our song writing.
How do you come up with all those catchy and big melodies?
Haha, I couldn't say, it's just whatever we like the sound of. For example with 'Hourglass' I had written the music and we were playing it in the rehearsal room to Will for the first time, then he just started singing the chorus melody off the top of his head and we thought 'that will do let's keep that!' I mean sometimes we might spend a bit of time developing a chorus if we don't think it's strong enough because we want every song to be as good as possible, but when certain tunes come out of nowhere I can't really say how, they just happen.
It seems that a major source of inspiration lies in the type of heavy metal music which was popular in the 80s in Europe and in the UK. Which bands serve as the main inspirations for Dark Forest?
Definitely Iron Maiden, Deep Purple and Black Sabbath. There's loads of classic bands though which we're into, Saxon, Rainbow, Angel Witch, Judas Priest, Witchfinder General, Pagan Altar etc, but we also enjoy more recent bands, from the 90s onwards. Stuff like Blind Guardian, Skyclad, Gamma Ray, early Elvenking and even stuff like the early Children of Bodom albums have had an influence on us to a certain extent.
Some reviewers also point out that there are elements from power metal and folk metal in some of the tracks on the album. Do you agree, and, if so, is the inclusion of power metal and folk metal elements on Dawn of Infinity a conscious choice?
Yeah, there are definitely those influences on there. For some reason a lot of people seem to have been ignoring this fact and insist that we are completely retro NWOBHM and nothing else. It isn't true, we do have a big influence from that era, yeah, but there are also other influences going on like I mentioned in the last question. Again, it's not really a conscious thing to include anything, it's just the bands you listen to will often come out subconsciously in your music. I mean I've been listening to power metal bands for years now, probably since the late 90s so there's obviously going to be some influences going on there.
The cover artwork seems to suggest that sci-fi is a major lyrical theme on the album, and there also seems to be a number of references to fantasy and myths. Can you tell us about the lyrical contents of the songs of the album?
Yeah there are a number of songs that have sci fi themed lyrics. There are things like time travel and alien abduction which to be honest I wouldn't really class as fiction myself but that's another subject! Yeah, we've always had songs based around legends and folklore as well, there's not as many on this album compared to our debut, which consisted almost entirely of those themes but you have songs like 'Under the Greenwood Tree' which is about the great English folk hero Robin Hood and also 'The Tor' which deals with the folklore surrounding Glastonbury Tor. Some of the other topics on the album include historical battles, peoples past memories and the idea of taking back control of your own life. The reason why we gave the cover artwork a sci fi feel was basically because of the number of songs which share a sci fi theme.
Your debut album Dark Forest was released in 2009, and before that you released a couple of EPs. Does Dawn of Infinity differ from your debut and EPs, and, if yes, how?
I think Dawn of Infinity differs from our other releases mainly because it shows the progress we've made with our song writing and musical ability. We haven't changed our style in our minds, it's just a natural progression. The songs on this album are more complex and sophisticated compared to the debut and I think they have more depth to them. At the same time the songs on Dawn of Infinity are quite old themselves now and we already have a wealth of new material already written for future albums which I think are more developed yet again. You have to remember that the debut album was pretty much a re-recording of the songs from our first self produced EPs which were written when we were quite young, so this new album definitely brings you more up to date with the bands song writing.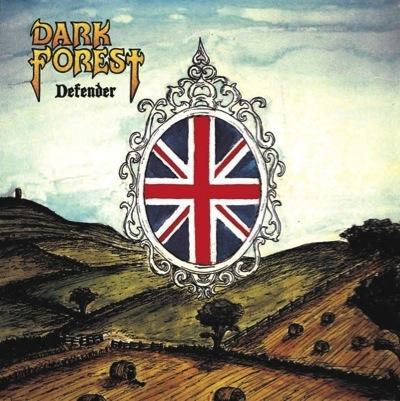 For those of our users who are not familiar with the band, who are the members of Dark Forest and what is the history of the band?
I founded the band back in 2002 with our first bassist Dave Batham. I was handling guitar and vocals and the only other member we still have from back in those days is Jim the other guitarist. We recorded a demo in 2004 and shortly after that we found our current drummer Adam. We were a four piece for a number of years and built our way up inside the heavy metal scene recording two EPs and playing first local gigs then bigger ones around the country, supporting bands like Cloven Hoof. By the time we came to release our debut album we had lost Batham and recruited Bill Clough on bass. That line up didn't last very long and we soon found ourselves seeking another bassist and proper vocalist. We then got bassist Paul Thompson on board, discovered vocalist Will and then recorded another EP called Defender with this line up in 2009. That brings us up to where we are now, same line up and just released our second studio album.
Can you describe the general writing process of Dark Forest?
So far I've written most of our material and the idea for a song usually begins with an atmosphere or theme in mind. Once you have that it's a case of coming up with riffs and melodies that sum up to me that original atmosphere I was trying to capture. Once the main bulk of a song is laid out I usually show it to the rest of the band and between us we build it up, adding bits here and there or scrapping parts which don't live up to the rest of the song. If I had a certain lyrical theme already in mind I also come up with the lyrics and present them to Will but other times I might give the whole song to Will to write lyrics for.
Now that Dawn of Infinity has been released, what are your future plans?
Well first of all we have the vinyl edition due out hopefully sometime before Christmas along with some merchandise like t shirts and patches. We're currently booking gigs into next year and we're also constantly writing new material. We will be releasing a further two albums with our current record label Cruz Del Sur for certain in the coming years and after that, whether we're with the same label or not we aim to keep gigging and releasing our music!
Are you going to tour in support of the album?
We've got two festival booked up so far next year. Metal Assault festival in Germany in January and Up the Hammers festival in Greece in March. On top of those we're going to be booking as many gigs as possible to support the album, yeah. There has been talks of a tour with other bands from our label, nothing is confirmed yet but it would certainly be a great idea.
Which formats is Dawn of Infinity available in and where can it be purchased?
At the moment you can buy the CD format from a number of places. From us directly if you want to support the band email us at [email protected] or from the record label Cruz Del Sur Music. Otherwise I believe it's being stocked by websites like Amazon, Play.com and a bunch of underground metal stores. Then, like I sa,y the vinyl edition should be out this year sometime before Christmas.
Where can those who are interested in learning more about Dark Forest go for more information.
Here are the links to go to:
www.facebook.com/pages/Dark-Forest-UK/155861227763625
www.myspace.com/darkforestrealm
Thank you very much for doing this interview, and, once again, congratulations on a really great album.
Thanks very much I appreciate the opportunity! Cheers to everyone out there who has supported us so far and continue to do so!


Edited by Time Signature - 06 May 2014 at 12:54pm