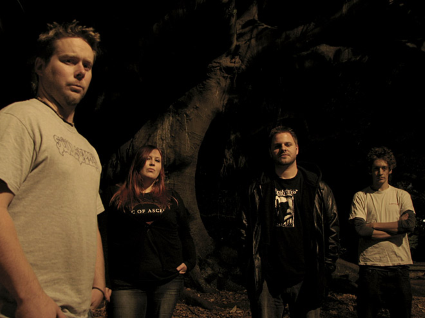 New Zealand doom-rockers The House of Capricorn released their sophomore album
In the Devil's Days
- a massive doom-'n'-gloom ladden slab of heavy rock - on October 13th via Swamps of One Tree Hill. We had a chat with vocalist Marko Pavlovic, and in the following interview he offers a definition of the musical style of The House of Capricorn and discusses their new album. Among other things, Pavlovic also discusses the occult, unveils the underlying lyrical concept underlying the album, and gives us an insight into the New Zealand rock and metal scene.
First of all, congratulations on the new album In the Devil's Days, which just hit the streets a couple of days ago. It's no secret that I really like it, but how has it been received generally so far?
Hey, thanks a lot Kim! As far as we can tell it seems to have been relatively well received. There's a few people around the place saying some nice things, so that's all good. And most of our friends here like it too, so that's cool. Hahaha.
How would you describe the music on the album, and the style of The House of Capricorn in general?
This one has been a bit different to the material we'd done previously. As you can probably see on most of the press release-y kind of stuff, we've been rolling with the "Apocalyptic Devil Rock" tag which fits really nicely to me, even though it is a little outrageous. This new album is basically hard rock driven by doom-and-gloom. There are elements of all kinds of stuff that we listen to on there, but overall its just dark, heavy rock music.
On and before Sign of the Cloven Hoof we had more of a lean towards the stoner/doom-rock side of things --- the reason for the change being that we've always wanted to get a whole lot creepier and spookier, and I guess now was the time. Plus, there are a thousand other bands that are a thousand times better at stoner rock than we are (a good number of them being in this country already).

Some of the tunes on the album are crushingly heavy and slow doom metal tracks, such as 'Les Innocents', 'Veils', and 'Horns', and there are also some very heavy passages in the title track. Are there any challenges to playing downtempo music?
Keeping it all tight to an acceptable level! While we're not exactly Meshuggah when it comes to mechanical tightness (not that I could mentally cope with that), it's important that all the notes are in the right place, and still sound good. While it is such a corny, cliché term, feel is really important when its all slower. In uptempo tracks it's a lot easier to get away with sketchy playing.

If we think of music as a means of expression, how is downtempo music different, in terms of expression, from uptempo music?
It's pretty easy to channel misery into any speed of music, however it resonates a whole lot better at a snail's pace. It's also easier to cultivate an imposing, ominous vibe too, I guess.
But of course, there are not only downtempo tracks on your new album, as the album also features midtempo and uptempo tracks. Is this variation a deliberate choice and have you put a lot of thought into the order in which the tracks appear on the album?
It was completely an utterly deliberate. We sat down before we wrote the album and worked out how we were going to present the storyline, with the overall atmosphere or direction of each song. The three long tracks were in place for a purpose: the funeral ('Les Innocents'), limbo/entrance to Hell ('Veils'), and chatting with the Devil ('Horns'). Pretty cheerful, huh? We must have been vibing on some Collective Soul or something.
As far as I understand, In the Devil's Days is actually a concept album. If so, what is the overall lyrical concept of the album, and how did you come up with it?
Yeah, you're right. It's supposed to outline a descent into Hell and the conscious decision to make this journey, all the way from pre-death ritual ('All Hail to the Netherworld'), to descending from the crossroads ('Arcane Delve'), through to meeting the Devil and hearing what he has to say about this and that ('Horns'), as mentioned above.
In terms of how we came up with it, I mean, the inspiration from Dante was definitely there, but we really wanted to highlight the enthusiasm behind making the trip south, and also that the intent is always there to get an overview from the big boss downtown about what his plans are for when he makes his return to reign on earth.
You released your debut album Sign of the Cloven Hoof last year. Does In the Devil's Days differ from your debut, and, if yes, in which ways?
It differs quite a bit (to my ears anyway). As mentioned above, we've definitely moved away from the stoner-rock lean and tried to make the whole thing a lot darker. While I have seen a couple of reviews referencing In the Devil's Days as stoner rock, I don't really hear it (or feel it) myself, but hey, that's cool.
We've tried to take the more creepy elements of doom and amplify them --- not really the blues, but more the horror-movie-soundtrack kind of stuff. My vocals have also changed a little... I'm not singing above my limited range anymore. Well... for the most part anyway. Hahaha.
Which bands and artists serve as sources of inspiration of The House of Capricorn and are those influences reflected in your music?
Type O Negative, first and foremost. We are all massive Type O fans, and - especially on this album - this is definitely reflected (shamelessly at times) in our music. I can't even begin to express how miserable I am that I never got to see them live --- they've been my favourite band since I was about 13.
Entombed are also a big influence on us. Wolverine Blues onwards especially for me, although Mickey is a fiend for LHP and Clandestine. I think this is reflected in what we play?
Good black metal is definitely a key element as well. Darkthrone, Craft, Glorior Belli, Mortuus, Mayhem (only really De Mysteriis, even though that new stuff with Atilla is all good), and Shining (II, III and IV) to drop a few names. Its the creepy, spooky element of most of these crews we try and capture.
And for myself when it comes to writing (I can't speak for the others on this one), Babylon Whores. I honestly can't give Babylon Whores enough credit for being one of the most badass bands ever. What the hell is even going on with them now? I've heard the other guys minus Ike are doing some band called "Outlaw (something)", but I don't know much more about it. Reform BW and tour, goddamn it!
How about yourself as a vocalist. Are there any singers that you are particularly inspired by?
While I don't think I really sound like either of them, Peter Steele and Ike Vil particularly... if not only for their individual vocal abilities, then their amazing lyricism as well --- both of them manage(d) to infuse terminal negativity with the blackest of humour.
I've always said (and always will say) that Layne Staley was one of the greatest vocalists of all time.
Other folks who I rate, but don't sound like at all: LG Petrov, that guy Jeff from Lo-Pan, Stevo Bell from Second Gear Grind (bruthaaa), Julien from Glorior Belli, Nocturno Culto (up until The Cult is Alive), Mikko Aspa from Deathspell Omega, and that guy Labes from Abysmal Grief because he keeps it Drac.
PS. My friend J. Wallace (from Creeping - the other band I'm in) once told me I sound like Gavin Rossdale. Maybe I should try to hook up with Gwen Stefani.
Can you describe the songwriting process of The House of Capricorn?
Usually either me or Mickey will come up with a few riffs or a full song and take them/it to everyone else. We'll jam on it, work it out so it's all sounding appropriate, I'll write some lyrics, and off we go. Scott also gets in the mix and writes here and there too. While I'd love to say we channel infernal spirits, unfortunately this is not the case.
Given that there are a lot of doom metal elements on In the Devil's Days but also a lot of uptempo tunes, how does The House of Capricorn fit into the dark and gloomy universe of the genre of doom metal?
I don't really know if we fit all that well, to be honest. I mean, I'd probably be more comfortable saying that we're a rock band that people into doom or black metal (or other kinds of family un-friendly music) could maybe like, based on our thematic direction (emphasis on the "maybe", as in no way shape or form are we a pure doom band, and I know how testy people in those kinds of circles can get about artists raping and pillaging their genre). We probably fit best as fans of doom rather than performers of it, as we all definitely do love Electric Wizard.
For those of our readers who are not familiar with rock music from New Zealand, what is the rock and metal scene in New Zealand like?
Things have definitely shifted in the time I've been involved in music over here. 2002-2004 or so is what many of us remember as being the 'golden-age' for the New Zealand extreme metal scene, revolving around a core set of bands that lots of hungry people would go out and see whenever they played. Ulcerate (who are still killer now --- check the new one The Destroyers of All), Graymalkin, Forced to Submit, Backyard Burial, Aphelon and Skuldom (they finally released their debut album Kill This Fucking World this year --- go and get it!!) were cranking, and Dawn of Azazel were still hitting the war-metal sound and wearing gas-masks onstage (Law of the Strong is still one of the best war metal albums ever released, by the way. Give it a smash if you like shit like Conqueror). This is the 'scene' that we all met through. I guess this was the time that the internet forum vehicle was really starting to gain momentum in New Zealand, but was still before the days of widespread Myspace, and then Facebook usage.
At that time, there really was no underground rock scene at all. Fast forward to now --- while that old scene has disintegrated due to egos, musical directions, bad attitudes, and differing personal choices, new friends have developed, and through the beauty of the internet and mutual friends, a new set of ideas have flourished. While most of the current bands didn't come out of the ashes of that old metal scene, everything ties back to that time in my mind.
On the rock side of things there are a number of world class, exceptional bands --- Soulseller (who are playing their last ever show in December, which sucks), Second Gear Grind, Arc of Ascent, Osmium, Made in China, Cobra Khan, Shallow Grave and Interconnector to name a few. To supplement this, Ami every year puts on an a 'Stonerfest' pair of concerts (one in Auckland, one in Christchurch). This is the highlight of the underground rock calendar for me, and I'm sure many others.
On the metal side, Skuldom, Ulcerate, Vassafor, Witchrist, Diocletian, and Burning Solitude are all on point. Scott and I also play in a band called Creeping as well.
I really had to trim the fat on that answer... I could talk for hours while wording up all of the bands in this country that I love.
And for those who are not familiar with The House of Capricorn, what is the history behind the band, and who are its members?
As mentioned above, we all met in about 2003. I had written a set of songs dating back to 2001 that I asked Mickey to help me record some drums for in 2005. This resulted in the first demo, recorded and mixed by our buddy VK from Vassafor (that is one band you also need to check out if you like black metal --- If you ask me, they're one of the best black metal bands ever --- I think they're finally finishing up and putting out their first album in the next few months. Vassafor has been around since 1994 and had a string of wicked, smaller releases like demos and EPs, the best of which being the EP released in 2007. Self-promotion: I did a guest spot "singing" on the cover of Bethlehem's 'Dorn Meiner Almacht' on the vinyl version, and there's a wicked cover of Mercyful Fate's 'Black Funeral' on the CD release). After finishing that demo, Mickey joined permanently. I released this recording - on which I played everything but drums (what a multitalented guy, right? hahaha) - on about a hundred CD's and threw them around to folks I knew, and slung them off for $5NZD at gigs. Ami then asked if we needed a bassist, which of course, we did. Scott and I were playing in Creeping at the time, so I just stole him over for some double trouble. The rest is history.
What is the story behind your band name?
The House of Capricorn is of course an indirect reference to the Devil. At the time I came up with the name I was a bit more subtle than I am now ('Cult of the Morning Star' was a bit too heavyhanded for the kind of music we play). Clarification: I don't have an interest in astrology beyond its colourful presentation.
The occult figures as a prominent theme in your lyrics and in your promo material. Is the occult an actual part of your lives or from where does this fascination with the occult stem?
In terms of associations with the actual occult or any sect in particular, we have very little. I'm extremely enthusiastic about the aesthetics of symbolism, weathered scripture, ritual, warping Christianity, and ooky kooky spooky stuff like graveyards and low lying fog, so I guess the general fascination comes from here. A blending of traditional Devil worship, campy horror movie sets, and a whole lot of cynical tongue-in-cheek is probably a most-accurate nucleus for our theme. I have read a number of occult texts, but I wouldn't stand a chance in an argument about them with Julien from Glorior Belli or Ike from Babylon Whores. Hahaha.
So for a direct answer to your question, no we are not practicing occultists, and no, we are not The Devil's Blood (I do really like that band, though). Maybe I should have lied in a really vague, suggestive and aloof way to maintain some shroud of mystery for us.

This might be a silly question, but what is One Tree Hill?
Hahaha. Thanks for asking. One Tree Hill is one of the many extinct volcanoes in Auckland, New Zealand. Up until 2000 it had a single tree on its very top alongside a monument (both can be seen in our label's logo). More specifically, the Swamps of One Tree Hill is the name I have been using for Onehunga since the HOC began, which is the suburb of Auckland where I grew up. It lies beneath One Tree Hill immediately to the south, and is bordered by the Manukau harbour. The name is not a reference to the U2 song, nor are we talking about the American soap opera.
Onehunga Bomb Squad 666.
Do you plan to do some touring in support of In the Devil's Days? If yes, where can fans catch you live, and are you going to play outside of
New Zealand
, like in Europe, Asia or The
Americas
, perhaps?
We've got some plans in place to play in Australia next year with our pals Glorior Belli - that announcement is going to be made in the next couple of weeks.
In terms of Europe, Asia or the Americas, oh man, we'd love to. I'd especially like to get to Europe. The only real restriction about living in New Zealand when it comes to playing in a band these days is the logistical and financial obstacles you need to cross to get anywhere. However, we are definitely working on it. It's really a matter of finding a band's tour we can jump on, or a promoter to slot us into a package. We're not exactly at the level of doing our own "headlining" tour, and the fact that we're on our own label platform doesn't really get us the contacts most labels have. So I may as well use this as a directly promotional opportunity: if any promoters, bands or labels want us to shimmy on over, don't hesitate to let us know and we'll work something out.
Do you have a dream gig? Is there any particular place or venue that you would just kill to do a show at?
I would love to play in New Orleans. If there's any city in the United States that I want to visit, its NOLA. Actually, mainly to eat gumbo, and hang out with some freaky voodoo chicks.
My perfect gig though: Type O Negative, Babylon Whores, Mayhem (with their current line up) Glorior Belli and Craft (who will probably never, ever play live, ever) at some shitty bar in Paris. I wouldn't even care if HOC was playing or not.
What else does the future have in store for The House of Capricorn and your fans?
For us: we've started writing for the next one, hopefully to release late next year, if not at the start of 2013. Beyond that, no idea. Hopefully some touring and some partying.
For our fans: I don't know... Maybe they'll start hating us.
Where can those who are interested in The House of Capricorn go for more information on the band?
We finally succumbed to the lure of Facebook and Bandcamp recently, so those are the best joints to check us out: facebook.com/thehouseofcapricorn and thehouseofcapricorn.bandcamp.com respectively.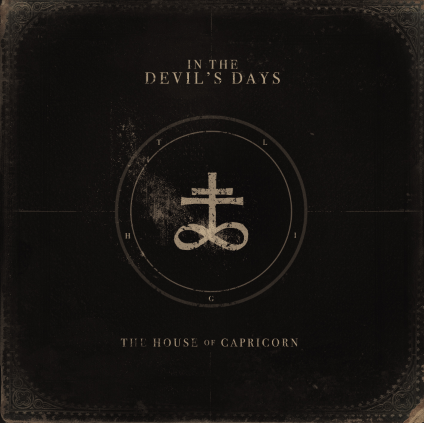 Once again, congratulations on In the Devil's Days. Which formats is it available in, and where can it be purchased?
Hey thanks a lot Kim. You can get it on CD or digitally from our Bandcamp page. We've got it in a few distros around the world too: Le Cabinet de Curiosities/Séance Records and The Archipelago Rises in Australia, Black Tears in the UK, Psychedoomelic Records in Hungary, and hopefully some more soon (Black Tears and Psychedoomelic should have copies soon --- we just sent them off today - 17th Oct), so you don't have to pay our outrageous local price, or foot the insane shipping bill. Sorry... music seems to be a lot more expensive in New Zealand. Distros are welcome to get in touch through our Bandcamp if they want to swoop up some wholesale copies. No sweat!
Thank you very much for doing this interview.
Thanks to you for taking the time to write these specific questions, Kim. We're glad you like the album, and thanks to everyone else who does too!
Marko P // 666


Edited by Time Signature - 06 May 2014 at 1:05pm