The USPM band Pharaoh have officially called it quits following the sudden passing of their singer Tim Aymar on February 13th earlier this year. The announcement came on what have been the frontman's 60th birthday. The bands final album
The Powers That Be
was released in 2021. Pharaoh maintained the same line-up throughout their recording history. They debuted with
After the Fire
in 2003, but ultimately only made five studio albums in their career.
The Powers That Be
had represent a comeback after a nine year gap.
The band made the statement via social media.

We wish to extend our belated thanks to all of the many people who reached out with their words of sympathy and comfort following Tim Aymar's unexpected -- though natural -- passing on February 13th. Your kind and heartfelt expressions helped carry us through the difficult days and weeks that followed. We were always humbled and nourished by your support during the best of times, and the same was true during the worst.
Tim is very much in our thoughts today, on what should have been his 60th birthday. He was as complex and multi-faceted of a human being as ever lived: bandmate, friend, father, son, brother, singer, songwriter, teacher, student, believer, skeptic, biker, baker, dreamer, leader, comrade, storyteller, prankster, protector, and perfectionist. He could be generous, demanding, stubborn, gracious, hilarious, and defiant. To know and love Tim was to accept his complexity and his unpredictable ways, and to realize that he is uniquely impossible to describe, no matter how long a strand of adjectives we may weave.
Now that some time has passed since our initial shock and mourning, our sadness comes in waves. Some waves only touch our toes but others can crash onto our entire beings and suddenly the tears flow again. But what remains constant is our own immense gratitude for having made the music we made, and for the experience of taking that entire journey together. We can reflect on the many "ups and downs" along the way, but looking back now, the "downs" seem insignificant or even comical, and the "ups" still shine with that glow of creative exhilaration, the joyful satisfaction that bonded us so many times.
When the tragic news hit us in February, we sensed that Pharaoh was finished. We didn't really need to discuss it with each other, and nor do we feel the need to explain it now. We are proud of our music and also of that journey it represents: our dedication to each other over 20+ years. Nothing has changed in that regard, and we feel that it would be too much of a compromise to continue.
To everyone reading this, thank you for your dedication to us as well, and please know that Tim loved you very much. His ashes are now joined with the winds and soils of his Pennsylvania homeland, but his memory and his music will be with you everywhere and with us endlessly. So, Pharaoh says farewell for now, invoking Tim's usual email sign-off as the final word. A blessing, a wish, a reward: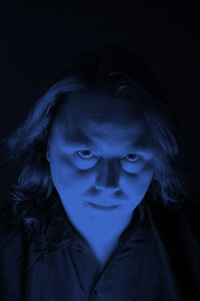 Tim Aymar 1963-2023 R.I.P.