( Thanks to Torodd from Prog Archives for allowing us to post the In Lingua Mortua review here on MMA)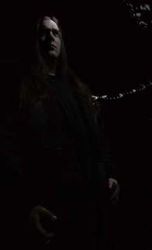 In Lingua Mortua is a progressive black metal project started in 1999 by keyboardist Lars Fredrik Frøislie of White Willow and Wobbler. Frøislie was inspired by and mixed influences from a wide range of music, taking things from 70's prog rock,Norwegian black metal,folk,jazz,classical music,electronica and film music (particularly film noir and horror) and fusing them together to come up with In Lingua Mortua's unique sound.
I got in touch with Lars Fredrik Frøislie for the In Lingua Mortua story.
@@@@@@@@@@@@@@@@@@@@@@@@@@@@@@@@@@@@@
You are already an active member of Wobbler and White Willow. Then you also started up In Lingua Mortua. Please tell us why and when you set up In Lingua Mortua.
I started In Lingua Mortua a few months after Wobbler was formed (in 1999), and almost two years before I joined White Willow. At the time I just wanted a totally different project where I was in charge of everything. Wobbler is democratic and very strict when it comes to what's allowed and not. Wobbler was not supposed to be groundbreaking and progressive in the true sense of the word. I say "was" because we've progressed since 1999 (which is when the material from the first two albums was made). It was supposed to sound like a prog rock band from 1973, using only instruments from that period. It's like we pretended the last 30 years never happened – which is of course very cool on its own. In Lingua Mortua however has a different approach. Here everything's allowed. Still I only follow what I think sounds good or right, so it's not at all about "making something strange, just because it's something new or progressive" or whatever… It's only music I felt like making.
I can understand the connection between Wobbler and White Willow. In Lingua Mortua is another ballgame again, music wise..... or is it ? My thesis is; how do you manage to spread yourself over thick music wise big chasm between for example Wobbler and In Lingua Mortua?
I definitely see a relationship between Wobbler, White Willow and In Lingua Mortua. We're all heavily influenced by early 70s prog rock, are very, very fond of vintage instruments and have a total disregard of trends and what anyone thinks about the music. But in In Lingua Mortua is much darker and introverted. I have to admit, I get a little shocked when I meet people who only listen to one style or music-genre. For me it's all just "music" of which there are two types: good and bad. I don't care if it's called rap, pop, blues, country (or even western), electro, metal, funk, soul, folk, punk, rock, classical, prog, and so on, as long as I find it appealing in one way or another. But then on the other side, I do have fun doing/imitating various genres: "let's mix jazz and black metal, or electronica and folk and see what happens" and so on.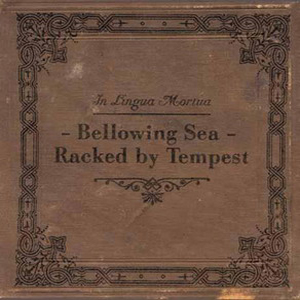 You signed on your local label Termo Records (which also includes The Opium Cartel and Wobbler).
Please tell us more about your first album Bellowing Sea-Racked by Tempest from 2007 where you also faced a lot of challenges during the recording.
Oh yes. It was supposed to be released no later than 2000, and I'm sure if it would have stood out from most of the music back then. Most black metal bands used crappy 90s digital keyboards with a-choir and "orchestra-hits", and here someone came along using not only vintage keyboards like Mellotron, Hammond c3, Minimoog and so on, but also real orchestra, mixed with some jazz and electronica and so on.
But all sorts of things went wrong so it wasn't released until 2007. It was almost like a curse. Every time I (finally) managed to get the musicians to the studio (which was perhaps one or two days every second year), something either broke or went wrong. I specially remember when we had set up the drums, all ready to finally record, when all of a sudden the worst storm of the decade hit Hønefoss. So the lines got blown up, and the electricity was down for the rest of the day. Stuff like that haunted the whole thing.
But I was constantly making music back then, so I've got enough material for several new albums. What I learned from that process was patience, always take two back-ups, and if you want something done, do it yourself. I also learned a lot production wise, so it wasn't a total waste of time.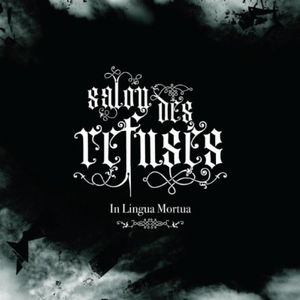 You released a new album a few months ago named Salon des Refuses. Please tell us more about this album.
Lars: Most of this album was written when I was in my early 20s, and it was a huge step forward in every way compared to previous music and productions I'd been a part of. This is one of the few albums I can still listen to today; it has aged very well. And it should, as nothing is left to chance – down to the strings of the Rickenbacker bass, the skins and dimensions on the Ludwig drumkit, the types of cymbals, the amps, the microphones and so on. The keyboards are of course a chapter on its own. I mainly used Mellotron m400, Chamberlin m-1, Hammond c3, lots and lots of Hohner Clavinet D6 (which many think is the guitar on this album), Rhodes, minimoog, arp, prophet-5 and other goodies. I took no shortcuts in any way. It was even mastered three times before I was satisfied.
This album features lots of incredible guest-musicians. I was lucky enough to get Jørgen Munkeby from the Norwegian "Shining" to play sax and bass clarinet and Niklas Kvarforth from the Swedish "Shining" to sing on the album. They do a perfect job in my view, and I couldn't think of any others to do it any better. Ketil from Jaga Jazzist even does a wonderful flute-solo in there. Hallvard from the legendary "Kvist" and "Xploding plastix" does some guitar, as well as Jacob from White Willow.
I understand from your website that the lyrics on both albums are special and not the petrol cans and churches types of lyrics. Please tell us more about your concepts and the lyrics on both albums.
Lars: The first album "Bellowing Sea – Racked by Tempest" is lyrically a mix of Van der Graaf Generator's "A Plague of Lighthouse keepers", Dante's "Inferno" and Homer's "Odyssey". Quite pompous and over the top really…
The second album, "Salon des Refusés", is not a concept album like the first one, but the influence of art history, which I study at the university in Oslo, is obvious in many tracks. You'll find anything from Munch to Pollock, Rubens and more. Also the 1880s naturalistic period, which I'm concentrating on in my master-assignment, is also apparent. It's definitely not very optimistic and/or light music. It's all done when I'm in "that" mood, just like I have to be in a special mood to make Wobbler-songs and so on. I even got nauseous many times when I made and recorded this album, and I have witnessed some people finding the whole thing so disturbing they actually threw up while listening to it and another guy literary crapped his pants, which is of course very cool and says more than a 1000 words.
King Crimson meets Emperor is the label I have seen put on In Lingua Mortua. Personally; I would also add Van Der Graaf Generator too on this label, but nevermind my views; how would you describe your music?
Lars: Yeah, I like that "King Crimson goes black metal" label which some have put on the second album. Some of the idea behind Salon des Refusés was "I wonder how black metal (or extreme metal or whatever you want to call it) would have sounded like in 1973…"
But it's a mixture of many things: jazz (Miles Davis, John Coltrane, Buddy Rich), horror film music (Goblin, Fabio Frizzi), "classical" (Mussorgsky, Messiaen, Ligeti, Santiago de Murcia, Bach, Beethoven, Grieg) and of course lots and lots of prog, mainly from the old days: Yes, King Crimson, Änglagård, Univers Zero, Magma, Museo Rosenbach, Banco, PFM, Gentle Giant and much, much more. Add a bit of Darkthrone, Burzum, Voivod, Celtic Frost, Thorns, Led Zeppelin and Amon Tobin and you could perhaps get an idea.
Norway has a big black metal scene and a pretty big prog rock scene too. Is In Lingua Mortua a crossover act and how has the two scenes reacted to In Lingua Mortua?
Lars: The reactions to specially the last album have been overwhelming. It's not exactly commercial music, so I was taken by surprise that anyone would even like it. I've been part of about 30 releases with various bands, but nothing has come close to this which is very cool since I worked so hard with it for almost 10 years.
Are there any plans to take In Lingua Mortua on the road and/or what are your plans for this project?
Lars: Not at the moment. I guess I should, since playing live is a must if you want people to be aware of your band's existence. But it's so difficult to play this music, so I'd need a wonder-guitarist to handle some of the parts. But also I've got so many other projects that need to be realized first. I've got'em lining up good and I'm kind of behind schedule all the time (which again can be linked to the disasters with the recordings of the first In Lingua Mortua album). The releases I did last year were music written in 2001 (the Wobbler-material was even from 1999), so you get the idea. It's sometimes a bit annoying, since I've developed so much since then, but I'm not the type that gives up on a project – I need to see them all realized even if it takes 10 years.
To wrap up this interview, is there anything you want to add to this interview?
Lars: To the proggers I'd recommend "Salon des Refusés" because there's a great prog-rock album hidden beneath all the fuzz-guitars and noise (I've been thinking about releasing a prog-version without the noisy stuff, so you can really hear everything that's going on underneath, but we'll see). Approach this music with an open mind and in the right mood. Don't be hasty; perhaps you should listen to only certain parts of the album at the time to let things sink in (even I still discover stuff I'd forgotten about along the way). Give it at least 15 spins before you make up your mind.
Have a happy new year!
Thank you to Lars Fredrik Frøislie for this interview



Edited by UMUR - 08 Apr 2011 at 7:43am