Thanks to Torodd from Prog Archives for the permission to post the Andromeda interview here on MMA.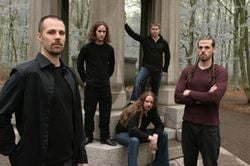 It was 1999 when Andromeda officially made their appearance: Johan Reinholdz, guitars, submitted the demo "Welcome to forever" to the record label War-music. There was interest from the label so later that year Thomas Lejon, drums, Martin Hedin, keyboards, Johan Reinholdz and bass player Gert Daun started rehearsing the songs for the band's first album. Five albums followed.
I got in touch with Johan for this interview and he answered my questions.
------------------------------------------------------------------------
When and by whom was Andromeda formed and do you have any background from other bands ? Why did you choose that name ?
Andromeda was formed by myself, Johan Reinholdz, Thomas Lejon, Martin Hedin and Gert Daun in late 1999. But actuallt the embryo of the band was born when I signed a contract with WAR-music earlier that year. I had recorded an instrumental demo with some progressive metal-type songs.
I knew this guy Wez Wenedikter, who ran a recordcompany a few miles from where I lived. He liked the stuff and wanted me to write an album in roughly the same style but with vocals in mind too. He helped me hook up with the rest of the guys.
My background is fairly normal for a metal-musician. I started playing when I was nine in 1989. Me and some friends were really inspired by Europe and their flashy solos. Then I got into more heavy stuff like Metallica, Megadeth, Slayer, Entombed, Morbid Angel, Iron Maiden, Pantera, Kreator and so forth.I started playing with others in various metalbands. During my teens we recorded some demos and played the local places.
Then I got into some other types of bands like Yngwie Malmsteen, Marillion, Yes, The Cure, Sisters of Mercy, Dream Theater, Opeth, Genesis, jazz/fusion stuff like Allan Holdsworth, classical composers, Enya and so on. That led me to the music of Andromeda.
On the demo I got signed with there was a really atmospheric, calm track called "A Postcard from Andromeda" - thatīs where the name came from. I thought it sounded good and fit the music.
To start with; please give me your (long or brief) thoughts and lowdowns on.......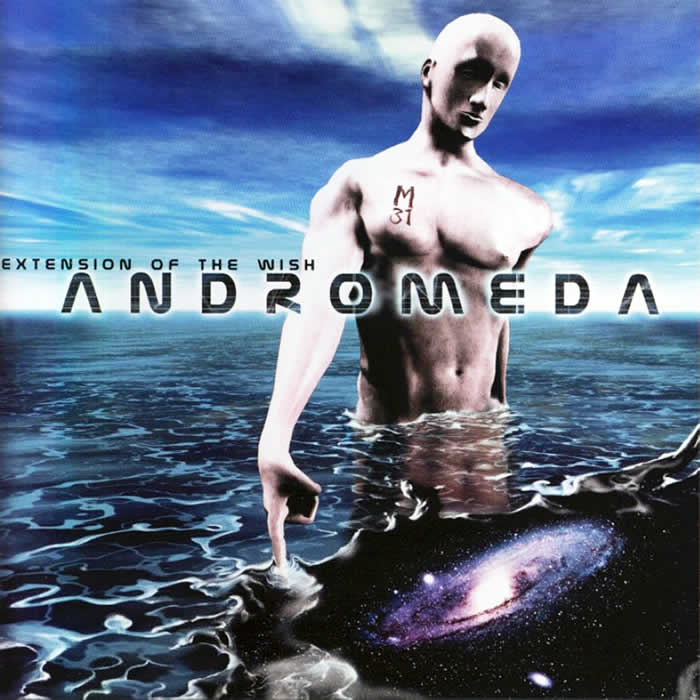 Extension of the Wish from 2001
A great debut album I think. But since it was composed more or less exclusively by me and I was very young during that time (17-19 years old) it has some teenage-flaws. A bit too many guitarsolos maybe and not enough room for the vocals.
Overall though - a very good album.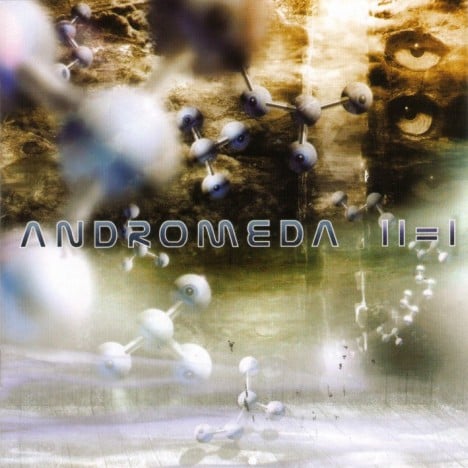 II = I from 2003
Much more varied. More atmospheric, dynamic parts, more room for the vocals. Itīs also more technical and progressive. On this album the whole band wrote the material and not just me thus it became more diverse - and better I think. I donīt really have anything negative to say about the record except maybe for the production which is a bit weak.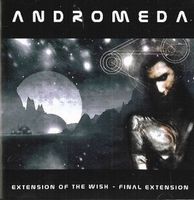 Extension of the Wish - The Final Extension from 2004
Itīs a remix of the original plus the vocals were re-recorded by David. Those re-recorded vocal tracks included passages that were instrumental on the final version of the album, which is cool. It also features two extra tracks. This version of the album was originally released in France only but after a couple of years our label at the time - New Hawen Rec. - decided to release it in the rest of Europe as well. That was a good decision but it was a bit confusing to give it a different cover... It never made it to the North American or Asian distributors which is a pity.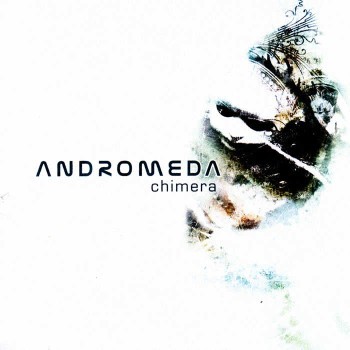 Chimera from 2006
A bit more straightforward this album. The production is more powerful - more metal than progressive. We were more concerned with writing some more accessible songs on this one. For example Periscope, In the End and No Guidelines. I like those numbers, in particul Periscope which has become a standard song in our setlist. Then I also enjoy The Inner Circle and Going Under a lot - theyīre really intense. Weīve played Inner Circle a couple of times live and it goes over well. I think weīll play Going Under live soon too.
The cover-art for Chimera is the best weīve had so far I think. Although Iīm also quite fond of the cover for Playing off the Board.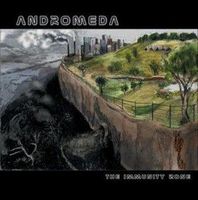 The Immunity Zone from 2008
This is my favourite Andromeda-album along with II=I. Itīs dark, heavy and melodic. It has some really special tracks like My Star, Worst Enemy, Veil of Illumination and Ghosts on Retinas. The production is heavy as f**k and Iīm really pleased with the guitarsound. There some very good lyrics also. Some really venomous attacks against those deserve it.
All in all - a very good album.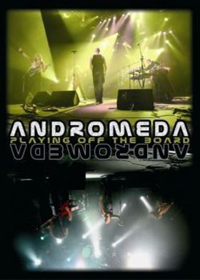 and the DVD Playing Off The Board from 2007
I have some mixed feelings about this release. Visually itīs great - the venue looks super and there a lot of cameras filming. It looks classy. But the response of the crowd is lame, it was after all our first gig in Poland. The sound is kinda sterile and weak but the playing is good and itīs a good selection of songs.
I think the bonus-material turned out really cool and there is a generous amount of it too and the cover-art is looks great. So, despite its flaws I think itīs worth buying for sure!
What is (mostly) the lyrical themes on your albums ?
On the two first albums the lyrics were rather introverted and dealt to a great extent with psychological themes and personal issues.
Then on the two latest ones the themes have turned more towards the outside world, criticism of the society, the elite of this world - people sick with greed and megalomania.
I donīt wanna get into any specific lyrics and explain them - I think thatīs the job of the listener.
What is the latest update on your band ?
Weīre finishing our new album. It is supposed to be mixed and ready in January. There is probably some gigs coming up in the late spring.
We are gonna have some songs for download for the video game Rockband. A really cool thing I think! And also a good way to gain new fans.
Your band can music wise be found somewhere between the rock and the hard place with both the Swedish prog rock scene and the metal scene as good references. But how would you describe your music and who would you compare yourself with?
Just Andromeda-music. Itīs intense, melodic, heavy, intricate and interesting. Itīs a combo of all the bands influences.
How was it to be on the same label (Century Media) as some of the best death/black metal bands around and what is your experiences with the music industry ? Where do you think it is heading?
It was kinda cool. They managed the promotion quite well. But the thing was that they only released the two first albums on license in North America and in Europe they only handled the distribution and promotion. We were still on Wesīs WAR-music/New Hawen Rec.-labels so Century Media wasnīt interested in investing any money in tours.
My experience with the music industry in general is that I donīt understand how it works, itīs depressing and unjust. You need luck, to have the right connections, sleep with the right people in power. Itīs mostly bullsh*t all of it. Itīs heading towards more and more D.I.Y and only those with a sh*tload of money being able to tour, because the labels donīt provide tour-support anymore since no one is buying albums nowadays..

Do you have any regrets in your career ?
That we havenīt toured more. But thatīs not mainly our fault but lack of support, faith and frankly - money - from the various labels weīve worked with.
One exception is Olivier Garnier and his labels NTS and Replica Rec. He has really done his job well, believed in us and put his money where the mouth is. And so far Intromental, our current management, has been good to us. He fixed promotional tours and gigs and good
We donīt have regrets other than that. We are really pleased with the music weīve written and the recordings themselves.
How do you see the future of Andromeda as a band ?
Hard to tell. We wanna keep evolving and not stagnate. Iīd like to incorporate more electronic influences and both more brutal parts and really soft beautiful passages. We also wanna tour more, like I said before. Thatīs for sure.
What is your five all-time favourite albums ?
Aaah.., thatīs a tough question... But Iīll give it a try:
The Cure - Disintegration
Metallica - Master of Puppets
Enya - Shepherd Moons
Muse - Absolution
Captain Beyond - s/t
Marillion - Fugazi
Megadeth - Rust in Peace
Opeth - Ghost Reveries
...oops that makes eight. Oh well!
Anything you want to add to this interview?
No, I think weīve covered it all pretty much.
Thank you for support and interest!
Bye!
Thank you to Johan for this interview