The following interview originally appeared on the website Heavy Metal Haven and is reproduced here by me, the interviewer and admin of the original site. References to the original site may be present in the text.
---
US doom metal act Mount Salem are a new act on the scene who released their first EP Endless in 2013, which ultimately led to an expanded edition being released by Metal Blade Records in 2014. Frontwoman Emily Kopplin had a chat with Heavy metal Haven about the band.
Heavy Metal Haven
: Hi Emily, first off, allow me to congratulate you on your first release Endless from 2013 and it's 2014 expanded reissue via Metal Blade Records. You're obviously still quite a new band on the music scene. What can you tell us about the formation of Mount Salem and the events that led to your current deal with Metal Blade Records?
Emily
: We had all been friends for a few years already when we formed the band. The guys know eachother through building and riding motorcycles. We had all played in bands previously but never together so we decided to get together and jam and Mount Salem was born.
HMH
: How did you choose the band name?
Emily
: We decided on Mount Salem because it fits the vibe of the music and its easy to say. I wish we had a crazy story to go with it! Oh, and it has the same syllables as Black Sabbath.
HMH
: What artists influenced you the most as a musician?
Emily
: I'm influenced by all kinds of music, bands like Heart, Fleetwood Mac, Shocking Blue, Black Sabbath, Pentagram, and Led Zeppelin are some of the obvious ones but I'm also into lots of singer - songwriter stuff like Joni Mitchell, Emmylou Harris, Bob Dylan, Townes Van Zandt, etc.
HMH
: I've heard quite a few bands in recent years that combine heavy, Black Sabbath-like riffs with female vocals and a psychedelic flair, which I think also describes the music on Endless pretty well. Fans and critics alike seem to regularly disagree on whether a sound like this counts as metal or hard rock. Personally speaking based on Endless I would say Mount Salem plays psychedelic doom metal, but I'm sure you have your own preferred way of describing your own music...? Do you see Mount Salem as more or a metal band or a rock band?
Emily
: Describing your own music is always kind of hard because you don't want to put yourself in a box. I tend to agree with most of the genres people label us as, but usually say we're a doom rock band. Like most bands, I think it can vary depending on the song you're listening to.
HMH
: Endless was originally released in 2013 but has seen a slightly expanded reissue this year. Were the two extra tracks The Tower and Mescaline II especially written and recorded for the 2014 release or were they ready and waiting to be released?
Emily
: We were picked up by Metal Blade after we self released the original version of Endless in 2013. They were interested in reissuing it as a full length, and it had only been released digitally and on CD previously. We were excited to go back in the studio and record two of the newer songs to add to Endless because it had been awhile since the original songs were recorded. We'd been writing new songs so we had a few to choose from but The Tower felt like a good fit and we wrote Mescaline II a few nights before we recorded them.
HMH
: Endless is usually listed as an EP on various music websites, but with the two extra tracks it plays much more like a full-length album, indeed your own Bandcamp profile calls it your 'debut album'. Can you clear up whether Endless should be considered an EP or a full-length?
Emily
: Guess I got a little ahead of myself with that last one! It was an EP when we originally released it with six songs in 2013 but after adding the two new songs it met the requirement to be a full length issued by Metal Blade.
HMH
: Can you pick a favourite track from Endless?
Emily
: I think I'd have to go with Mescaline/Mescaline II because I like how the recording turned out. I wanted it to feel like wandering out in the desert while hallucinating and I think it feels bigger than a lot of the other tracks. We also rarely play that one live so it feels a little more special.
HMH
: Does the artwork for Endless have any relation to any song on it?
Emily
: The artwork was done by our good friend, Mat Moreno, who is a tattoo artist in Brooklyn. We gave him a rough copy of the original EP when we first recorded it and asked him to come up with a design he thought was fitting. I'm not sure if it was inspired by any specific track but I think he did a killer job of capturing the overall vibe of the album.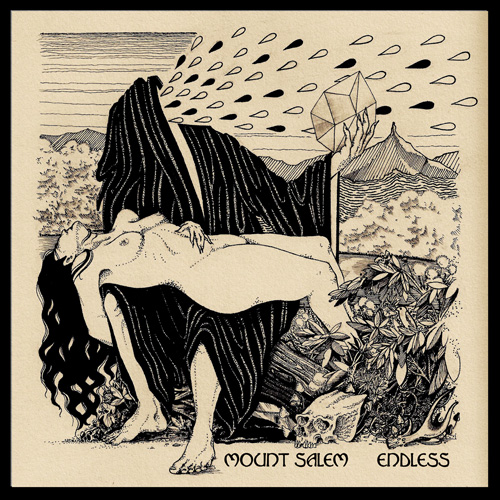 HMH
: Any timeframe on when we'll get to hear more music from Mount Salem?
Emily
: We've been working on lots of great new songs that we're really excited about. The plan is to try and get them recorded this Winter so we can try to have a new one by Spring or Summer.
HMH
: Any plans for taking your music to the stage at the moment?
Emily
: The next thing we have scheduled is actually a European tour this Fall. It's something that's been a goal of ours from the beginning so we're stoked to finally be doing it. A few of our friends bands have toured overseas and really enjoyed it so I can't wait. You can find the list of dates on our Facebook page!
HMH
: Thanks Emily for taking the time to answer our questions. Best of luck with everything!