Danish metallic rock 'n' roll act Oktan released
Black Leaves and White Trash & Soundtrack from your Moms Bedroom
back in 2012. The release, which is best described as an onslaught of raw and teeth-kicking rock 'n' roll songs, has been very positively received by rock-lovers and critics alike worldwide. We had a chat with guitarist and band representative Thomas Gajhede who takes us behind the scenes of the recording process and also discusses, among other things, the importance of keeping it real and reveals some of the band's future plans. So, fans of all things rock 'n' roll, do read on.
First of all, thank you for doing this interview with the Metal Music Archives. And I suppose it's not too late to congratulate you on the release of Black Leaves and White Trash & Soundtrack from your Moms Bedroom from 2011.
It's never too late, so thank you!
We will return to Black Leaves and White Trash & Soundtrack from your Moms Bedroom in a moment, but, before that, it is probably a good idea to introduce Oktan to our readers. I've seen your music described as "drunken rock from hell". What style of music does this label cover?
I guess it pretty much summons up our intentions with the band. We play simple, catchy and powerful rock n roll that appeals to drinking, rocking, driving, partying, smoking, fucking and everything else that ends with -ing.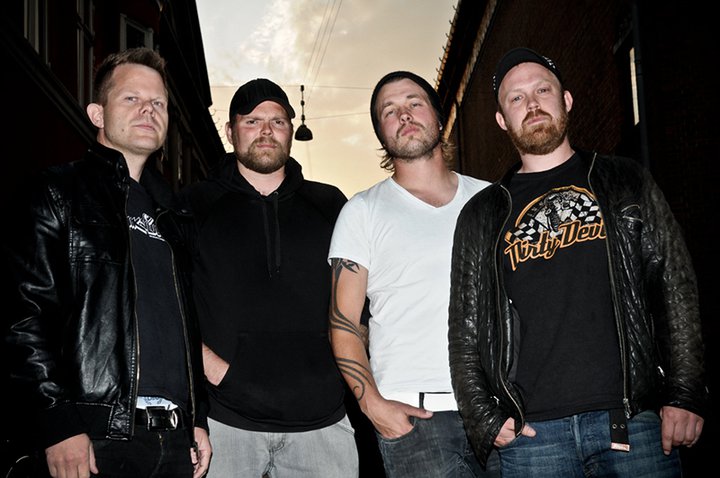 What is the history of Oktan, and who are its members?
Oktan is Michael Bøgballe on vocals and guitar, Thomas Gajhede on guitar, Claus Langkjær on bass and Karsten Gøeg on drums. The four of us go way back. We grew up together, we listened to the same music together, we got drunk together and so on. We even played in a metal band called Crap. But it was in 2006, after Michael retired from
Mnemic
that Oktan was born. Michael hooked up with Claus and Karsten and they started creating the sound and style of Oktan. Soon hereafter Thomas joined the band and the line-up was complete. The main purpose of Oktan was, and still is, to have fun playing rock n roll while drinking beers. But as the band evolved and the songs emerged we decided to see where this could take us. That's Oktan for you!
There are a lot of facets to your music, which features elements from various metal genres, hard rock, punk among other genres. Is it difficult to balance all of these elements from all those different rock and metal subgenres?
No it's not actually. It may sound kind of cliché. But we play what we feel is right. We will never bind ourselves to one particular style or expression. This would be boring for us as well as for the fans! Our musical inspiration comes from several rock and metal genres throughout three decades or more. When writing a new song we don't have any preferences whether a song should be punk or thrash or something third. The four of us all bring different elements and riffs into the song writing process and then the magic happens. In other words...the elements of inspiration in the songs may vary but the core is still Rock n Roll.
Which bands serve as the main inspiration for Oktan's music?
As you mentioned yourself you can hear various elements of genres in our music. That pretty much reflects our inspiration. We have grown up with bands like
Guns 'n Roses
,
Metallica
,
Mötley Crüe
,
Pantera
,
Alice in Chains
,
Slayer
and so on. We do not have one particular band that serve as our main inspiration, we've got 3 decades of metal and rock. That's our inspiration.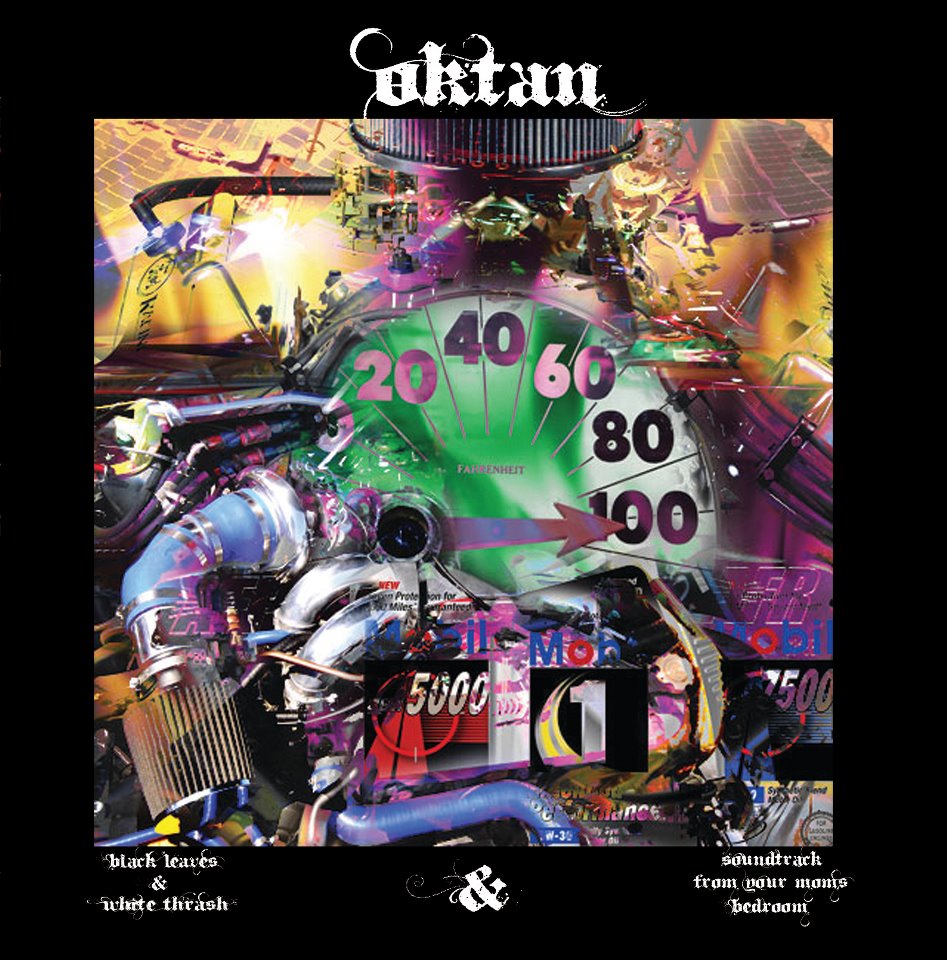 Okay, turning to Black Leaves and White Trash & Soundtrack from your Moms Bedroom, the release is essentially a double EP. Why did you go with the double EP format rather than an album format or releasing the two EPs separately?
Well...
Soundtrack From Your Moms Bedroom
was intentionally meant to be a full album. But we discarded 60% of the recordings because we weren't satisfied with the results. This was in 2008. We never intended to release a four track EP. We still had an ambition of doing a full album... or at least an album with more than 4 songs. After recording
Soundtrack
we were on fire in rehearsal and created a lot of new songs. We decided to record 4 of the best new songs and release them on the same record as the other material. So we went into Jailhouse Studios in Horsens in 2011 and recorded
Black Leaves
and there you go: a double EP.
The red thread on Black Leaves and White Trash & Soundtrack from your Moms Bedroom seems to me to be the high energy kick-ass drive that characterizes all the songs, but are there any differences, do you think, between the songs from Black Leaves and White Trash and the ones from Soundtrack from your Moms Bedroom?
You will hear a difference in the sound and production in the two recordings given it has been recorded in two different studios with different instruments and amps. But song wise there is not a big difference. It's all simple and energetic rock n roll. In other words... it's basically a full album where half of the songs have a different sound.
Are there any tracks from Black Leaves and White Trash & Soundtrack from your Moms Bedroom that you would highlight as being especially important to you?
Well... '
The Heartbreaker
' was the first song we wrote all together. This song is so full of raw energy and catchy hooks. It's pure rock n roll and it always works when we play it live!
What was the recording process like? Did you record the two EPs separately?
Yes! We recorded
Soundtrack
back in 2008 at Skafte Recordings in Aalborg. When we entered the studio we had a ton of material to record but eventually we ended up with just the four songs you can hear on the album. These four songs were the only ones that we all fully agreed too. And we're still satisfied with this decision. We wanted our songs to have a certain capacity and quality and I think we succeeded with this. After recording
Soundtrack
time went by pretty quickly. We did a couple of shows and at the same time we started making some new killer songs in rehearsal. We agreed that we would record the 4 best songs of the new material and then release a double EP. So we went into Jailhouse studios in Horsens and that's about it.
How has Black Leaves and White Trash & Soundtrack from your Moms Bedroom been received?
Due to the fact that we have released the album ourselves and not having any label or management to promote the album, we haven't reached the full scale of promotional opportunities yet. We have been receiving good reviews in Denmark as well as in Germany. But it is the interest and support from the fans worldwide that has blown us away. We get support, messages and CD orders from all over the world. From Mexico to Russia and everything in between. That is pretty damn awesome!
On your Facebook page, there seems to be a steady stream of "likes", which suggests that your music appeals to people. What is it, would you say, about Oktan's music that appeals to people?
We can't deny the fact that Michael's history with Mnemic has had some influence on our "likes" to begin with. People have been curious to hear what he has been up to. But ever since we released the album, the stream of "likes" has been kind of steady. I guess it's the mixture of catchy hooks, raw riffing and the simplicity that appeals to people. It's good drinking music!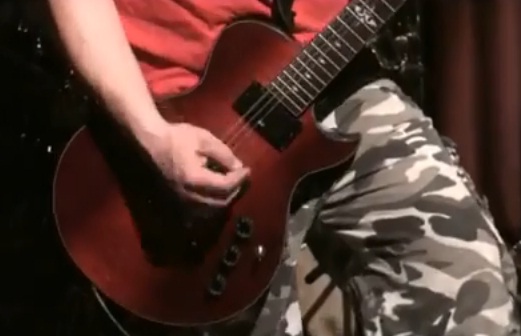 You did a video for 'In The Gutter' which features Storebæltsbroen and Parken in Copenhagen, and depicts Oktan playing doing a show at a small venue. What is the story behind this video?
In April 2012 we played our first show in Copenhagen, at a venue called "Lions And Barrels". We had brought along a video camera for the fun of it. The trip was hilarious and the night was amazing! A lot of people showed up to rock and drink with us! When we saw the video material afterwards we quickly decided to edit it into a DIY music video. And it turned out pretty well I think.
You also promised, on your Facebook page, that you would do another video for one of the other songs from Black Leaves and White Trash & Soundtrack from your Moms Bedroom. How is that coming along?
I'm not sure that we promised it... But we are considering it... We are considering doing another low budget video later this year but how, what, when and where is not yet settled. But if you follow us on our facebook page you will be the first to know about it!
The 'In The Gutter'-video has a certain DIY feel to it. Is DIY an important part of Oktan's work ethics?
Yes, it is, actually. Everything from the video, the cover booklet, the promotion and so on has and is still being done by ourselves. We like to be in control of the band in terms of decisions and the pace the band evolves. It helps to ensure the quality of the music and it helps keeping us real... if you know what I mean?
How do you guys feel about Black Leaves and White Trash & Soundtrack from your Moms Bedroom now that it's been out for some time?
Proud. We confide to simplicity in the music but we also have a certain kind of quality check on everything we do. Nothing is being done without a unanimous decision. In the process of making this record we have made no compromises or easy solutions and I guess it's safe to claim that this strategy has payed off, when you look at all the good reviews and publicity we have received for the album.
Turning to the Danish metal scene, it seems that a number of dirty hard rocking bands, such as yourselves along with 9000 John Doe, Bullet Train Blast, Spit Rusty and PentEffect, among others, who play hard-edged metallic rock 'n' roll. Is there a hard rock movement going on in Denmark these days?
Actually we know most of these guys personally. They are cool guys who play cool music. But I'm not sure if it's a hard rock movement or just a coincidence that all of us happens to experience a lot of cool response and publicity at the same time. But I am sure that most of these guys, Oktan included, would play this type of music regardless of popularity.
Norway has black metal. Sweden has melodic death metal. Could hard rock become the Danish trademark metal genre?
There is no doubt that a band like
Volbeat
has created a lot of attention on to the Danish hard rock scene internationally, and Im pretty sure that both Oktan and the bands you mentioned before are ready to claim the trademark if opportunity knocks. But we do not have any masterplan. All we got is persistence and I guess we're just taking it one day at the time.
What is it like to be part of the growing hard rock genre in Denmark?
Awesome... I guess?! We are doing this because we love it, and as I said before, we would do this regardless of popularity. Ask us the same question in five or ten years from now. Then I might have a better answer to this one.
Turning back to Oktan, are you working on new material?
Yes! Actually we've got 5-6 new songs ready. They are killer to say the least! It's a good mixture between up- and down tempo songs combined with catchy hooks and riffs. We have tested most of these songs live and they seem to have a great impact on the crowd. Pure Rock n Roll!
Do you have any plans of releasing a follow-up on Black Leaves and White Trash & Soundtrack from your Moms Bedroom any time soon or will you take the songs on the road first?
Yes! The plan is to release a full album this time. We are well on the way in the song writing process but there is still some work to be done. Hopefully we will enter the studio in 2013. At the same time we will be searching for the right label to release the shit!
Are you planning on doing any major gigs in the near future... perhaps outside of Denmark (I mean, they seem to really like Black Leaves and White Trash & Soundtrack from your Moms Bedroom in Germany)?
The response from Germany has been absolutely amazing! We have received very good reviews in Rock Hard magazine, xxl-rock.com and metal.de (who rated the album 8/10). We also receive a lot of requests from fans who wants us to come to Germany and we even have some hardcore German fans who travels to Denmark to see our shows. We would like to pay back to our German friends. We've talked about doing a mini tour in Northern Germany. So if there would happen to be a German booker or a venue who is reading this. Write us and get your slice of the Oktan pie!
Where can Black Leaves and White Trash & Soundtrack from your Moms Bedroom be purchased?
The album is available on different kind of online stores and streaming services like
iTunes
,
Spotify
and so on. But if you want the physical CD you can order it at our facebook page or by email at
[email protected]
. You can also order different kinds of merch like shirts and hoodies and shit. We ship worldwide!
And where can those of our readers who want to know more about Oktan go for more information?
Go join our facebook page at
www.facebook.com/oktanband
here you will be the first to know about our shows, news and other shit. We respond to any comment or message we might get. So come on over and have a drink with us!
Thanks for doing this interview and best of luck in the future.
SKÅL and thank you!
Watch the "In The Gutter Clip" here:



Edited by Time Signature - 06 May 2014 at 12:30pm