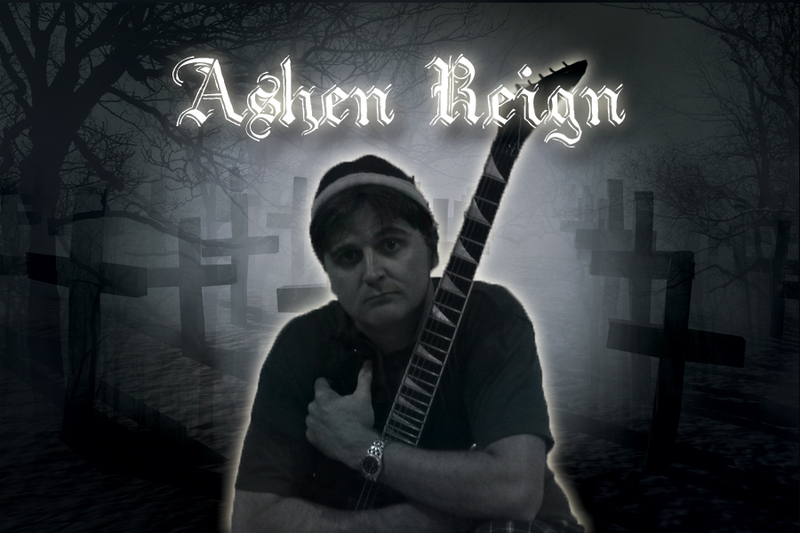 Multi-instrumentalist Brent McDaniel is the brain behind the one-man metal army that is Ashen Reign. Ashen Reign released its sophomore album An Angels Burden on July 1st, and the album has already received a lot of attention, and a lot of praise, from reviewers. In the following interview McDaniel gives us the story behind An Angels Burden - including the tragic story behind the songs 'Fear of the Snake' and 'The Sparrow' and other sources of inspiration. McDaniel also discusses his own brand of melodic power metal and shares the experience of being in a one-man band.
First of all, congratulations on your second album, An Angels Burden, which came out July 1st. It is no secret that I quite like it, but what has the general reception been so far?
Thanks so much for having me and I'm really excited that you like the CD. The album has been doing great, exactly what I hoped it would do - that is, mainly open up people to a little different breed of metal that allows them to hear my thoughts, expressions and ideas. But mainly just see if there are other people who enjoy my brand of metal. I've received a lot great feedback on certain songs or lyrics that hit close to home and things along those lines. I don't know how well this will translate to sales, but that's never been the point anyway.

An Angels Burden is generally classified as power metal. Do you agree in this genre classification?
Yes, I think that is about as close as anything else to describing it. When someone says "Power Metal" it does bring a certain ingredient to your mind of what power metal is about and I don't think Angels fit all those ingredients, but it probably fits in power metal more than any other category.
In addition to the power metal elements on the album, there seem to be a lot of influence from more traditional rock and heavy metal as well. Which artists have inspired you, and how is that reflected on the album?
I have so many influences and people that have inspired me to pick up an instrument; the list would be a mile long. My two biggest influences guitar wise are without a doubt Yngwie Malmsteen and Paul Gilbert, although my songs are not in that same vein of total virtuosity. I try to focus on the song and what the song needs so pulling in elements of shred or classical styled licks here and there to enhance the song but not over power it. I like solos that are memorable enough you can hum them, so having some melodic lines in solos is important to me as well. I am a huge fan of both Porcupine Tree and Opeth. I think the way Mikael Åkerfeldt and Steven Wilson are so musical and looking at the way they work made a huge impact on me that I could do this. A lot of 80's metal to be sure, early Loudness, TNT, Fastway, Killer Dwarfs and Metallica are definitely an influence. Bands like Falconer, Amorphis and Sonata Arctica are there also. I like the mix of keyboards and orchestra elements mixed in metal songs like Dimmu and Dragonlord use as well, although I tone down the keyboards in my songs trying to use them more as reinforcements for the guitars to give a fuller sound rather than take over a song.
The style of music on An Angels Burden has been described as power metal with elements from rock and traditional metal, and with some progressive elements too. How would you describe your own music?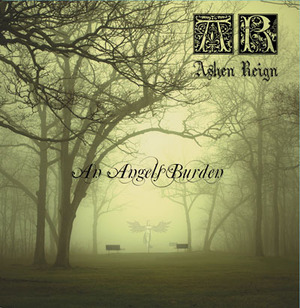 I draw on a lot of influences and inspirations and I think it's great that people recognize the music as not exactly fitting any one style. I take that as a great compliment, but it's also a hindrance since people like to find new music based on comparisons to other well-known bands. I would describe it as Alternative Power Metal if that is a category, or we could invent it (laughs). The mood is dark on tunes like 'Broken Heart' and 'A Prayer for the Dying', but also lighthearted on a tune like 'The Simple Things'. There are elements of shred and melodic phrases with key changes that I hope satisfy the Guitar Gods but still keeping it musical for the casual fans that just want to hear something catchy.
There are elements on An Angels Burden which are atypical to power metal specifically and heavy metal in general, such as the style of singing, which is very unusual for heavy metal music. Was it a deliberate choice, or did it just com naturally?
Singing and drums are the two hardest parts to record for me. While I wish I had a powerful voice like Jon Olivia or Ronnie James Dio, I simply don't. I found that singing in my natural voice without pushing it or screaming sounded best for me. I tried pushing my vocals on my first CD, Immortality, and it just doesn't work. When I listen to that now, I realize it's not me so I just tried to stop being something I'm not. Take a song like 'Reverie/Harlequin Forest' by Opeth; I love those smooth vocals over heavy music. So I just tried to be myself and sing naturally. I know it is different from most metal music out there and some won't like it; they want that aggression and that is fine. For others, they will like it and see it as an alternative to that aggression. For me, it's just naturally who I am and I've always loved the contrast of smooth vocals over hard music.
Have you had any thoughts or concerns regarding the reception of the vocals, seeing that they are so different from the singing styles typically used in power metal and heavy metal?
Yes, I was concerned for sure. It's easy for some people to hate, dismiss and dismantle, but it's hard to build something. I am always concerned people will hear it and dismiss it because it does not fit the mold of what is considered traditional metal vocals. There are so many great bands with powerful, screaming vocals or cool deep growling that it seems if you want to be heard, you have to fit that style to be taken seriously. Before making this album, I had many people tell me that I should find a real singer that sounds like Robert Lowe from Solitude Aeturnus or something along those lines, but in the end I think I created something that can fill a small void in the metal scene.
The lyrics seem more emotional than the typical fantasy oriented lyrics of power metal. Can you say something about the ideas behind the lyrics on An Angels Burden?
I did each song as its own, meaning I wasn't really trying to write an album with any certain theme around it. Vocals were the last thing added, I had every song written and recorded before I started writing any lyrics. Of course I had some melodies in mind as I was writing the music so I had an idea of what each song would ultimately sound like. But after recording all tracks, I listened to each song to get a feel and vibe for it and wrote lyrics based around those feelings. Once I was set about the direction of the song, the lyrics literally poured out just about as fast as I could write them. I wrote about things personal to me like 'The Feast', which is about a fear of being eaten alive and 'The Simple Things' which is about slowing down from the rat race and not working yourself to death. So I guess similar to my style of vocals, I just wrote lyrics about things near to me and didn't worry about making songs fit a certain fantasy or alter world.
Are there any songs on the album that are particularly important to you - music- or lyricswise?
Each song has significance for me in its own way. I love playing 'An Angels Burden' and 'Simple Things' and I really like the riffs on 'Hope' and 'Prayer for the Dying'. But if I had to pick just one, I'd say 'Broken Heart' is a song that really sums up something I live my life by. I never want to say to anyone that I wish I could go back 10 years because I'd do things a lot different. I don't want to put off something as "one day I'm going to do X" and then die before I get the chance to do it. Live with no regrets. I've lost family members that I don't think knew how much I cared about them and now there's no way to ever let them know, so I don't want to ever let that happen again. Musically, that song was originally a lot heavier than it is on the album. It's the only song I changed dramatically after I wrote the lyrics. The acoustic and clean electric parts during the verse was originally a pretty heavy riff, but as I wrote the lyrics, I changed it because I wanted to show the sorrow in the voice of realizing your dead and there's nothing you can do anymore, all that stuff you put off will never happen now. I am particularly happy with the solo on that song too. It is very melodic, but also has some cool, fast runs in there that still fit the sad melodic nature of the song. So basically I was pleased to be able to play something fast but still keep it smooth and melodic and not overly aggressive which usually happens when playing fast and hard.
I noticed that there are some melody themes that recur in 'Fear of the Snake' and 'The Sparrow'. Is there any particular reason for that?
That is really awesome you picked up on the theme of those two songs. They are really the antithesis of one another. It is actually a true story. I was in my backyard and noticed a sparrow going crazy flying around a large bush. When I checked it out I noticed a snake in the bush after the sparrow's young. So the two songs are written from each perspective where 'Fear of the Snake' is from the snake's point of view and 'The Sparrow' is from the bird's view. The intro guitar riff on 'Fear' is the same piano riff intro on 'Sparrow'. The solos follow a similar melody as well. 'Fear' is written as a traditional heavy metal song with some keyboards mixed in there to kind of sound like a snake charmer playing in the background where the snake is aggressive and takes what it wants. But 'The Sparrow' is a sad instrumental reflecting the bird's loss. In the first part of the solo, I tried capturing the birds fluttering wings as he dances around the bush, then ultimately changing to sadness as he realizes what has happened.
Ashen Reign is a one-man band with you in charge of everything from songwriting over playing all instruments and producing albums to visual design and promotion work. Isn't that a daunting task?
It actually is. Looking back to the day I started the album, thinking about all the stuff I went through, it seems like an extremely long road with lots of very late nights, little sleep. It took me 8 months from the time I started writing the first song in November 2010 to its release on July 1, 2011. The only thing I got an outside source on was mastering. That was done by Fascination Street Studios, the same mastering house that does Opeth, Symphony X and so many of my favourite bands. They do outstanding work.
It doesn't seem like work when I'm doing it though, because it's one of the most enjoyable things I do. The hours and days just pass away in the blink of an eye. I love writing, playing, recording, learning new recording techniques, researching how to get a particular sound, learning imaging software techniques and how to take a visual idea and transfer it to artwork. It was hard though because I am completely self-taught on every instrument and can't read sheet music. So while I've played guitar for years and years, it was a lot of time and effort spent on keyboards and drums and singing. And now to have it out there and trying to promote it on my own is a whole other side. But I've been in luck with some great sites like Metal Music Archives that really help and give me validation that a one-man band can actually create something cool.
What are the advantages and disadvantages of being in a one-man band?
The main obvious disadvantage is that it's hard to play live. I could get some friends and other players to play live if I wanted to or there was enough buzz generated though. The main advantage is total creativity; the only limiting factor is me. If I can think it, I can come up with some way to do it and if I screw it up, it's only me to blame. Also the ability to do things on my own schedule is awesome. If I want to lock myself in the studio all night, I can. No need to worry about someone else's schedule or drama. I've been in bands before and it's great, but eventually there's drama or some bullshit that gets in the way of the music. If it isn't about the music anymore, then what's the point? So that is one reason I just decided to do shit on my own.
Do you have any advice to other musicians out there who would like to do one-man bands themselves?
Go for it. If it's something you feel strong about and are willing to put in the time and effort, then do it. You are the only person holding yourself back. But be prepared - it does take a lot of work if you do everything. It's pretty easy to get it 80% there, but that last 20% to actually polish it off and make it stand next to a true commercial track is the hard part. The devil is in the details. The other thing is that just writing songs and playing the instruments is only one part, the recording process and learning mixing, adding compression, reverbs and sitting things in the mix is a whole other creative side to making the songs. I used to think it was kind of screwed up that producers and engineers took so much credit on albums, but now I realize that mixing the songs are just as creative and have just about as much of an impact on the songs than the artist playing the instrument.
The visual artwork of An Angels Burden is very striking, I think. Can you tell us about the thoughts behind it and how it came to be?
The title song, 'An Angels Burden' is about an angel cast out of heaven for helping Satan rise up. But he also turned on Satan in the end and helped cast Satan out of heaven. For his betrayal on both sides, he is cursed to walk the earth forever and this is his burden. So with that in mind I wanted to show the loneliness he feels as he walks the Earth knowing that he both saved it, but can never be a part of it. I had never worked with imaging software before, but learning it and being able to create an image almost exactly as I had it in my head, I think I was pretty lucky.
Returning to the music of Ashen Reign, what is the process of songwriting like in Ashen Reign?
It always starts with a riff then I build it from there. When I get something to a point where I think it's worth developing, I'll compose the whole song on guitar then write it down. I will record some of the guitar parts and collaborate with a really close friend of mine named Vance McCumber that is a total metal encyclopedia. He keeps me honest and will tell me when something is good or cheesy. Since I'm doing all parts, in order not to become locked into a certain sound, I force myself to play some songs in odd keys. For the keyboard parts, I will do all parts on guitar first, then teach myself how to play it on the keyboard. I build the bass parts around the guitar parts. Drums are not done until I actually want to record them which means sometimes songs can take a completely feel when recording if I decide to change tempo. I save all guitar solos until the end because that's my favourite part to play. Then once a song is done, I'll add lyrics to match the feel I get from each song.
The first Ashen Reign album, Immortality, was released in 2008. What are the differences and similarities between Immortality and An Angels Burden?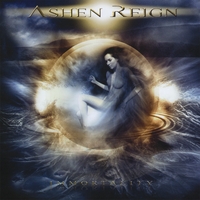 Immortality was probably released too soon. The quality is more on par with a good demo. There are a lot of things I'd like to redo but the songs were good. The main difference was the recording process. I learned so much about recording and mixing over the couple of years between Immortality and Angels. The vocals are different too. On Immortality, I tried pushing my voice into something it wasn't and it showed. I had more shredding type solos on Immortality as well. But the similarities are there too, the songs are about things personal to me, experiences I've had or feel. I think Angels shows maturity in the songs with more texture and feeling where Immortality was straight ahead power metal.
So, Ashen Reign has been around for some time. What is the history behind the project? Also, what is the history behind the Ashen Reign name?
I started off just wanting to record myself so I could hear myself and become a better player. I had no intentions of recording an album. But as things went on, I had more fun recording myself than playing in bands. So I started Ashen Reign and set out to record Immortality. Names are hard to come up with, all the good ones seem to be taken. Ashen means having no colour or being pale grey and reign is to rule, so I thought it was perfect for my project since I wanted to create something unique, not fitting the traditional molds of metal and share it with the world.
Having talked about the present and the past, what does the future have in store for Ashen Reign and Ashen Reign fans?
I want to keep making music for as long as someone will hear it. I would like to collaborate with other musicians at some point and make something really intense. I want to push myself to make something truly unique, which I know is virtually impossible these days with so much music out there, but that is the goal nevertheless. I want to vary the style off power metal on the next album. I see an instrumental album in the future blending symphonic orchestra parts with some classical guitar parts that would probably be more in the progressive style. I also want to do an album in the vein of Agalloch's Of Stone, Wind and Pillor; I am a huge Agalloch fan and love that style. So AR fans can expect things to only get better and more complex and they can say they were there from the start.
Which formats is An Angels Burden available in and where can it be purchased?
Cool, thanks for asking. It's available in good ole fashion physical CD's as well as digitally through almost every online retailer like iTunes, Amazon, Napster and LoudTrax:
http://www.cdbaby.com/cd/ashenreign2
http://itunes.apple.com/us/album/an-angels-burden/id445491324
http://www.loudtrax.com/Artist/ASHENREIGN
Where can those who are interested in learning more about Ashen Reign go for further information?
The Ashen Reign web site is the best place to get more information and contact me:
You can also keep up on all the social media web sites or email:
http://www.myspace.com/ashenreign
http://www.reverbnation.com/ashenreign
http://www.facebook.com/profile.php?id=100002190168134
Thanks for doing the interview and good luck in the future.

Thank you and a big thanks to great websites like Metal Music Archives.


Edited by Time Signature - 06 May 2014 at 1:13pm