With no results coming up on the Search function, I thought I'd create a thread about a band I've been coming back to over and over again for the past two years: Ireland's finest, the mighty Primordial.
Primordial originally started out as a black metal band with folk influences, and has in later years started to integrate sounds more reminiscent of doom metal whilst still staying true to their roots. The band is fronted by A. A. Nemtheanga, whose powerful voice contributes to making Primordial's sound very distinctive and unique. Earlier this year, they released their ninth full-length album - Exiles Amongst the Ruins.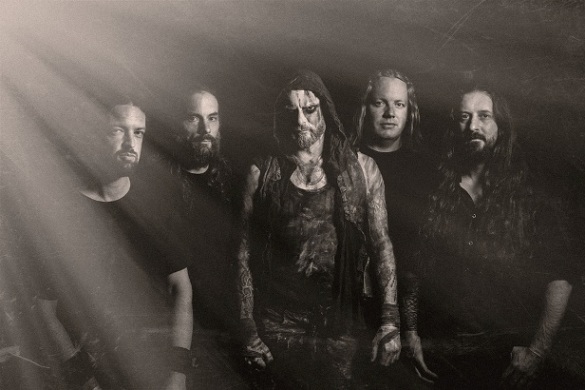 Primordial is a band it took me a good while to get into. I first listened to them when they had just released Redemption at the Puritan's Hand and I just didn't like the vocals. I later tried To the Nameless Dead because it was critically acclaimed, but still the vocals just didn't do it for me, and I cast the band aside as something that just wasn't my cup of tea. In all fairness, I believe what played a major role in spoiling this experience for me was having started off with one of Nemtheanga's side projects called Blood Revolt, in which his vocal performance is subpar in contrast to his work with Primordial.
It is only when I bought The Gathering Wilderness on a whim two years ago that I began to listen to them with rapt attention. Since then, I count the band amongst my all-time favourites; not only is the music systematically top notch, but I am always blown away by the quality of the lyrics, the raw emotion that emanates from Nemtheanga's vocals (especially on songs such as The Coffin Ships, Wield Lightning to Split the Sun, Where Greater Men Have Fallen or the more recent Stolen Years), and the unequivocal authenticity of the band. I have become convinced that no matter how much praise they get from the metal community, they remain a criminally underrated band.
Picking my Top albums is a very difficult task considering that there is no such thing as a 'bad' Primordial album, but my list would most likely look like this:
1) Redemption at the Puritan's Hand
2) To the Nameless Dead
3) Exile Amongst the Ruins
4) Where Greater Men Have Fallen
5) The Gathering Wilderness
6) Spirit the Earth Aflame
7) A Journey's End
8) Storm Before the Calm
9) Imrama
So what about you? What are your views about the band? Which are your favourite albums or songs? Post away !