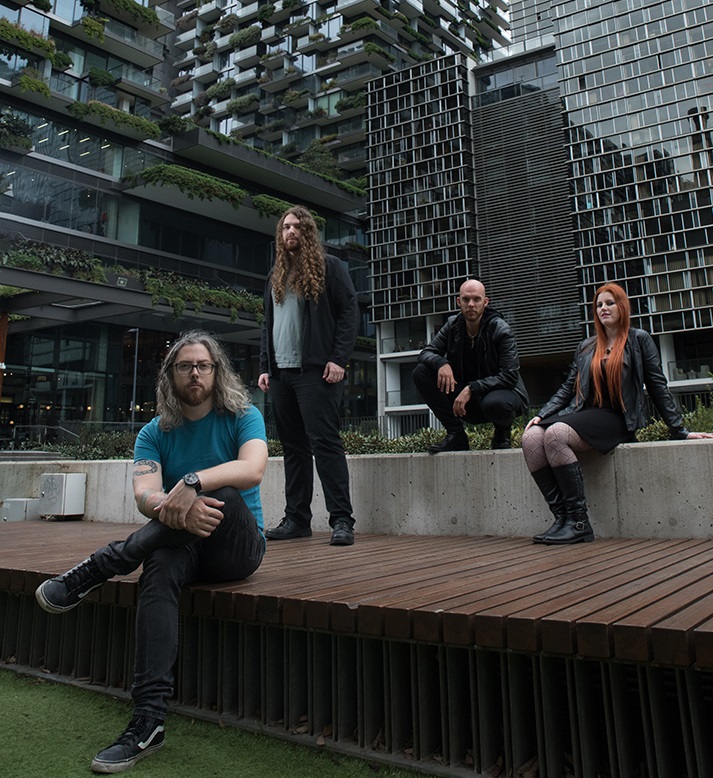 Hemina is a new Australian band who has just released their debut EP. The EP has been well received here in ProgArchives. I got in touch with the band for the story so far.
----------------------------------------------------------------------------------------------------
Your biography has been covered in your ProgArchives profile so let's bypass the biography details.
But why did you wanted to play this type of music instead of any other form of music ?
This type of music seemed like the natural direction for me to create as it has allowed for the maximum diversity of moods. It allows for us to have lush relaxed sections made up of choral harmonies to intense, technical and heavy riffs to channel our inner emotions. Progressive Metal is the only genre that I've found that can allow this sort of variety of dynamics and emotion.

What is your musical background and were you involved in any other bands before you started Hemina ?
My musical background when I first started out playing guitar was in a very different place to that of today. I originally started to play the guitar to learn my favourite Punk Rock songs when I was 12 or 13, however among starting playing my respect for many of these artists diminished due to my new found understanding of their ineptitude. I soon after became introduced to Metal by a guitar teacher I had at the time and a whole new world of music became known to me. The heavy riffs and technical proficiency were right up my alley. I eventually met up with a guy named Dan Portelli (who is up to some interesting experimental stuff now) and we fueled each other to get better at guitar by playing Metallica, Megadeth, Iron Maiden etc. songs building up our dexterity, speed and feeling on the guitar. We tried to make a power metal band for such a long time but it was impossible to find band members. This was however a great experience at writing (such terrible songs mind you).
The next important stage of my musical background was when I had finished high school and started my first job at a Pizza store mind you, when I met possibly the two most crucial figures in my musical development, David Eaton and Robert Moulding. These two lads are some of my best friends and also my band mates in Anubis; who are also featured on the archives. They taught me about Progressive Rock in all the good ways: Yes, Crimson, Genesis, Pink Floyd and Marillion, and it really had a big impact on my mindset with music and avoiding the absolute cheese that comes with most modern metal. I've tried to look at my origins of music and fuse this with much of the interest and respect I get from Progressive Rock. Along my writing journey I found other gems like Pain of Salvation, Dream Theater and Opeth which add to my day-to-day love of Progressive music.
The others in the band have many similar loves such as that of Progressive Metal but they also bring in qualities of Post-Rock, Soul, Funk, Pop and Hard Rock which also cements the eclectic sound of Hemina.
Andrew Craig formerly played in a Post-Metal band called Nevetherym and still plays with Progressive Black Metal band, Katabasis and veteran Doom Metal band, Lycanthia. Phill Eltakchi and I met when we used to play in a Progressive Metal band called Avarin who are doing some great stuff at the moment and are very much recommended to fans of Fates Warning and Coheed and Cambria. The other members are new to bands as such but are definitely masters of their craft and are a joy to have in the band.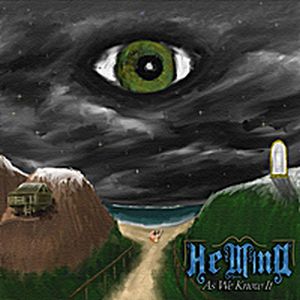 Please give us your long or brief thoughts on debut EP 'As We Know It' released earlier this year. How would you describe the music ?

As is probably clear from my background, I think of the EP as work in both the Progressive Rock and Progressive Metal fields. I think listeners will hear that the music has a heart of Progressive Rock with the added ability to take the texture to a heavier place. It is a CD that will give you a feel of the musical journey that we will try to capture on any recorded work we do in the future and it also gives a snapshot of the variety of textures and styles we like to experiment with in communicating our art.

For fans of bands like Pain of Salvation, Dream Theater, Sieges Even and other interesting melodic, progressive works I would like to hope that they would get something out of our music but in no way to I think that everything Hemina has to offer has been heard. There are many songs on our album to come that are quite different to any of the tracks featured on 'As We Know It', however listen to the song 'The Hunt' and you may recognise this from a song that will feature on our album when it is released.

I think the music in basic terms has a lot of attention for harmony and good chord progressions, catchy yet interesting melodies, many polyrhythms and a lot of emotion. The songs range from soft, acoustic prog to intense, brooding prog metal.

How is your writing and creative processes ?


In Hemina, I feel as though we probably do this a bit different to a lot of other bands as the main skeletons of the songs are always transcribed into notation software such as Guitar Pro. This allows us to tweek with every single note until they are perfect to our ears. I think it also adds to our precision as a live band and it allows for everyone to learn the songs to the high standard that is required of them.

The primary songwriters for the band so far are Mitch Coull and I, however the rest of the band is free to change their ideas around as they please as we have great faith in our mutual abilities within the band.

As for inspirations for songs and lyrics, I am often just walking around whether it be to work from somewhere or perhaps sitting on a train and watching the world go by - the ideas are always going by in my head. I absolute crave music and I will often have whole songs written in my head or at least substantial passages with full arrangements that I must immediately transcribe.

Different things always influence me but the core of my drive for music is an personal one and beneath the narratives of Hemina's concepts are a range of my questions from the world.

Although having fans of our music is important, I think I can speak for our whole band and say that we write and play music for ourselves and everything that is written and performed is exactly as we would want it to be. I am of the opinion that you should really love your own music and that you should be able to listen to it for pleasure - this is something I do all the time, after all I wrote the music how I wanted it to be and what I would like to listen to.

From where can your EP be purchased from ?

The EP can be purchased from Itunes, CDBaby, our webstore or any of the partner companies of CDBaby like Amazon :)

What is your other plans for this and next year?

It seems that there is a tendency for many bands over here to not get around to recording material and simply stay in the live scene but we are determined to record and release our album 'Synthetic' next year. The material is all written and we have began recording some elements of it already. Recording an album is such an expensive and tiring project for a band without label support, however we are trying our best to bring something to the Progressive World that is novel and a professional standard. We have sent out some press kits to some labels and hopefully we'll get some responses to make this whole process just that tiny bit easier.

To wrap up this interview, is there anything you want to add to this interview ?

Thanks very much for giving us the opportunity to be interviewed. If anyone is interested in Hemina's music, please join our facebook page as it is always up to date in everything that is Heminal. I would also like thank my Heminal family for being such a great band that delivers on the promise of great music.
Thank you to Hemina for this interview