This is a piece I wrote in 2004 (and just found again!

) about the importance of compilations. Thought it might be of some interest. I've edited and embellished it a little bit, and if I ever get inspired, might expand it or do another edition. It originally appeared with album art, which I'll try and link in, but if I bugger it up, you'll understand what I was doing...
A Compilation of Compilations
In the world of metal, few things reflect musical climates like compilations. Admittedly, most compilations are used by labels to promote their latest releases, but the strong sub-genre stratification in metal means compilations are often consistent in their content, occasionally representing an entire scene. They can also be useful in a musical geological sense, helping to fix firmly in time what people were listening to when, show what has happened in the past, and point out the direction of future evolutions. A compilation is more permanent than a memory, and usually less biased than a magazine.
The average pop or rock compilation is little more than a condensed radio show, without advertising. Buyers want to hear a few of their favourite songs, which they have already heard hundreds of times before. Metal compilations are by and large different in that often there will be one or two songs by well-known bands to grab the attention, and the rest of the album is filled out with lesser known or new bands, generally of the same ilk. Metal fans often use them to discover new bands, and expand their listening scope.
The following is a less than objective, far from definitive examination of a handful of compilations, some of which have been genre defining, while others are a frustrating mish-mash of crap.
How's Your Mutha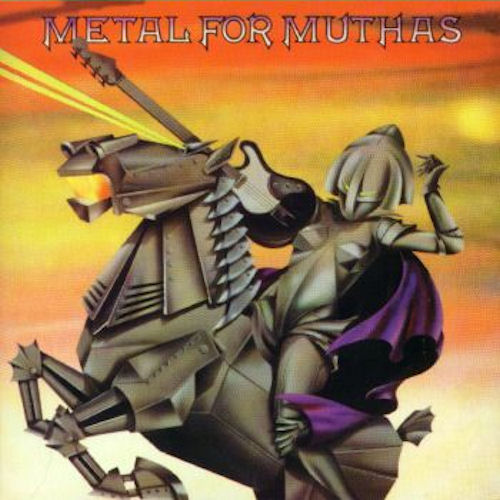 Metal For Muthas: what would your mutha think?
Very rarely has a compilation launched a scene quite like "Metal For Muthas". Released in February 1980, the cheesy looking cover of a guitar-wielding warrior astride a steel horse held within its sleeve the best of British- the best of the New Wave Of British Heavy Metal (NWOBHM) to be exact.
For those not fortunate enough to have picked up a copy of Iron Maiden's Soundhouse Tapes, this was the first taste of Steve Harris and co., and it's not a bad taste at that. 'Wrathchild' was one of Maiden's early classics, and still appears in the band's live sets now. Interestingly, 'Sanctuary', the first track on this album, was left off Iron Maiden's self-titled debut (it was included on later re-releases in the 1990s). Such is the quality of Maiden's galloping rhythms and revitalisation of metal, it's easy to forget there were other bands on this compilation also well worth checking out.
Most notable of the other bands featured was Samson. Like Iron Maiden, Samson had been doing the rounds for some time before the release of the compilation, and as any Iron Maiden fan knows, Samson's singer was the human air raid siren himself, Bruce Dickinson (although he was calling himself Bruce Bruce). Also included was Angel Witch, a band with a great interest in the occult, and a darker sound than other NWOBHM bands. While Lars Ulrich has always said Diamond Head was his favourite NWOBHM band, Dave Mustaine often singles out Angel Witch.
Praying Mantis and Sledgehammer enjoyed a little success, but the rest of the bands pretty much disappeared from sight, although the name Toad The Wet Sprocket reappeared in the form of a one hit wonder pop group in the 1990s.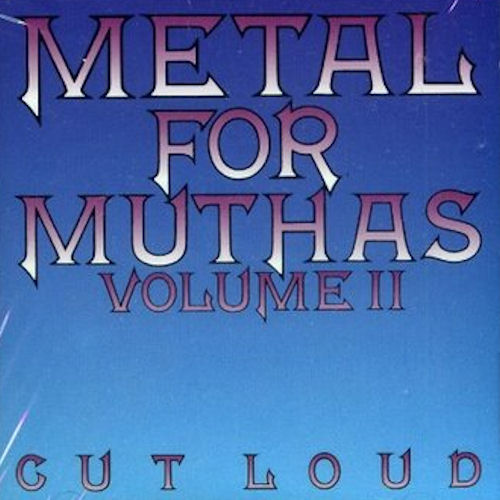 The first "Metal For Muthas" album caused such a storm that a second album, "Metal For Muthas Volume II: Cut Loud" was released in May 1980. Unfortunately, the quality was not up to the original. Trespass picked up two tracks, like Maiden had on the first album, but they were just not good enough. The only other band of real interest on the album was White Spirit, which featured Janick Gers on guitar. There were a few leftovers released as an EP later in 1980 called "Muthas Pride", but other than another White Spirit track, had very little to offer.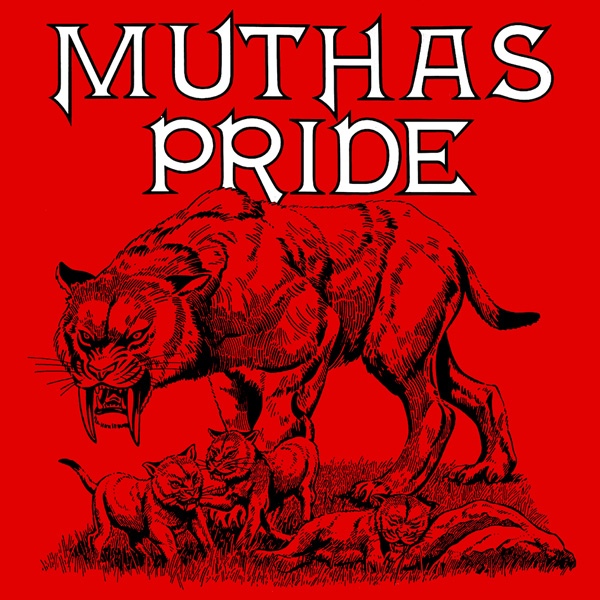 Despite its huge influence on the NWOBHM scene, the "Metal For Muthas" series was far from definitive or comprehensive. The biggest name to come out of the scene was Def Leppard who were missing from the albums, although their sound eventually evolved to the point where it was no longer metal. Also missing were Saxon, the previously mentioned Diamond Head, Holocaust, Raven, Tank, Girlschool, along with many other bands who have long since disappeared without trace. Other British bands of the time, like Judas Priest, Motorhead and Venom had already established themselves, and were not part of the NWOBHM scene as such.
The Los Angeles Metal Massacre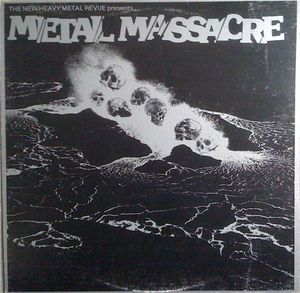 Metal Massacre
About the time the NWOBHM started to wane, there were some stirrings on the other side of the Atlantic. Metal Blade head honcho Brian Slagel kicked off his label in 1982 by releasing a compilation of demo tracks, mostly from bands in and around Los Angeles, called "Metal Massacre". Alongside Ratt, Cirith Ungol and such "notables" as Black N' Blue, Bitch, Malice and Avatar was an unknown new band incorrectly called "Mettallica", playing 'Hit The Lights'. The track was a recorded-in-the-bedroom affair, but seemed to be the track everyone wanted to hear.
Later the same year, "Metal Massacre II" hit the stereos of underground metal fans, and featured demos from Cliff Burton's pre-Metallica band Trauma and Armored Saint. There was also an Overkill on the album, but it was not the thrash band who released "Feel The Fire". "Metal Massacre III" featured Slayer's 'Aggressive Perfector' in 1983, along with tracks by Bitch, Virgin Steele and Znowhite. "Metal Massacre IV", also released in 1983, contained a track from doom veterans Trouble, along with a track from glam weirdos Lizzy Borden, and a band called Abbatoir, who eventually became Agent Steel. 1984's "Metal Massacre V" included a number of excellent tracks, including offerings from Overkill (this time it was the thrash band), Voivod, Metal Church, underground favourites Hellhammer, and prog metallers Fates Warning.
By the time "Metal Massacre VI" hit the shelves in 1985, thrash was well and truly established as the sound of the metal underground. This album featured tracks from Possessed, Hallow's Eve, Nasty Savage, Hirax and Dark Angel. There was also a track from stoner rock legends The Obsessed. There was also a band called Mayhem, not the infamous Norwegian Black Metal outfit. "Metal Massacre VII", released in 1986, showed the concept was losing a little steam. The only bands of note on the album were Cryptic Slaughter and Flotsam and Jetsam, with a version of 'I Live, You Die' which featured Jason Newsted on bass. The song was re-recorded for the release of the album "No Place For Disgrace".
1987's Metal Massacre VIII opened with Arizona thrashers Sacred Reich and Viking, who later provided members for Dark Angel, as well as garnering a cult following of their own, but the rest of the album is a wash out. Metal Massacre Nine (1988) featured the unfortunately named, but otherwise high quality Pedifile, along with samba thrashers Overdose from Brazil, Faith Or Fear, and power metallers Oliver Magnum. The tenth Metal Massacre saw a little change of direction. Yes, there was thrash, in the form of Betrayal, Murdercar, Nihilist (not the band which renamed itself Entombed) and Slaughter (Canada, not the glam rock band), but there was also doom metal, from Confessor, a track from Solitude, a band later reborn as Nevermore, and a guitar shredder in the form of Dan Collette.
Metal Massacre 11, released in 1991, showed the format had basically run its course. Apart from a track by the ever delightful hardcore/crossover Spudmonsters and a song from second rate thrashers Epidemic, there was nothing of note on the album. Metal Massacre XII was a fairly dire effort, released in 1995, featuring Pist.On, and nothing else special.
Slagel put the Metal Massacre series to rest, reviving it once again in 2006, but only as a label sampler, and not as a demo showcase. However, it's a fucking ripper, featuring Bolt Thrower, Six Feet Under, The Black Dahlia Murder, The Red Chord, God Dethroned and Amon Amarth. The strength of this final edition of the Metal Massacre demonstrates how strong a label Metal Blade had become, from such humble beginnings, no doubt in part due to this series of compilations.
Terminal Velocity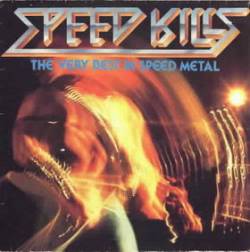 Speed Kills:stand still for the photo!
While Metal Blade was pulling out the odd thrash gem in the US, British label Music For Nations was digging them up by the truckload. MFN's roster was not limited to one place, but rather encompassed a genre. The original "Speed Kills" album from 1985 was subtitled "The Very Best In Speed Metal", making it very clear what to expect. It was a little unfortunate in the choice of title though, because the label 'speed metal' was being superseded by thrash.
There was no better thrash compilation in 1985 than "Speed Kills". Hallows Eve were first up with 'Metal Merchants', an incredibly catchy speed metal song with a vocalist who wished he could be Bruce Dickinson, but realised he wasn't. Exodus stepped up with 'A Lesson In Violence', and incredibly violent it was for the time. Paul Baloff's screechy vocals would almost have you believing he actually would smash your face in if you met him. 'Bestial Invasion' by German thrashers Destruction demonstrated why fans still speak of them in the same breath as Sodom and Kreator. While not as heavy as those two bands, Destruction shredded like maniacs. Italy's Bulldozer was the least known band on the compilation, and stayed very much underground throughout their career, but became a cult favourite. 'Insurrection Of The Living Damned' has some unusually distorted vocals, and whether the effect was because of recording budget restrictions, or entirely on purpose, it's incredibly effective. Metallica showed why they were so successful. It was simply because they were so fucking good when they were young and hungry. The big budget production job showed, and while 'Fight Fire With Fire' was the rawest song on "Ride The Lightning", it was by far the most polished track on offer here. Slayer rounded out side one with a live version of 'Evil Has No Boundaries', which surprisingly didn't match the aggression of the Exodus track. While it was an unreleased song at the time "Speed Kills" was released, it later saw the light of day on "Live Undead".
Possessed drummer Mike Sus was generally regarded as one of the worst in thrash. He played fast and heavy, so it didn't really matter that he couldn't keep time or play a drum fill without dropping half a beat behind the rest of the band. The guitar work on 'Pentagram' was chaotic enough it didn't seem to matter anyway. Like Hallows Eve, Canadian band Exciter still fitted the label speed metal, and it's difficult not to be reminded of Iron Maiden or Judas Priest while listening to 'Riders Of Darkness'. What was most impressive though, was that the drummer was also the singer, and managed to hit some very difficult notes whilst playing. Venom was the reason most of the bands on this album existed. The re-recorded version of 'Black Metal' was heavier than the original, without losing any of the impact or menace. Piggy's guitar sound on Voivod's first album "War And Pain" was incredibly raw and heavy. However, the title track was probably one of the worst on the album. The logic behind putting it on an album called "Speed Kills", when 'Voivod' or one or two others were a lot faster seems a bit odd. Dave Mustaine was still incredibly pissed off at Metallica in 1985, so it's surprising to see a Megadeth song on a compilation also featuring Metallica. It seemed he wanted to distance himself from his old band, and Megadeth's sound at the time was dominated by lead guitar rather than rhythm. 'Rattlehead' showed off his playing abilities, but seems a little lightweight and rushed alongside the rest of the tracks here. Celtic Frost rounded out the album with 'Into The Crypts Of Rays'. It showed off Tom G. Warrior's legendary death grunt, perfectly accompanied by the band's unique, if a little out of time, playing style.
Music For Nations was able to secure such big names in thrash at the time because the company distributed records in the UK for a number of other companies. Grabbing a Metallica track for the compilation was a great piece of luck, because soon after, Metallica broke from Megaforce Records and signed a major label deal. Megadeth soon followed suit. As a barometer for what early thrash was doing, and where it was going, "Speed Kills" was about as close to definitive as it was possible to get. Only a few of the major players of the time were missing from the album.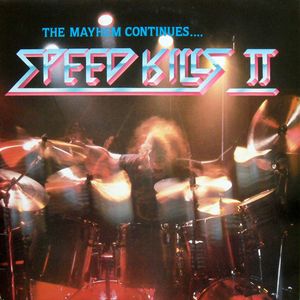 "Speed Kills II: The Mayhem Continues…" was released in 1986, and featured a few more big names, along with some new talent. Anthrax rounded out the Big Four of Thrash, but there was also a track from Helloween. Tipped for the big time on this album were Agent Steel, who featured a young James Murphy, Razor, Living Death and Onslaught. Agent Steel crashed and burned because their sound was not particularly heavy and their image was too close to glam, the great enemy of thrash at the time. Razor was compared to Slayer, as were half of all thrash bands at the time (the rest were compared to Metallica), but their sound was a lot less complex. Never making much of a breakthrough, Razor did enjoy a long career in the metal underground. Living Death was plainly awful, and got well and truly buried by the high quality bands coming out of Germany. Onslaught was supposed to be the UK's great thrash hope, and it seemed like all the right ingredients were there- a great sound, the 'right' image, and critical acclaim. So of course, they also got left behind.
The bands on this album which weren't rated highly at the time have gone on to become some of the most influential of all time. Sodom's 'Sepulchural Voice', Whiplash's 'Warmonger' and Bathory's 'Possessed' were incredibly rough and poorly produced even for 1986, yet all have an enduring quality, pointing toward death and black metal sounds of the future.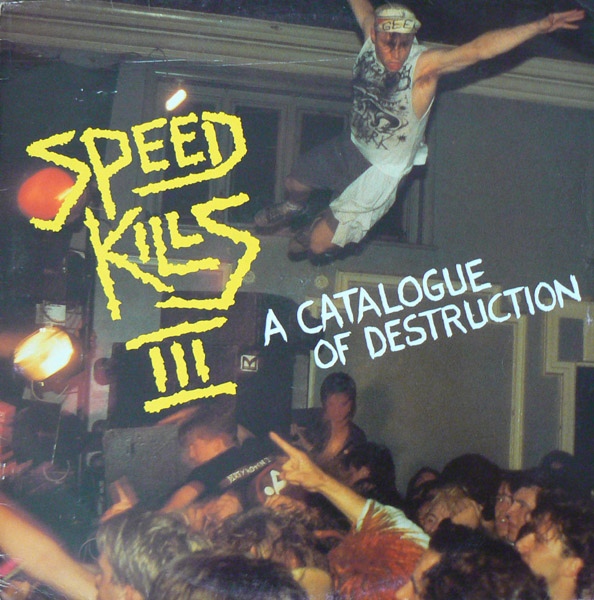 By the time "Speed Kills III: A Catalogue Of Destruction" was released in 1987, a second wave of thrash had hit. A yawning gap had also opened between the bands who would make it, and those who were included merely to make up the numbers. Music For Nations had become Under One Flag, but was still backing the Agent Steel donkey like it was a dead cert for the Grand National. The English Dogs lived up to their name with a dog of a track called 'The Eye Of Shamahn', while Onslaught and Sacrilege both contributed mediocre tracks.
As usual though, there are a number of winners here. Bathory and Possessed both returned with excellent tracks, and Mike Sus seemed to have caught up with the rest of the band. However, the real quality on this album was in the new artists. 'The Unholy Grave' by Death was the first time true death metal appeared in the series. Heathen was a new band out of San Francisco, and while their self-titled track was probably too long to sit well on this compilation, it showed much potential. Also out of San Francisco was Death Angel, five teenage Filipino cousins discovered by part-Filipino Kirk Hammett. 'Mistress Of Pain' showed off everything this young band was capable of at the time, and amazingly they improved on it for their second album. Nuclear Assault proved there was more to New York thrash than just Anthrax, and cult favourites Holy Terror showed why their two albums are still sought after today with 'Tomorrow's End'.
Pick of the rowdy bunch though was Dark Angel, one of the most intense thrash metal bands of all time. 'Merciless Death' was utterly merciless. Dark Angel's big difficulty was production standards of the time could not keep up with what the band was trying to achieve. The riffs mostly sounded muddy, and when they were clear, lost all their crunch. As a closer to this album though, Dark Angel nigh on obliterated all else from the listener's memory.
"Speed Kills…But Who's Dying?" was the fourth album in the series, released in 1989. The hit/miss ratio of this album was incredibly good, considering the number of people who were crying for the death of Thrash, and the fact that the scene had been swamped by imitators, wannabes and tryhards. Exodus opened the album with 'Parasite', a song far removed from 'A Lesson In Violence' from the original "Speed Kills". While not stunning, it was a solid track, although the band's cover of AC/DC's 'Overdose' which also appears on this album, easily bettered it. Death made a reappearance, as did Holy Terror, Bathory, Nuclear Assault, Possessed and Dark Angel. Needless to say, the quality of metal from those bands was excellent.
The San Francisco Bay area was still breeding excellent new bands. Forbidden's 'Chalice Of Blood' and Blind Illusion's 'Bloodshower' both displayed high levels of technical skill, but still retained the aggression and danger which made thrash such a force.
A crop of British thrashers had finally emerged, and made themselves noticed here. Both Re-Animator and Acid Reign stood out from the pack with their quirky take on thrash. These bands succeeded where Onslaught had failed, as Onslaught had tried to copy the American style of thrash instead of trying something a bit different.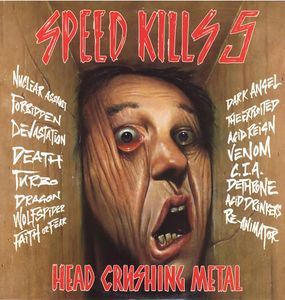 The end of 1989 saw death metal explode from the underground with a number of landmark releases, namely Morbid Angel's "Altars Of Madness", Obituary's "Slowly We Rot" and Entombed's "Left Hand Path", and Autopsy's "Severed Survival". To that end, death metal found its way onto the fifth album in the series, 1990's "Speed Kills 5: Head Crushing Metal" in a larger quantity than on the previous albums. Unfortunately for Under One Flag, there were no bands in their stable up to the standard of those Roadrunner and Earache were snapping up. Even the old reliable Death was a letdown here. 'Killing Spree' came from the poorly executed "Spiritual Healing" album. While it featured James Murphy on lead guitar, the real problem was a lacklustre rhythm section and a rushed album, to try to keep up with the surging tide.
Other old reliables seemed to lose their way too. 'Search And Seizure' by Nuclear Assault was incredibly poor, and the track from spin off band CIA was equally awful. Acid Reign's 'My Open Mind' came from "Obnoxious", one of the most directionless and poorly conceived thrash albums of all time. Forbidden's 'Step By Step' was not a poor track by any means, but it wasn't a stunner either.
For some unknown reason, Under One Flag had picked up a number of bands from Poland. Poland circa 1990 was not known for quality metal, and the bands were far below the standard of Decapitated, Vader and Behemoth. Veterans Turbo released their first album in 1980, but didn't seem to have learned how to play their instruments in the decade since. Dragon has to be one of the worst death metal bands ever to have signed a record deal, and Wolfspider were just too silly for their own good. The one Polish pearl was the Acid Drinkers. Their sound was odd- imagine a drunken bunch of thrashers recording the theme song for a children's television show, complete with silly voices. However, it was very distinctive, and as catchy as the Ebola virus.
The outstanding track on the album was Dark Angel's live rendition of 'The Burning Of Sodom'. It showed Dark Angel's studio efforts could be surpassed, but only by Dark Angel themselves, and only on stage. It hits like an aural steel cap boot to the head, and emphasised the mediocrity padding out this album.
The other two notable tracks on "Speed Kills 5" probably shouldn't have been on the album at all, if the original formula for the series had been stuck to. Venom's 'Live Like An Angel, Die Like A Devil' was recorded after Cronos had left the band, and Venom's venom was supposed to have departed with him. It hadn't. New vocalist and bass player Demolition Man out-Cronos-ed Cronos, and a second guitar revitalised the band's sound.
The Exploited wouldn't have made it anywhere near the original "Speed Kills" album. A bunch of crusty punks banging on about societal decay more than a decade after punk was supposed to have died still managed to humble all but Dark Angel on what was supposed to be a collection of the best thrash metal had to offer at the time. 'Sick Bastard' was simplistic and rough, but tightly focused and angry. It seemed thrash had lost its focus, and the nay-sayers were finally being proved right- thrash was a genre on its last legs, drowning in mediocrity. Then again, some of those people had been predicting thrash's downfall since Metallica released 'Ride The Lightning'.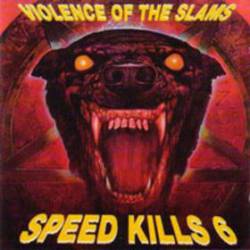 Under One Flag took one final tilt at the series in 1992, with "Speed Kills 6: Violence Of The Slams". Whether or not it was intended to be the final instalment in the series, most fans could see the writing was on the wall, and to describe any of the bands on the final Speed Kills album as speed metal would have been ludicrous. Much had changed since the previous compilation. Thrash was putting in a late surge of popularity with a new wave of bands reigniting some of the lost fire. Death metal was well and truly established as the sound of choice in the underground. The old hair sprayed glam enemy was dying a death of sorts. Unfortunately, the old guard of thrash seemed to have abandoned what they had created. Metallica and Megadeth had both pulled the plug on playing fast, Anthrax were still exploring the possibilities of mixing rap and metal, while Slayer continued to be Slayer. In the second tier of bands, a number seemed to have completely lost their way, abandoning thrash and haemorrhaging their fanbase.
Of the old school thrashers on this album, all but the most consistent performer throughout the series contribute tired old crap. That band was, of course, Dark Angel. 'A Subtle Induction' was the opening track, and finally Dark Angel seemed to have received the production job their music needed to really shine. Unknowingly, this came from Dark Angel's swansong album, but happily the band went out while still at the top of its game. In an odd twist, the subject matter of this song was the movie "Bambi".
In an album of extremes, the high points are incredibly high, but the low points are subterranean. Flamenco handclapping could succeed in metal if executed properly. Unfortunately, Wolfspider tried it, and the resulting product was pitiful. Venom's Cronos-less success proved to be a one off, and 'Arachnid' was flat and thoroughly uninspiring. Seventh Angel, Hexenhaus and Dyoxen contributed nothing but filler. Australian band Mortal Sin were supposed to be the great southern hope for thrash, but line-up changes saw any momentum the band had disappear, and with it must have gone their main songwriters, because 'Side Effect' was incredibly weak. Regrettably, Dragon also returned for this album, and brought fellow Polish deathsters Creation Of Death along with them, who were a bit better, but not much.
There are a few little known treasures here. Christian metallers Detritus had the unenviable task of following Dark Angel, but acquitted themselves remarkably well with their no fuss death/thrash sound. The C.I.A. track was a huge improvement on the first offering from "Speed Kills 5", and pissed all over the bloody awful Nuclear Assault here. The Acid Drinkers had their sound beefed up a little, but their signature insanity remained intact. Acid Reign's short and inconsistent career was capped with 'Bully Boy/Lucifer's Hammer', showing off the sound the band should have stuck to. Re-Animator's 'D.U.A.F' is a similarly fun dose of BritThrash.
Under One Flag had adapted to the death metal challenge though. The label managed to pick up seminal Brazilian black/death band Sarcofago, Sweden's Merciless, the now legendary Ripping Corpse, technical death innovators Atheist, and the progressive Therion.
Metal had mutated and evolved a great deal since the beginning of the "Speed Kills" series, and listening to the first and last albums consecutively, it is difficult to believe that both are from the same series. However, few metal labels could ever boast such a number of big names and legendary artists as Music For Nations/Under One Flag included on the "Speed Kills" albums, firmly cementing the series in the annals of Metal history.
And the Wall came a-tumblin' down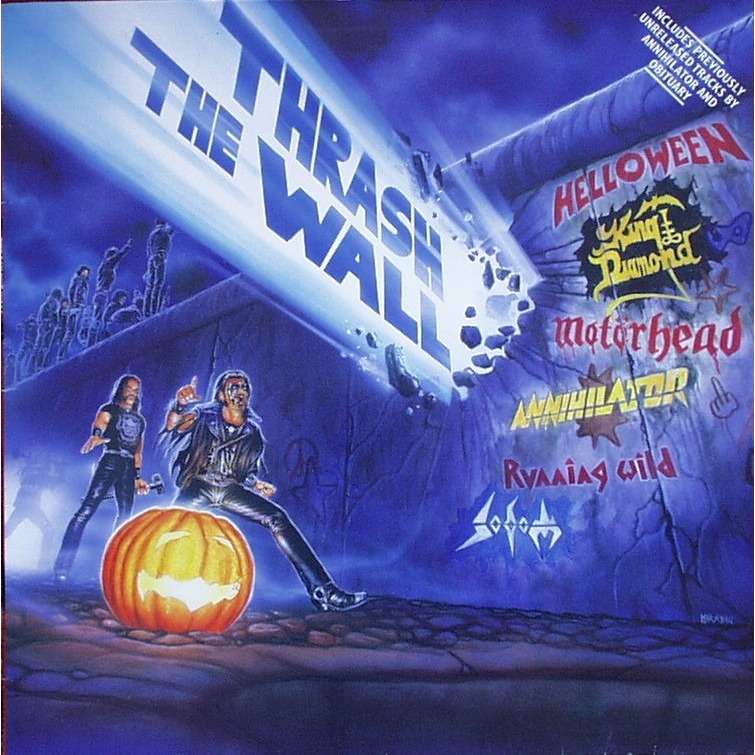 Thrash The Wall:The writing had been on the wall for years
Something amazing happened in 1989 and 1990. The Iron Curtain fell, and crushed a number of Communist dictators under it. To "celebrate" the fall of the Berlin Wall in particular, Roadrunner threw together this compilation, and some of the proceeds from it were to go to help new East German Thrash bands develop. Either there wasn't a lot of money raised by sales of the album, or shock horror, a record label lied, because the only vaguely metal band to come out of what used to be East Germany seems to be Rammstein.
A few critics at the time commented if this was all that East German thrash fans had to look forward to, they would have been better off if things had stayed the way they were. The comment is a bit harsh, but for what was supposed to be a thrash compilation, the track selection was unusual to say the least.
Kicking off a thrash compilation with King Diamond wasn't the best move ever, although 'Sleepless Nights' is one of his heavier songs. Following it with Helloween's 'Future World' was probably even worse, as it was the most commercially oriented song the band had recorded to that point. Third track was Motörhead's 'Eat The Rich'. While Motörhead appeal to the ears of most thrash fans, and were highly influential on the genre Lemmy often called "thrush", Motörhead simply isn't a thrash metal band.
By this point, most thrashers would have been scratching their heads, wondering where the thrash was. No need to worry, because next came a good dose of four consecutive German thrashers, in Rage, Running Wild, Sodom and Paradox. Perhaps young East German metalheads had something to look forward to after all.
The rest of the album was basically taken up with Roadrunner showing off their wares, and pretty fucking good they were for 1990. A previously unreleased live version of Annihilator's 'Human Insecticide' proved Jeff Waters could actually play as fast as he did in the studio. There was a demo of Obituary's 'Find The Arise', which is actually heavier than the version which appeared on "Cause Of Death". There was also the obligatory Sepultura track.
The album ended with a few oddities. There was the ever-awful Atrophy, and Xentrix's unremarkable 'Balance Of Power'. Rochus were supposed to be one of the new breed of bands emerging from behind the Iron Curtain, and their contribution 'Let's Thrash' had a couple of incredibly catchy melodies, German lyrics and all. Unfortunately, little else was ever heard of them. The final track was Gang Green's 'Tear Down The Walls', which must have been picked purely for its title, because it's one of the least thrashing songs the crossover outfit ever recorded.
It was a bit of a limp ending to a promising album, but did indicate where metal was going. Some of the thrash tracks sounded tired, but Annihilator, Sodom and Rage seemed to still have plenty left to offer by deviating a little from the traditional thrash path. However, Sepultura and Obituary showed the metal radar was fixed firmly on death metal as the sound of the future.
Portals to Hell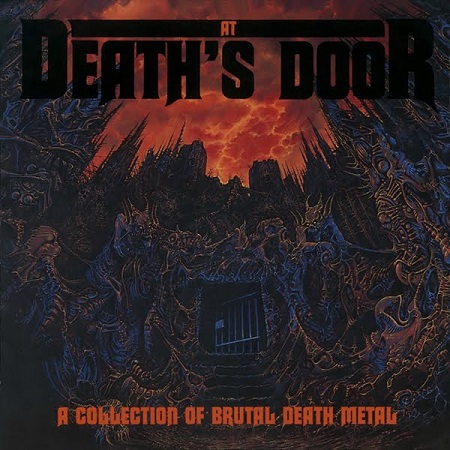 At Death's Door:Not too many Mormons ring the doorbell here
Only a few months after "Thrash The Wall", Roadrunner gathered together everything vaguely death-like they could grab on "At Death's Door", released in October 1990. As is noted in the liner notes, not everything here is strictly death metal. Sadus, Cerebral Fix and Sepultura skirted the fuzzy line between thrash and death metal, while Exhorder were out and out brutal thrash. Death metal or not, this was a hard-hitting album for the time.
Roadrunner tried to play up the Christian versus Satanist aspect of the beliefs of Believer and Deicide, both represented on this album. Neither band bought into the religious debate, and the issue was dead to all but a few ill-informed publicity seekers. Thankfully, the bands' songs were not placed next to each other, as Believer's thoughtfully constructed 'Not Even One' would have sounded incongruous to Deicide's minimalist breakneck speed 'Dead By Dawn'.
However, there was plenty done right with this album. There was a good mix of American and European death metal, although the Scandinavian sound was conspicuous by its absence. Pestilence was the outstanding offering from Europe, with 'Out Of The Body' the strongest track off "Consuming Impulse". However, Morgoth and Atrocity were no mugs either. Sounding more American than German, Morgoth Tolkien-inspired composition made a change from the usual blood, guts and death favoured by most bands of the time. Atrocity's technical metal was a bit left field for some death metal fans of the time. Not as inherently listenable as technical death metal's yardstick Atheist, but exponentially heavier, traces of Atrocity's influence can still be heard in bands like Meshuggah.
Cerebral Fix was a lesser known band out of the UK, but played a heavy style of grinding metal which seemed to be equal parts Bolt Thrower and Candlemass (operatic vocals not included). 'Cultes Des Mortes' was a surprise package because it sounded so different to traditional death metal, generally a restrictive genre.
The Americans were well represented here by the afore mentioned Deicide, Believer, the pioneers Death, and Floridan death grunt monsters Obituary. Also included was a bright new talent, once again from the gator infested swamps of Florida, in the form of Malevolent Creation. Malevolent Creation's 'Decadence Within' was still only at the demo stage when "At Death's Door" was released, a sign perhaps the compilation was rushed. However, the wizard of the Floridan death metal sound Scott Burns had produced the demo, so there was no questioning its quality.
Sadus were latecomers to the Bay Area thrash scene, but were too extreme to really fit properly. Their frenetic sound mixed the best parts of the lead guitar attack of Forbidden, the uncompromising speed of Possessed, and a high-pitched vocal rasp which sounds a little lost next to modern day death metal, but fitted this album well.
Undoubtedly the best song on the entire album was Exhorder's 'Desecrator'. A massive thrash track with a rhythm guitar sound other bands would kill for (or steal, in Pantera's case), 'Desecrator' built from a single crushing riff, which slowly gathered momentum to a raging hardcore climax, whilst vocalist Kyle Thomas spat out contempt filled lyrics aimed at organised religion.
The beauty of "At Death's Door" is it showed a scene developing a wide base to work from. Instead of copying one another, bands were experimenting a little without losing the fundamental appeal of death metal's origins. Atrocity were heading toward technical ecstasy, whilst Deicide desired the raging infernos of Hell, and Obituary and Pestilence were brutalising the festering corpse first decapitated by Death.
"At Death's Door" was such a resounding success Roadrunner decided to take another tilt at Death Metal. Could they reproduce the triumph of the first album two years later? In a word, no.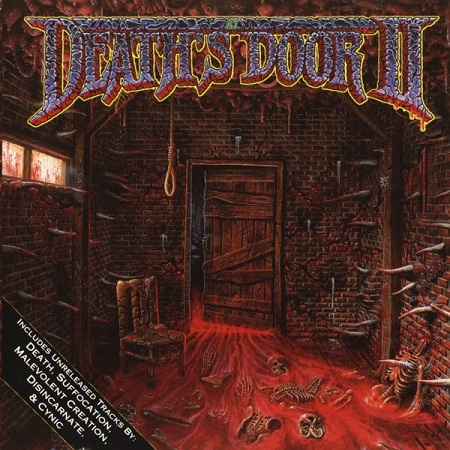 "At Death's Door II" released in 1992 was a patchy affair at best. The major success of the album was introducing an unsuspecting world to Fear Factory, but there was little else which grabbed the average metalhead by the mullet and screamed "listen to me!"
Following the robotic stomp of Fear Factory's 'Martyr' came a demo track from Disincarnate. Disincarnate was assembled around lead guitar nomad James Murphy. While it showed Murphy could still play a mean guitar, it didn't mean he could write great death metal songs, and 'Stench Of Paradise Burning' is utterly forgettable. Next, Suffocation grunted their way through a demo of 'Prelude To Repulsion', and thoroughly avoided any hint of musical development or originality.
Cynic's 'Uriboric Forms' changed the direction of the album completely, tackling complex riffs, syncopated jazz-inspired rhythms, and a deft touch of melody. It is not surprising this demo track sounded a little like "Human"-era Death, as half the band toured as Chuck Schuldiner's rhythm section.
Unfortunately, Gorguts had been listening to too much Autopsy and Suffocation, and did their best to emulate their heroes, but sounded even less convincing than Suffocation. However, Gorguts were not the worst band on offer. That dubious distinction went to Sorrow. Attempting to merge doom and death metal like Confessor had done with some success, Sorrow created a dreary, thoroughly dull sound which dragged unnecessarily on the senses, coupled with lyrics the average high school band would reject.
Thankfully, the listening improved a little. Death was a band with nothing left to prove, and sounded like they enjoyed recording a cover of Kiss' 'God Of Thunder'. The liner notes called the track "ultra-rare", which is ultra-bullshit- this album is hardly an obscure seven-inch vinyl pressing or bootleg tape circulating in the underground. Malevolent Creation also chipped in with a cover, Slayer's 'Piece By Piece', complete with blastbeats. While there's little wrong with the track, a Malevolent Creation original would have been preferable. Atrocity once again upped the ante in the technicality stakes, with 'Unspoken Names' better produced and easier to listen to than the track from the previous compilation.
Brujeria are a lo-fi joke, no more than a bit of silly fun. They really should not have been included here, taking up a slot where a serious band could have featured. Immolation are also a joke, but took themselves very seriously here. The "brutal for brutality's sake" style was tired even in 1992, and offered absolutely nothing which hadn't been done better elsewhere.
Skin Chamber was a revelation, a surprising combination of doomy, distorted guitar riffs laden over a leviathan mechanised industrial beat. Owing more to Godflesh than death metal, 'Sucked Inside' was a powerful, slightly disturbing finale, but too much of an acquired taste for most metal fans.
"At Death's Door II" smacked of being thrown together in a hurry. While the highlights of the album were excellent, there were too few of them, and the number of demos and covers used on the album stretched the value of the album.
The two "At Death's Door" albums provided a snapshot of some of the death metal scene, but completely neglected Scandinavia, which was producing some of the best metal in the world at the time.
Death comes to us all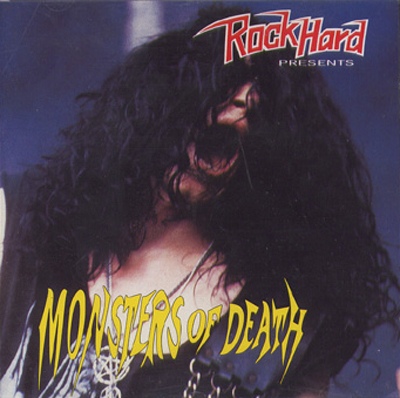 German magazine Rock Hard compiled "Monsters Of Death" in 1992, and by working with more than one label pulled in almost all of the important names in death metal of the time. The quality was obvious right from the first track- Morbid Angel's 'Rebel Lands'. The entire compilation hardly puts a foot wrong, besides decidedly average contributions from both Gorguts and Immolation. Death metal had matured as a genre, and a new crop of bands were also making their presence felt. Of the old guard, Death and Pestilence had taken a step back from sheer brutality, but had turned up the technicality. Morgoth and Malevolent Creation had developed their own distinctive sounds. Obituary and Exhorder both slowed a little, and upped the grunt. Atrocity and Atheist explored different ends of the technical spectrum.
Of the bands which didn't feature in the "At Death's Door" series, Austrian porno-gore nutters Pungent Stench made the most immediate impact. Already veterans of the European death metal scene, their sound was incredibly rough, all chainsaw guitars, booming percussion and barked lyrics. Tiamat's appeal on the other hand, lay in a completely different direction. Using a touch of atmosphere and melody, the band created a thoughtful, almost mellow, sound which still appealed to the average death metal fan.
Two demos popped up on the album, and in hindsight, both turned out to be winners, although including them here was a little risky. Vader's 'Vicious Circle' featured the fastest riffing on the whole album, and despite a thin sounding demo, produced a very memorable song. The band easily outstripped the mountains of mediocrity which had been emerging from the Polish metal scene, even though their now familiar death metal sound was missing. Brutal Truth's demo of 'Wilt' lived up to the band's name- brutal. Interest was high in the band, even though they were only at the demo stage, because it was former Nuclear Assault/Anthrax bass player Dan Lilker's newest project. While most grindcore bands in the early 1990s were incorporating death metal into their sound, Brutal Truth showed a great liking for Japanese hardcore, and helped widen interest in the grindcore genre. 'Wilt' was a high-speed blast fest.
Most importantly, this compilation included the Scandinavian scene. Oddly, Entombed were missing in action, but label mates Morbid Angel and Vader appeared here. One of Entombed's nearest rival in terms of popularity and brutality was Dismember, and 'I Wish You Hell' fully demonstrated why the band was rated so highly. Unleashed shared the same basic sound, but their style was stripped back, and Vikings rather than gore and Satan held their interest.
Scrap metal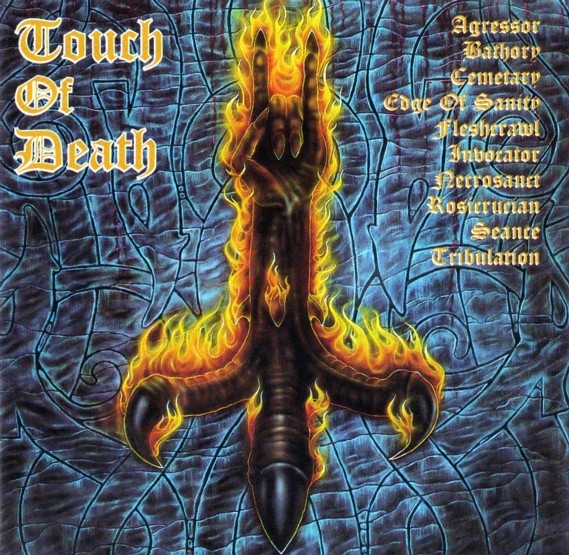 Touch of Death:How do you like your metal- Black or dead?
The albums here are far from a definitive collection. There are a lot of worthwhile series of compilations out there, like Nuclear Blast's consistent "Death…Is Just The Beginning" albums, Relapse's "Contaminated" compilations (and the one-off "Corporate Death") or any one of a number of collections from Earache. Compilations have been less influential in spreading the black metal message than for other metal genres, because the nature of black metal does not lend itself easily to compilations. However, the legendary "Touch Of Death" album from the Black Mark label, the "Blackend" series, and Terrorizer magazine's regular compilations have all contributed to the genre's popularity. While hardcore generally relies on its own close knit underground network to spread the good word, Victory Records has released the occasional worthwhile compilation. Punk and pop/punk labels the world over are fond of low cost compilations to get their product noticed, and some have been highly successful, like Epitaph's "Punk-O-Rama" series, and Fat Wreck Chord's "Fat Music" albums. Nu-metal has not needed compilations to gain huge popularity, and nu-metal collections generally resemble pop compilations, in that bands are already commercially successful, and the albums play like radio sets.
While the advent of the internet means metal fans can discover new music in the time it takes to click a mouse, downloading a track with a computer will never hold the same thrill as slipping on a newly purchased album and then venturing into the unknown, nor will it replace going back to a recently rediscovered collection, which stirs up memories of days gone by. Some metal bands fade from memory quicker than others, and sound a little rusty in hindsight, but as long as compilations remain, their legacy will not be forgotten.
Vim Fuego [13/11/2004 and 25/3/2016]


Edited by Vim Fuego - 06 Jun 2016 at 12:07am